I'm really trying not to curse in excitement over the DuckTales reboot. I mean, it's a family friendly Disney channel show… but *redacted* all that. I'm too hype that my people's finally showed up. We've been waiting for it since the reboot was announced. DuckTales updated the anthem to become a harder banger. Their storylines now are way more intricate, hilarious, and G'd up than the first time around.
Listen man, we're going to have to throw DuckTales up there with Steven Universe and Adventure Time. I'm not hearing otherwise. Thirteen episodes into their first season and they're coming for that title. What we've been waiting for finally came in the episode "Beware The B.U.D.D.Y. System." They done brought Darkwing Duck back, and I dunno how to act!
Yeah, man! Look at ya man Drake Mallard back in this flesh! This time around tho he's just a fictional character on a tv show. It's a good Easter egg. A brilliant way to incorporate Darkwing into the DuckTales universe. Your boy back in the flesh and still getting dangerous! I'm here for it. I see you, DW. I see you, my guy.
Woooo, Fenton got a new look and last name?!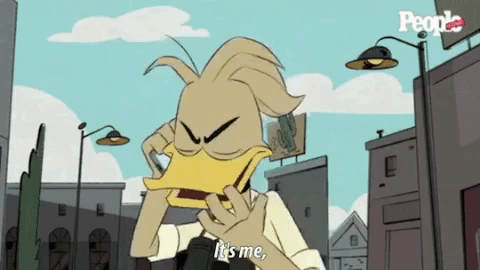 Not only do we get a Darkwing Duck cameo, we get the hero Duckbuerg deserves! Yeah, come through Lin Manuel-Miranda, come through! Yes sir, the charming and plucky Fenton Crackshell-Cabrera is here. You may remember him as the hero Gizmo. And note that last name hyphen so you know it's Latinx out here. Notice ya duck is brown too? I'm with it! I wish I was there for the sit-down for Lin agreeing to do the voice of Fenton/Gizmo.
Execs: Thank you for meeting us, Mr. Manuel-Mira-
Lin: Listen, F all that happy to be here shit that you want me on. I wanna be a Brown duck.
Execs: Oh… Okay.
Lin: Of course it is.
I got all the life from this debut man. Lin brought a new life to Fenton. He's the everyman that's just trying to do right and keeps bumbling along the way. Yet, when the time calls for it, your boy steps up. We've been waiting for Fenton to say the magic words, it was game over. Maaaaaan, Fenton said "Blatherskite" like he was throwing up the Duckberg Tech gang slang. That Gizmo suit popped up like "who want what?!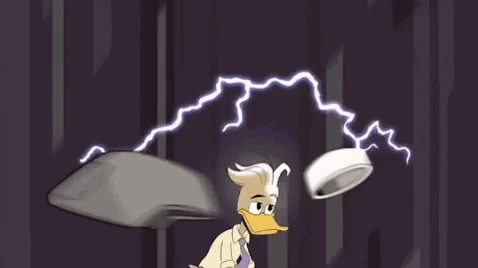 Deliver us, Gizmoduck! You know how long I've been waiting to see this gear up montage? Fenton didn't pop the trunk, he popped an entire laboratory to bring that suit out. Legendary. Duckberg's Ironman… Ironduck? Yeah, Ironduck back in this town. Your fowl Gizmoduck is back online with all the new updates and upgrades. Out here on bringing the unicycle motorcycle back and can't be told a damn thing. Out here emitting all the clean energy. Gizmoduck came through riding down the Duckberg's Westside Highway just to stunt on this generation of viewers.
I'm not going to spoil the premise of the episode "Beware The B.U.D.D.Y. System." There's a bunch of jokes and Easter eggs to go around. Lin Manuel-Miranda's Fenton fits in flawlessly with the rest of the DuckTales crew. Seeing Gizmoduck back in action after all these years? Man, anything is possible in the year of our fandom 2018. If you haven't checked out the DuckTales' reboot, the return of your faves should be reason enough. Rock with ya boys Darkwing and Gizmoduck into 2018.
Want to get Black Nerd Problems updates sent directly to you? Sign up here!
Follow us on Twitter, Facebook,Instagram, Tumblr, YouTube and Google+.