Writer: Magdelene Visaggio / Artists: Laura Braga and Elizabeth Torque / Marvel Comics
Dazzler's been around a good long time — her first appearance was in 1980 — and she's had plenty of appearances. She's frequently remembered for her post-Disco pop look. I fell in love with Dazzler in A-Force, where she appeared as a radically punk, roller derby queen. In every incarnation, she's been a reluctant hero who does good when part of her wants to just make music. It is those roots that this issue of Dazzler returns to.
Alison here is back to her rock backstory, having recently left the A-Force to get back to doing shows under the stage name Lightbringr. The band name is a throwback to Dazzler Thor who briefly joined the team in issue #5. Her version of Mjolnir was called Lightbringer, which now resides in Dazzler's trunk.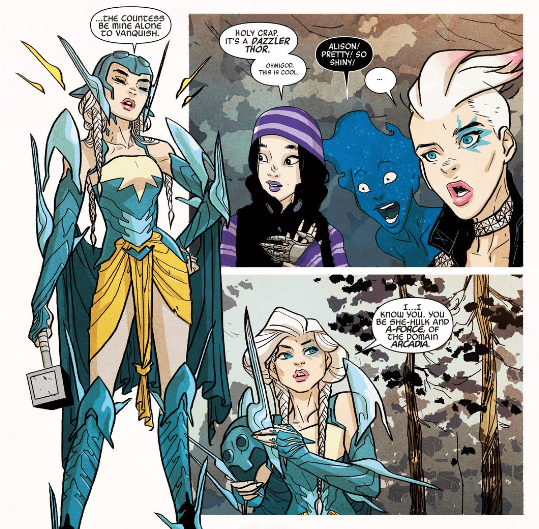 Lightbringr's shows are explicitly safe spaces for mutants and Inhumans alike. This kind of solidarity rubs some the wrong way after all the trouble muties and Inhumans have been through in the last few years. The comic tells the story of two Inhuman teen fans of Lightbringr who are being harassed by a gang of thugs calling themselves Mutant Action. Alison can't help standing up for the Inhumans, leading her back to her hero past and a reconciliation with the X-Men — repped here by Colossus.
Magdalene Visaggio's writing is direct and approachable, whether you know Dazzler's backstory or not. It is easy to draw comparisons here between this plot and gay dance clubs as safe places for "outsiders" to dance while also being places where cis gay people exclude or harrass trans people. But maybe that's my Pride month mind talking. Overall, this comic is about the music and how it brings people together.
Braga (known for her work on DC's Bombshells) and Rosenberg (who's candy paint has graced all kinds of Marvel comics) bring a bright, modern style to the comic, with in places reminded me of The Wicked and Divine while remaining very Marvel in character.
The Dazzler one-shot is a ramp for Alison to return to the X-Men team. If you're a Dazzler fan, like me, then you'll want this comic. It is also good for fans looking to be reminded of Alison's life and work before seeing her in the Astonishing X-Men book in August.
7.75 light flashes out of 20
Want to get Black Nerd Problems updates sent directly to you? Sign up here!
Follow us on Twitter, Facebook,Instagram, Tumblr, YouTube and Google+.