Writer: Josh Trujillo / Artist: Cara McGee / Boom! Studios
I am not the biggest sports fan. I've taken it upon myself to collectively refer to football, American football, baseball, and basketball as sportsball because in my head they're all easily categorized in that way. I have a great respect for the athleticism required to do all of these activities as someone who struggles to work three days a week. That said, there is something about sports fiction that gets me really excited. I think it's perhaps the deeper dive into the psyche of the different characters than the victory of the team. I think it's telling that the sports icon I know have a "narrative" around them. And I think it should come as no surprised that I ended up loving every single page of Trujillo's Dodge City.
Dodge City is your predictable coming of age of story told through the metaphor of an intermural dodge ball league where all of the kids are taking things just a little bit too seriously. The opening pages immediately shows a brutal headshot and the main cast of character: Drew, Elise, Judith, Amardeep, Huck, and newcomer Tomás. Exposition is given effortlessly as we are reminded the rules of Dodgeball a.k.a. "In dodgeball, head shots aren't out" and how Tomás was recruited to the gym court arena after asking Ms. Maison for help into the league.
The story follows the ragtag bunch of misfits, still my favorite all time trope in existence, the Jazz Pandas, a disgraced dodge ball team with no season wins and a staggering 15 season losses. Trujillo and McGee play brilliantly off of each other. Trujillo's captures the exact cadence of teenagers trying to come into their own while McGee exercises a brilliant range of teenage facial expressions from a hard-earned confidence, blissful glee, exhaustion, uncertainty, and in Tomás' case: absolute fear. Every single element that this duo produces is absolute joy.
The diversity of the Jazz Panda is one of the main selling points of Dodge City, Volume 1. It's a multiracial cast, with LBGT+ representation, and even a deaf dodge player that are all united under the single goal of playing dodgeball together. The dynamic between the different players is refreshing in its familiarity and optimism. Elise and Drew are two queer ladies trying to deal with Drew's impending departure to college. Huck's deaf makes it difficulty for him to communicate with the team, although Tomás makes a concerted effort to learn some American Sign Language. Amardeep has his own familial concerns to deal with and uses Dodgeball as outlet, and Judith is guilt-ridden over previous actions and wants to atone for them. While Tomás is ostensibly the central character, it is truly an ensemble cast that breathes life into the story of Dodge City.
McGee's artwork perfectly blends the kinetic action of a dodgeball court with the subtler moments of teenage awkwardness. It's endearing to see these kids struggle through the ins and outs of relationships with fellow team mates and rivals. And the Jazz Panda logo is particularly cute. Trujillo's knack for pacing means that Dodge City, Vol. 1 is a quick read that will leave a smile on your face the entire time.
Dodge City, Vol. 1 is a fantastic first graphic novel for the up and coming reader in your life. And for veterans comic fans, it offers a bright new take on familiar tropes with wonderfully relatable characters and struggles that will flashback to the kinder moments of middle school/high school gym classes. I can't recommend it enough.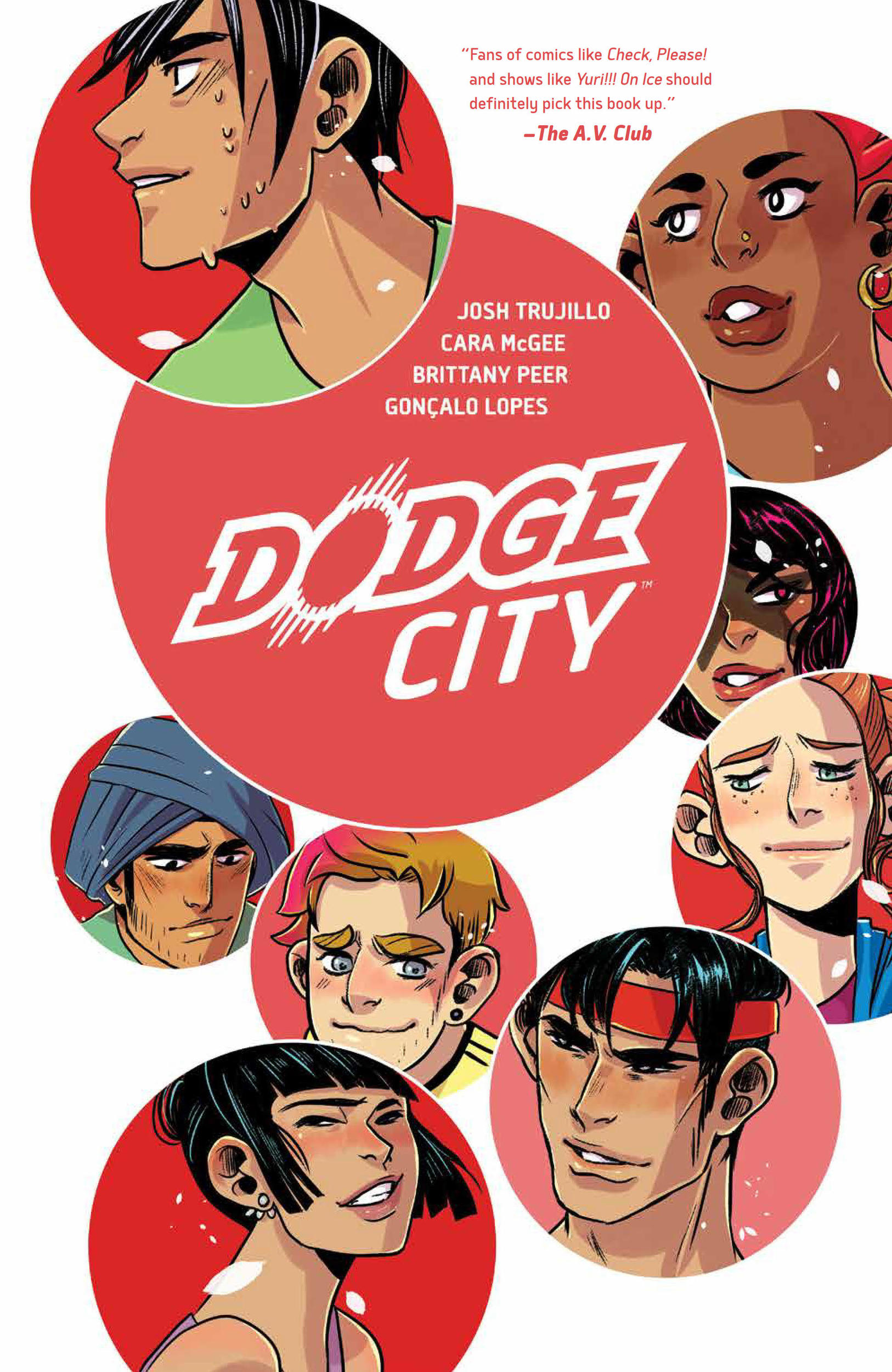 9.9 "Dodgeball Rules and Regulations" out of 10
Want to get Black Nerd Problems updates sent directly to you? Sign up here!
Are you following Black Nerd Problems on Twitter, Facebook, Tumblr or Google+?