It's still Saturday, and I'm still walking through artist alley. It's later in the evening now, so there are significantly fewer people. I find my way to Myisha Haynes' table. I had seen Myisha at the Black Heroes Matter panel the day before hosted by The Blerd Gurl, where she talked about the freedom of creating a webcomic.
She was kind enough to grant me an interview.
Morgan: What is your background in illustration?
Myisha Haynes: I've been drawing probably since I was little, like five or so, but I only really started drawing comics professionally. I went to college for visual development, like concept art, and then I got into the game industry and I did art for games and still do, that's actually my full-time job. But in terms of comics, I've only started doing that very recently, like maybe two or three years ago with my first web-comic.
M: So your first webcomic was The Substitutes?
MH: Yes. I've done some small projects for friends and stuff but in terms of a big long form comic, this is the first one I've done.
M: Describe your process of producing The Substitutes.
MH: Because I work full time, I only have time to do it every two weeks because it takes me about I would say, like a couple of days to fully thumbnail, pencil, ink, color, and letter a page. So since I'm doing everything myself, it takes a little bit longer.
M: Have you worked on any projects with anyone else?
MH: Yes, I've worked with Greg Thelen on Amanda Green, and I've done a few issues of Marvel's Gwenpool. I've also done a few smaller projects here and there. But in terms of long-form, The Substitutes is the only thing I've done with just myself.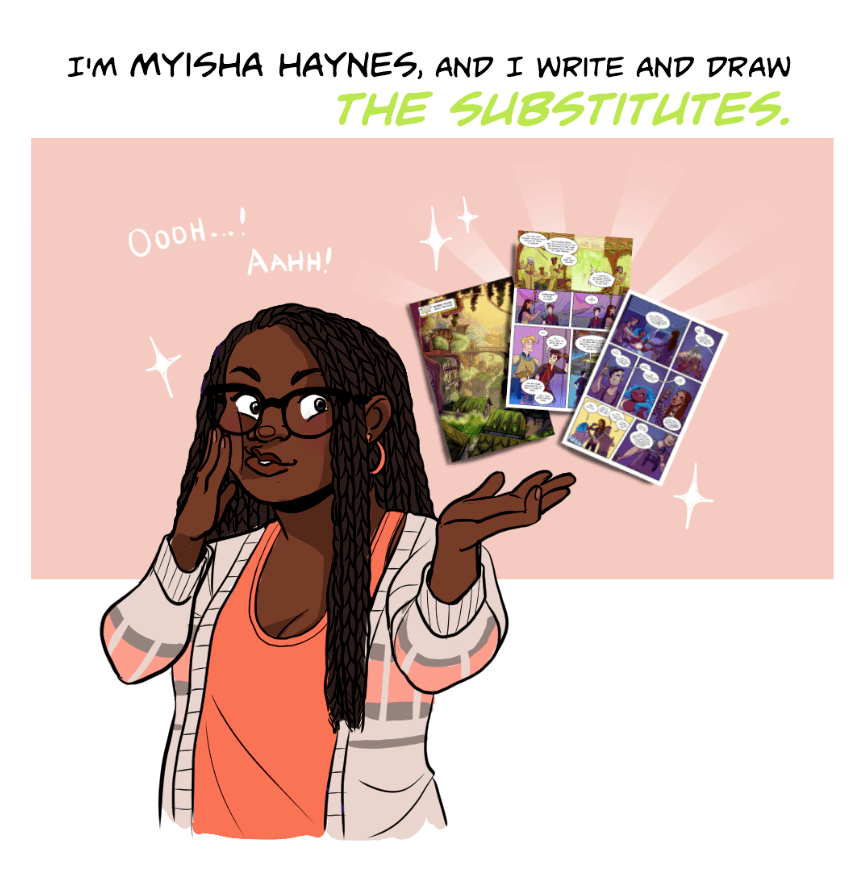 M: Is there a specific reason you chose the webcomic route?
MH: Since I work full time, it's a little freer. I can set my own schedule. They can look as polished or not as polished, and if I need to go back and edit something, I can do that because I'm posting it myself. In general, the webcomics medium is a lot more manageable.
M: What was the inspiration behind The Substitutes? Because it's fantasy, but it looks and feels different.
MH: There's not like one set thing that I thought of. But I really love fantasy stories, and I really like the idea of a black girl being the lead in a fantasy story, and then also just having characters of color, queer characters as well be in these stories that I like to read, but don't see myself in too much. So I kind of wanted to marry the idea that someone from our world could exist in a fantasy world and also the idea that the fantasy world isn't like Lord of The Rings, Anglo Saxon white medieval Europe.
M: Which is the fantasy I hate. There's too much of it.
I had the put that in there. I had to. Get outta here with that King Arthur isssshhhhhh.
MH: Haha. Right, so I was kinda like "I want to explore something different." I like world building a lot. So basically what I do when I create stories, I think about what do I like, what genres do I like, what kind of characters do I want to see, and then I go "Can I find a story?"
M: I saw you speak on a panel yesterday, and you mentioned that you didn't just want to have an overweight black girl as your protagonist. You wanted to include other underrepresented voices also. What are the challenges and rewards of including people of cultures and backgrounds that aren't your own?
MH: For me, it's important to listen to the voices of other people. I want to be able to listen and ask questions of people who can speak to their experiences more than I can. But also I feel like so often people use the excuse of "I'm not this, so I shouldn't write about that." But then that's how you get so many of these stories that are Cishet white men over and over again, right? So I feel like it is important to have stories that involve everyone but also it's important to listen to people who have more experience in that culture.


M: Story-wise, how far ahead do you stay with The Substitutes? Do you plot everything out or since you have so much time in between pages, do you sort of figure it out as you go?
MH: I have the full story plotted out. It's all a pretty loose outline, but it's all outlined out to the very end. And so as I work, I actually script chapter by chapter. There's not too much structure. I do leave a little bit of wiggle room. That's what I like about webcomics. If you change your mind, you can just be like "I mean I was gonna write this but that doesn't sound right anymore." Or "The dialogue was this, but I know the character more now and I know they wouldn't say that." So in terms of the story itself, the storyline is all completely outlined but how I get there, I give myself some room.
M: What's the one thing you want your audience to get out of The Substitutes?
MH: Well, my characters aren't gonna be perfect. That's also the thing about webcomics is that since you upload page by page or maybe a couple pages at a time, people are like "Why did this character do this one thing? Are they terrible?" They're not. But they're growing and you kind of have to give them the space to breathe. So I want to create characters who aren't perfect. They have flaws, but I want people to understand there's a process there. They're going somewhere. They're not there yet, and there will be some growing pains for certain characters but that's life, right? That's people. They're complicated.
Here's a brief synopsis of the webcomic.
What happens when three roommates accidentally acquire powerful magic weapons destined for someone else? What happens when the aforementioned "someone elses" fall from grace and public favor in the aftermath? What happens when you've suddenly found yourself as the hero to someone else's story…?
Check it out here, and share it with everyone you know! Fantasy lover or not!
New pages are up every other Tuesday! See more of Myisha on Patreon.

Hi, I'm Myisha, and I'm a games artist by day and a webcomic creator by night! https://t.co/jtWNnhMt5I #drawingwhileblack pic.twitter.com/onAqsOpGXx

— Myisha Haynes ?✨ | TCAF (@palaceofposey) September 16, 2017
Are you following Black Nerd Problems on Twitter, Facebook, Instagram, Tumblr, YouTube or Google+?