Writer: Kieron Gillen / Artist: Esad Ribic / Marvel Comics
In the wake of their hit movie, it's only fitting that the Eternals have such a good run in the comics. Kieron Gillen is crafting a thoughtful, fleshed out Dune-esque mythology around these celestial demigods that, were it promoted better, could rival the audacious world building that Jonathan Hickman delivered with his new X-Men direction.
Eternals #7 begins a bold new story arc that sees the lion's share of Eternals seeking a new way to live, tired of their never-ending conflict with the Deviants. The road to peace is complicated by the potential price for coexistence with their longtime nemesis. Meanwhile, some Eternals seek answers, others seek forgiveness in the human world, others plot and scheme….and then there's Thanos. In an era of pop culture when the Mad Titan has basically become a household name, Gillen has given this Big Bad a new lease on life within the pages of Eternals. There's something so refreshingly fun about how Thanos just shows up, stomps any situation into a meaty paste and moves on about his business like he just checked his email.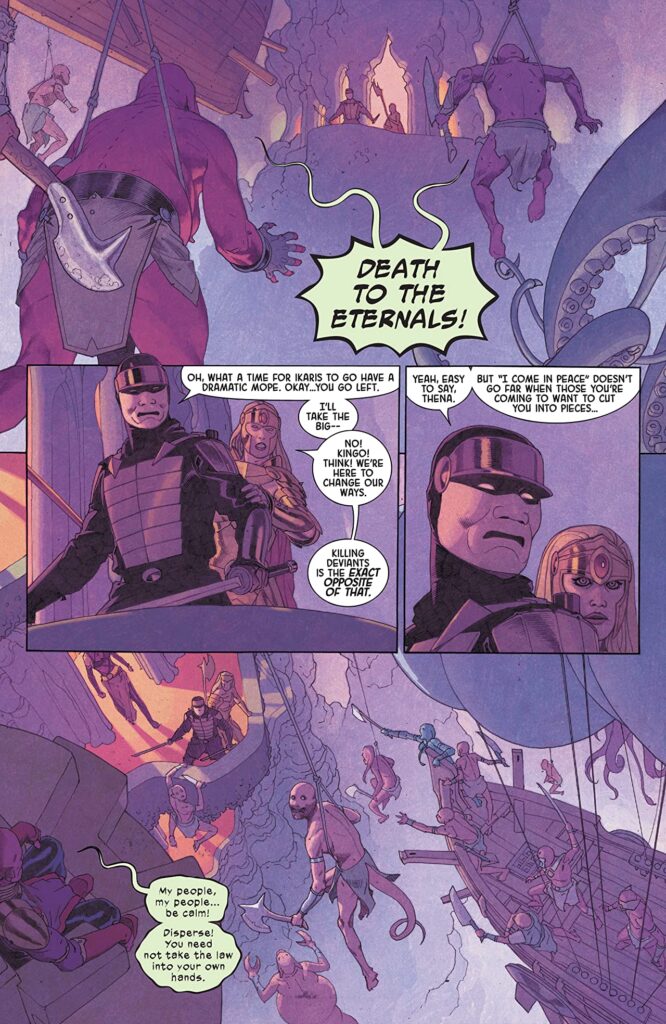 Gillen's greatest accomplishment with this book is how he balances a rather large cast of characters without allowing their voices to get lost. Everyone in this book has a distinct sense of personality that makes them distinctive in every scene. This seems like it shouldn't be such a big deal but not every comic accomplishes this. Meanwhile, Esad Ribic is the glue that really brings these big ideas and dynamic characters together in epic scenes that just wouldn't work the same without his attention to detail and ability to make every panel interesting in its own way. The color palette and sense of scope in Eternals #7 make all of these characters look and feel as legendary as they deserve.
Bottom Line: Eternals is getting a run that truly reflect their becoming marquee characters thanks to the film. The diverse, distinctive cast of characters and conflicting motivations make for the kind of fleshed out story longtime fans and new readers will drool over.
8.5 Josh Brolin monologues out of 10
Want to get Black Nerd Problems updates sent directly to you? Sign up here! Follow us on Twitter, Facebook, Youtube, and Instagram!