Season 2/Episode 8/HULU
**spoiler alert**
TW: torture, verbal/physical/sexual abuse
This episode of Hulu's The Handmaid's Tale gives us an inside look at what complicity looks like when hope of a revolution is gone. It also shows us how precious the work of women is and how the world suffers at it's loss.
Easy Like Sunday Morning… In Gilead
This episode quite literally opens with Motown, coffee and two women working for a revolution. But, this is Gilead so they're really working for complicity. These two women who are sharing compliments and quips happen to be Serena and June/Offred. The Commander is still in the hospital and Serena, Mrs Waterford, has taken on the family business with the help of her handmaid's editing skills. This partnership can't and won't last for long, of course. This is Gilead and ain't nothing easy in these cold streets. Plus, Commander Waterford and his broken ass is back. He takes no time at all to make sure that his presence is known and that Serena is put back in her place; outside of his study. The first thing he does is get back to business, including closing the door deadass in his wife's face. He's eager to "get things back to normal."
Part of the new normal is Mrs Waterford and June with a semi-healthy working relationship conversing and shit. Serena gave June back her music box and photo of Hannah, plus a white rose. I can only assume that white rose is symbolic of the new neutral ground and proposed truce between the two women. I really came to believe that when Serena shared with June that baby Angela/Charlotte (Janine's baby) is ill. Very ill.
Shop Til You Drop (to your knees)
Later, the handmaid's are shopping and Jeanine is being…. Jeanine. She's sweet, hitting June with "May the force be with you" in leiu of "May the Lord open." It's a sweet exchange that doesn't last for long when Jeanine's joy includes being happy that she doesn't have to give blow jobs in this post and the sirens sound on an ambulance passing by. Not just any ambulance, though. This is one for a sick baby. The sick baby. Angela/Charlotte. Every handmaid drops to her knees and begins to pray while in the store. The intensity is felt through the screen as these women look on with the fear that the sick baby may be their own. Jeanine begins to freak out when another handmaid says that it could be Charlotte. June does her best to calm Jeanine and keep her safe from the Eyes and from the truth (that her baby is dying). June promises to keep her informed, but her complicity with Gilead falls begins to show when Janine begs to see the baby.
Later on, Serena willingly shares with Offred/June that the baby isn't doing well. She also mentions that the the best doctor in Gilead is available, but not being sought out. This is a pivotal moment for a number of reasons.
Serena asks June her opinion on what to do.
Serena goes on to ask The Commander to break Gilead's rules for Baby Angela by allowing a Martha who was once the best known neonatologists in the world.
Serena is forced to see her husband in a different light when he refuses to get the best treatment (a woman doctor) for the baby; and
Serena listens to June and pleads for Janine to be able to see baby Angela/Charlotte.
Femme the Future
Serena is in her element is this episode. Eff a commander, a baby's life is on the line. Soon a Black woman appears, a Martha, who has know idea why she has been brought to the hospital until Serena tells her why. Every move that Serena and June make in this episode is for baby Angela/Charlotte. Serena wants to give the baby every chance possible for a full recovery. June wants to give Janine every chance possible to see and hold her child. When the neonatologist tells them that there is no evidence of what could be wrong, meaning there is also no cure all of the parents lose it, including Serena. The doctor explains that the only thing left to do is to make the baby feel comfortable and warm and safe. June goes out on a(nother) limb to help Janine to be able to hold and kiss baby Angela/Charlotte.
Making Amends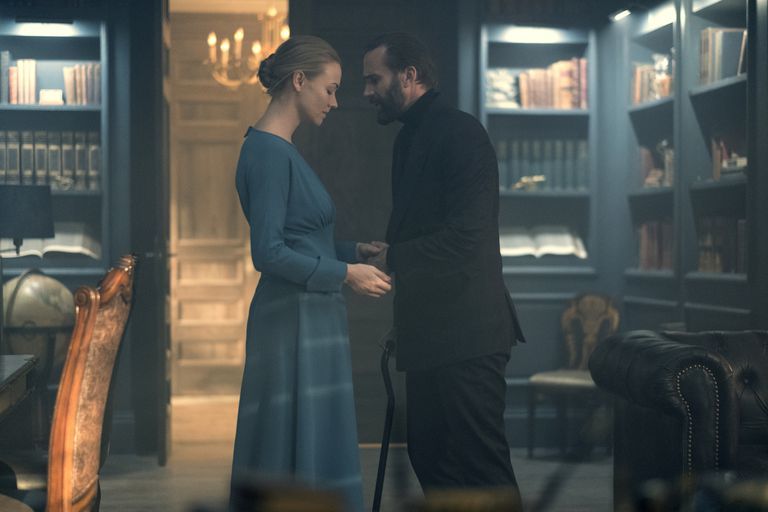 While the women are at the hospital taking care of business, Fred (the commander) is back home snooping around and putting two and two together. He figures out that Serena and June have been working together. Fred also finds out that he signed the release for the doctor/Martha to see baby Angela. The women are called to his study when that arrive back at the house. He chastises them and apologizes for them going astray. When Fred questions her actions, Serena says "I did it for the child. What greater responsibility is there in Gilead?" Fred's response: "Obeying your husband." After that, Fred takes off his belt and beats his wife in front of Offred/June. This is making amends.
It's Crazy But It's True
After such a devastating scene that is sure to lead to Serena and June's alliance shattering, we're given a happy note to leave on. It is the next morning at the hospital. The walls and furniture are stark white and aglow with the sunrise. Janine is heard in the background singing Dusty Springfield's "It's Crazy But It's True."
"It doesn't matter where you go or what you do
I want to spend each moment of the day with you
Look what has happened with just one kiss
I never knew that I could be in love like this
It's crazy but it's true, I only want to be with you"
Aunt Lydia awakes and we see Janine half naked in the window with a laughing and giggling naked baby Angela/Charlotte. Momma and baby. They're together again. Happy. Singing. Smiling. Laughing. Whole.
Catch new episodes of The Handmaid's Tale Wednesdays on Hulu.
Are you following Black Nerd Problems on Twitter, Facebook, Tumblr or Google+?