Here's another entry in the 'Hidden Gem Anime Series to Enjoy' series for you all to enjoy: Girl's Last Tour. I randomly came across the anime on Prime Video ages ago and slowly took my time watching and savoring it. Revisiting it this year meant that I looked forward to all the quiet moments this series included that made me ponder all about the purpose of civilization and who I'd want to travel with in a ruined world. While not bite sized, this twelve-episode anime is a darling that the fandom adores, and I'm onboard to write about for those unaware!
---
What is it About:
Based on a six volume manga series by Tsukumizu, this anime adaption follows two girls exploring the ruins of civilization looking for food and fuel in a future where most of humanity is gone.
The series follows Yuuri and Chito traveling in their beloved Kettenkrad motorbike as they try to salvage what's left of the post-apocalyptic world around them, but they also uncover unique places left untouched and have experiences that change them for better or worse.
With Chito, behind the steering wheel, and Yuuri, handling gun duties, they travel farther than they've ever gone, and the anime gives all the philosophical vibes as they ponder on machines and buildings made in the past. They even have a few encounters that will make you cry or laugh–perhaps both! Think slice of life meets most-certainly-post-apocalyptic.
Get in Loser, We're Riding to the End of the World:
Folks that Girl's Last Tour could appeal to include:
Folks who are looking for anime with post-apocalyptic settings
Folks who are looking for anime filled with silly little moments
Folks who want anime series centering female characters
Folks looking for an (wholesome) anime to quietly devastate them
What makes this Series Standout:
I really loved watching and seeing how Chito and Yuuri choose to handle certain situations while traveling: their different personalities and views clash at almost every turn which made for great laughs. Chito, nicknamed and often referred to as Chii-chan, is the more calm and straight-laced one. She's strict–especially when it comes to their forever dwindling supplies. She appears to be perhaps slightly younger but for sure shorter in height when compared to Yuuri. The second part of our duo Yuuri, nicknamed and often referred to as Yuu, is the more carefree and spontaneous one. She's a bit of a space case as well, making trouble as she often falls asleep and makes mistakes that cause Chi much stress. In Girl's Last Tour, Yuu is more focused on the now–and Chi more eagle-eyed on the future.
The girls while young, are old enough to be able to identify bomber planes, ruined machine guns, and tanks but have no clue what chocolate is. A quick flashback scene in the first episode hints at perhaps their first home: much younger and smaller versions of themselves were sent away by a mysterious person from what looks like a military base, camp, or a human settlement on the verge of collapse. This helps explain how they acquired the Kettenkrad motorbike which is specifically a military vehicle and such things like Yuu's rifle. Moving through metal graveyards of forgotten weapons has them "playing as adults" at times. The two find a treasure trove of rations. After they sit down to eat the first pack together, Yuu "betrays" Chii for the last piece. This scene reminds the audience that they probably weren't too young to witness skirmishes but have no real working knowledge of why the world is the way it is now. This scene also establishes that what they know of the world and how humans live among each other is mostly, from each other. They are figuring out what a moral compass is and how to operate with one all on their own.
The world that Chii and Yuu navigate is a wrecked but beautiful one. They seek any manner of scenery–damaged rows of skyscrapers that tower over whole parts of cities topped with snow that look majestic. They move through darkened factories and warehouses that hide useful things and house unusual places like workshops and blueprints. At this point in history, it seems that the former humans in that part of the world build entire, sprawling cities with levels and the two girls are simply moving through them to higher and higher levels. Throughout the series, they do discover new experiences like operating a near forgotten piece of technology like a camera as well as uncovering a forgotten piece of artwork enshrined in a world where almost no one is around to appreciate it.
Criminally unrated, Girl's Last Tour speaks to the ideal and pursuit of exploration. First, the exploration of the human experience and what a person can and will endure. Secondly, the anime's narrative includes exploration of whatever is left of the world, which is not much. This series is a miss for some for its slow pace and slice of life approach narrative that simmers, not explodes, on the screen. But for me, it moves at just the right pace. Each episode is a clear treasure of a snapshot of the journey of Chii and Yuu defining what life is on their own terms and moving forward no matter how grim and barren the world appears.
As artist, gamer, and YouTuber, Relyable mentioned here in a video, some part of the message of the anime is acceptance. Yuu and Chii come to learn about accepting some truth about life and the world—their lives as human beings will end one day as the world they live in has slowly already been doing so. I love this point, because the two girls are content to go along as long as they have each other. Life goes on and it will end one day but the girls' choice is to make the most of it and bring meaning and happiness to each other each day–as long as they can.
Girl's Last Tour accomplishes in getting me in my feels every time with its simple story and profound way these characters learn what makes life meaningful for them. The anime remains an superb addition to the Iyashikei genre and really brings home why such seemingly abstract needs like happiness and companionship matter in bleak times. That's a reminder I think we all need from time to time but especially now and is part of the reason why Girl's Last Tour is a hidden gem that I will always recommend.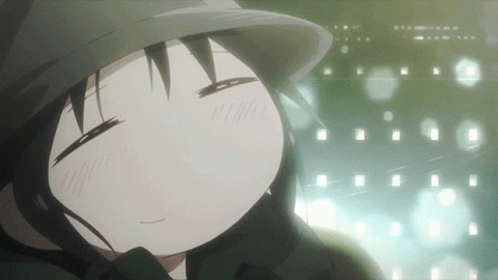 ---
You can find Girl's Last Tour streaming on Prime Video and now on HI-DIVE.
Want to get Black Nerd Problems updates sent directly to you? Sign up here! Follow us on Twitter, Facebook, Youtube, and Instagram!