If you haven't seen Into The Spider-Verse, you're late. Stop what you're doing, and go see it right now! Into The Spider-Verse did quite a few things right, most relevant to me: Miles is realized as a complete human being, and the movie used New York City to do it. This movie will definitely make him a household name and get him ordained as the patron Saint of Bodega Cats.
Miles Morales is many things to many people. He himself is an Afro-Latinx, more succinctly, Afro-Puerto Rican – and it shows! My guy Miles is out here codeswitching between his interactions with his African-American father, Puerto Rican mother, various Black and Brown homies, and a white homegirl from around the way who is into the kid. All of this happens in the first few minutes of the movie! The filmmakers were able to humanize a high-profile, marquis character in a few moments, by grounding him in all of his cultural practices. Normal for many hyphenated Americans, brand new to the melanin-deficient. No shade, just tea. As in Arizona iced tea from a Brooklyn bodega! Miles is really out here in these motion comic book streets.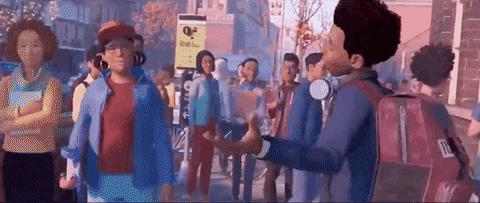 Miles is fleshed out in these tiny moments: sneaking a spoon of arroz y habichuelas (rice and beans) before walking out the door, getting kissed by his mom (no matter how old he is), and whipping down the block hollering at the neighborhood homies in Spanglish. All of these are staple parts of the Latinx experience in New York City. They don't require two hours of exposition, but they still managed to work that in, organically. knocks on fourth wall Hollywood, take notes!
Miles' Blackness is something he wears a bit more obviously than his Latinidad. It's front and center in his skin, his hair, his voice.
It's a complexity explored in his strained connection to his dad, who is a PDNY police officer; and his uncle, the father figure he looks up to who is also a career criminal. Miles is a charter school scholar and so much of his identity is summed up in his internal conflict (a very real issue that many young people of color in big cities face). He struggles to maintain his 'model minority' status AND live his best life doing what he loves (tagging spots and web-slinging). Brian Michael Bendis created the character in the comics because he felt 'that it was time for a new take on our icons'. Then he bodied the comics game with a Black Spider-Man (inspired by Obama's run for the presidency and Donald Glover's work on two NBC shows). If Bendis made it a dope book, Into The Spider-Verse made it a dope movie! (Shout out to Jay-Z!)
Even with a stellar voice cast (and possibly the best Nicolas Cage performance in some time), the character that shines brightest is New York City itself, which was used amazingly and to great effect. The culture that New York made takes center stage. Let me tell you: Hip-Hop is on deck in this joint! My goodness, the music though?!?!? Can we talk about how the entire orchestral score was put to vinyl so the sound production team could DJ scratch parts of it? They made sure the essence of Hip-Hop was woven throughout the whole damn soundscape. Miles is practicing drawing a tag in his 'black book', which is the book that graffiti writers have used to practice their murals since the late 70s. On top of that, we catch Miles throwing up sticker tags!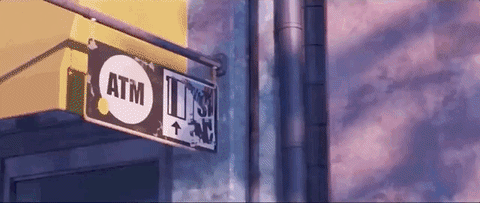 On top of that we get the whole scene with Miles and his uncle doing a wall in graffiti – and get this – in an abandoned train station tunnel! It's about as New York City as you can get without the Ninja Turtles running around in trenchcoats jacking pizza delivery guys at katana-point. Can we now casually reference how they had Biggie's "Hypnotized" bumping out the window, uncensored, with the bass rattling the downstairs neighbors' dishes?
The only way this could've been more NYC is if Miles was web-slinging to school with a bacon, egg, and cheese in hand with some Timbs on. He's already rocking the red and black suit with the lumberjack to match. Go take your behind out and go see Into The Spider-Verse and watch Miles Morales live his best Blatinx life! Also, check out the BNP review of Into The Spider-Verse!
Want to get Black Nerd Problems updates sent directly to you? Sign up here!
Follow us on Twitter, Facebook,Instagram, Tumblr, YouTube and Google+.