Writer: Brian Michael Bendis / Artist: David Marquez / Marvel Comics
So, the Invincible Iron Man series has become sort of the hallowed thing since Matt Fraction won an Eisner for his work on the series. It's a good thing the torch has been placed in such good hands as Brian Michael Bendis. The Powers writer has given us a decidedly more lighthearted approach to the Armored Avenger, making sort of a buddy cop adventure between Tony Stark and his spunky A.I., Friday. And even now, the book continues to pick up steam.
This week, Tony is still hot on the trail of his insane, magically endowed ex girlfriend, Madame Masque when Doctor Doom intervenes once again. I love how Doom keeps showing up to annoy the piss out of Stark like that one guy you don't really like even though he's convinced you're best friends. Bendis has quite a few objectives per issue that he seems to complete almost without trying. First and foremost, he brings the fun back. Previous stories in recent years have been powerful and said a lot about the things that keep "The Man Who Has Everything" up at night, but they've always been a bit morose in tone. Here, we have another one of Tony's nightmare scenarios presented in an uptempo, snarky sort of swashbuckling manner.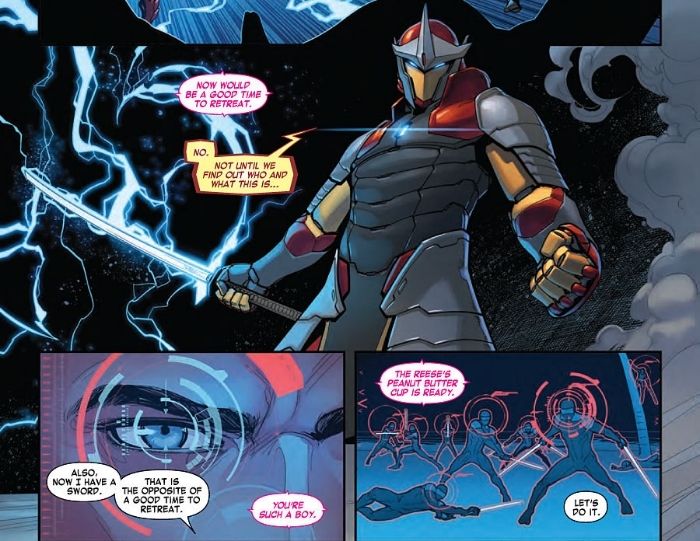 The other objective, story-wise, is to shine a light on how someone of Tony's genius copes with himself. I won't give away one of the highlights of the book that serves as the best example so far in this story, but this is a guy who is so married to technology that he even approaches self-care as if he's programming an app. The flashiest objective is largely thanks to David Marquez's A+ artwork: SHOW OFF THE FUCKING ARMOR! This armor is obviously meant to be the best of every wacky concept Stark has ever had for a revolutionary suit in one package and Marquez is so good at building to these holy shit moments where you see a new mode or at least a new take one we've already seen.
Bottom Line: This book has been off to an outstanding start. All it has to do is keep things fun and I predict a 10 out of 10 in Bendis' future.
9 Roller Skate Armor Suits out of 10
Are you following Black Nerd Problems on Twitter, Facebook, Tumblr or Google+?