Release Date: 05/15/2018
Creator: Ban Zarbo / TOKYOPOP
Kamo: Pact With the Spirit World feels like equal part Yu Yu Hakusho and Bleach, and regardless of how you feel about those series, I mean that as a genuine compliment to the opening volume of TOKYOPOP's latest publication. You have the recently revived protagonist who is given a second chance of life if he hunts down some spirits coupled with the magical instrument from the aforementioned spirit figure with non-Japanese supporting character choosing to tag along. Although maybe I'm getting ahead of myself.
Zarbo wastes zero time into getting the plot rolling. The opening chapter is as follows:
• Kamo, the titular character, has a chronic heart condition and is going to die very shortly.
• Before he die dies, a mysterious spirit named Crimson offers him a deal.
• Said deal is "Help capture these 12 spirits, and you get to live."
• Kamo, being your typical protagonist, struggles with disbelief before agreeing.
The rest of the volume is equally quick paced, throwing Kamo into his first big boss fight against one of the twelve demons before finding some friends and eventually an ally in Shokola, a badass Dominican woman with some mysterious ties to the Spirit World. The brisk pace of the story at times does lead to some less than satisfying exposition of certain plots points, and each of the chapters feels dense at times. Certain character interactions seem to manifest out of nowhere and perhaps that is more the function of being the first volume that has to set the status quo, but it is exhausting.
That said, the central trio of Kamo, Crimson, and Shokola work brilliantly. Little details about their habits and their personalities are presented in piecemeal that smooth out some of the rougher edges of the story. Seeing Kamo being so excited about his second lease on life by playing sports and eating countless hamburgers feels joyful. Having Kamo being exceedingly book smart due to years of private tutoring make sense. Crimson and Shokola having parallel private agendas that make the uneasiness add a layer of mystery to this ghost story. It's a little full of trope, but it's executed well.
The last interesting facet to the story I want to note is that Zarbo has Dominican roots, based in Switzerland, writing for the German Manga Scene through TOKYOPOP. It's a fascinating cross section of cultures that really permeates through the pages of the story. Zarbo's takes stride in making sure this German manga is visually indistinguishable from its Japanese brethren, with Kamo's bishonen appearance and Crimson's Shinigami-esque design. Combine that with Shokola's unique character design and Spanish dialog, you have a story that reflects the diversity of the writer and audience, and it's so refreshing to read.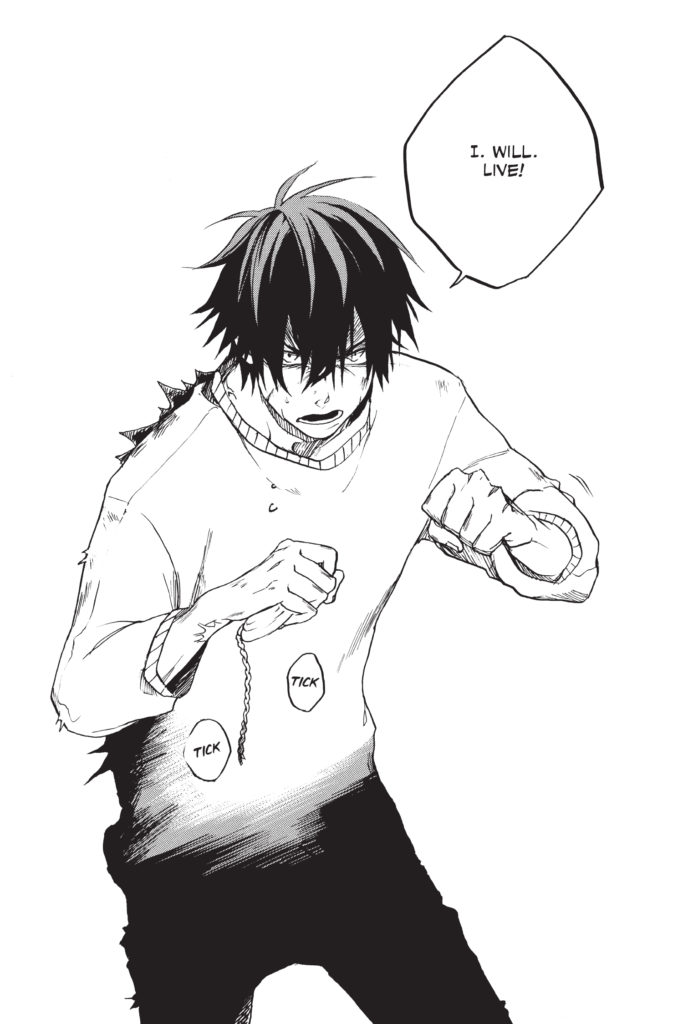 Kamo: Pact With the Spirit World is fun. It's an interesting blend of elements with a strong opening volume and the promise of exciting battles and character moments. You might not be surprised by the direction the story takes, but you'll definitely appreciate the scenery along the way.
Kamo: Pact With the Spirit World, Vol. 1 Gets 8.7 "Faustian Accords" out of 10
Want to get Black Nerd Problems updates sent directly to you? Sign up here!
Follow us on Twitter, Facebook,Instagram, Tumblr, YouTube and Google+.