Photo: Mattel
Mattel, the company best known for Barbie dolls, has recently been trying to step up their game. In November, the company launched a new line of body positive, more melanated Barbie dolls with various heights, eye colors, and hair styles to appeal to a larger demographic (finally) and we took notice. Well, I'm here to tell you folks that the evolution of Mattel is still in motion. They recently launched a new line of dolls: DC Super Hero Girls. I took a little stroll through Mattel's website, and honestly, I have to say that I'm here for the girls!
When I was a kid, my "go to" Halloween costumes were Spiderman and Wonder Woman. That being said, anything super hero related catches my eye. Honestly, feminism is its own super power, right? Right. I had to check this out. I went online and decided to look more into DC Super Hero Girls outside of what Mattel is doing and watched a few-bite sized episodes of the WB animation on YouTube. I pretty much fell in love. The first episode I watched showed Amanda Waller, the principal of Super Hero High, in all of her Loretta Devine circa 1987 Gilbert Hall director Stevi glory. That's enough to have me sanging "Yassss, honey" all through my living room.
Back to Mattel and these dolls… They are gorgeous. Not in the hypersexualized heteronormative standard of most dolls, but just everyday-how-it-should-be gorgeous. I really adore the fact that none of the Super Hero Girls are extra padded in the boobs and hips. They're true girls. The cartoon allows them to finally be that, as well. Girls who are kick-ass and saving the day. They aren't damsels in distress or more fit for the cover of a XXX magazine… finally.
Let's start with Wonder Woman. Mattel's Wonder Woman in this new line is phenomenally ethnically ambiguous. She's brown and beautiful. Not the ambiguity that erases Brown and Black from our lexicon, but the the kind of ambiguity that stretches it's arms out to embrace every girl. At first glance, she looked Latinx to me, but the truth is she can represent many Brown babies and beyond! What a wonderful thing.
When we move to Bumblebee, my heart soars. Bumblbee is so radically and unapologetically chocolate, honey. Yasssss! I am so here for it. I prayed for dolls as brown as her. I took markers and darkened their faces. Now, I'm in my mid thirties standing in line at the toy stores just to buy the doll that I always wanted… the one who looked like me. Can we talk about this little sistah's hair, too? The blonde streak and that side cut, though? You know how Black women are about our hair and this honey is representin'! Yass!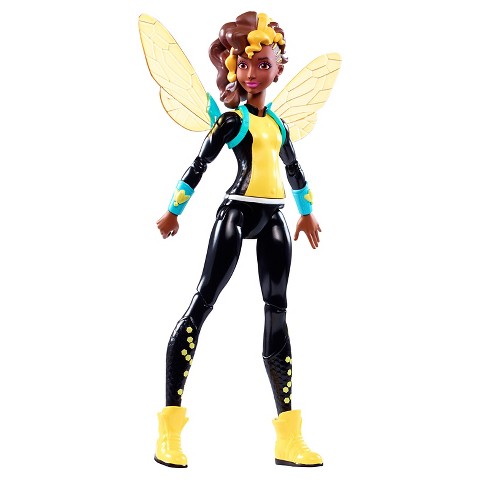 I could go through each doll and point out their beauty and simplicity, but you can see it for yourself. When you look at every doll in the line up, Mattel got right every wrong that came across as insincere with the evolved Barbie line. Will any doll fully represent everyone? One day, I hope. Jiminy Christmas, I hope so. Does this line of dolls come close? Yes! Was Mattel able to capture the dolls so well because the tv show depicts them so naturally? Probably. When it comes to future action figures, I hope that Mattel takes a note from it's Super Hero Girls line and strives to add more and more dolls who broaden the representation of children throughout the world.
Are you following Black Nerd Problems on Twitter, Facebook, Tumblr or Google+?