I originally heard word of this comic last year via KickStarter. I was intrigued by the unique art style, the usage of a (not overly sexualized) female protagonist, that its creator is a fellow Californian native and that I was able to get a print copy for under ten bucks.

@grimwilkins received Mirenda #1 autographed, bagged & boarded & goodies! #KickstaterComics ??? pic.twitter.com/xBDq5JO3Lu

— CarrieClipsMcClain (@DivineBlkPearl) January 19, 2016
I did receive my copy in the mail recently (and kickstarter goodies!) and once I bought a digital copy I most definitely wanted to review it for BNP.
[quote_simple]"Issue 1 of Mirenda, the story of a jungle woman on a journey to remove a terrifying, possibly undead creature from her leg. This is one strange tale, indeed."[/quote_simple] Mirenda is a young woman only clad in a loin cloth like garment who frolics through a forest in a world forever changed by a traumatic event, possibly a major war? She finds herself in the worse situation ever when by not only does she find a undesired hole on one of her body parts BUT also it serves as a portal for some ungodly creature come out from.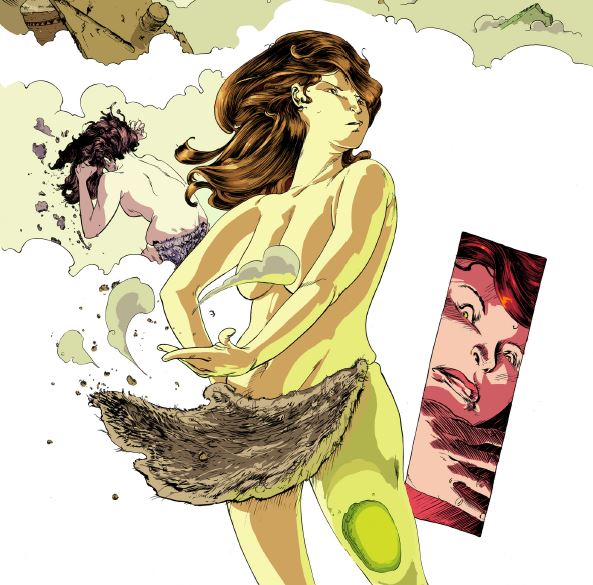 This revelation leads Mirenda to start her journey for a solution. But she does this we are introduced to other characters seemingly on a mission and it is within these pages that we see a masterful experimentation of being able to tell a story while shifting panels around to cater to Tim "Grim" Wilkin's art style.
Speaking of Wilkins's art: it's magnificent. Mirenda, granted her wardrobe, never gives off the feel of a certain comic book artist's interpretation of Spider-woman. Her movements are fluid and very much genuine to the personality of hers that I'm starting to get a feel for in these pages: curious, determined and very fast on her feet. There's creatures big and small on these pages and all of them come off as very real and very vividly colored and inked thanks to Grim. Even the panels where the color is muted, the story prevails. Even a single color brightens up the page throughout placing emphasis on a certain object.One of the biggest wins from this comic comes from the lack of written dialogue. And to clarify this isn't an negative.
One of the biggest wins from Mirenda #1 comes from the lack of written dialogue. And to clarify this isn't a negative. No, not at all.  Instead: this opens up an avenue of accessibility: the story is mostly in pictures so nearly anyone can read it. There isn't a language barrier. No need to translate.
Creator Wilkins himself on the lack of text: "I want this comic to evoke that sense of wonder you feel the first time you encounter a movie or book from a far off land that grabs you. Those things that give you the freedom to learn what they are about on your own without needing to be told; that magical sense of discovery."
I can't remember seeing an age rating but I'd say for readers twelve years and up possibly for some scary imagery. Overall, Mirenda #1 is a fantastic first issue and great foray into an adventure I'd love to see continue which is as the second issue is nearing completion.
10 exciting new adventures out of 10
See more of creator Grim Wilks on twitter or at his personal website. If Mirenda #1 looks promising to you be sure to buy a digital copy here!
Are you following Black Nerd Problems on Twitter, Facebook, Tumblr or Google+?