Writer: G. Willow Wilson / Artist: Adrian Alphona / Marvel Comics
The measure of good character development is when you begin to react to a character as if they were sitting right next to you, like you're watching a real person's life unfold. You celebrate their victories. You wince when they take a hard punch. In other words, you react the way you would of reality television were, you know…reality. With that in mind, I can honestly say I've gone through the emotional ups and down right alongside Kamala Khan in G. Willow Wilson's masterpiece, Ms. Marvel. So, you can probably imagine my fan-squeal (on the inside, mind you) at the end of last week's issue.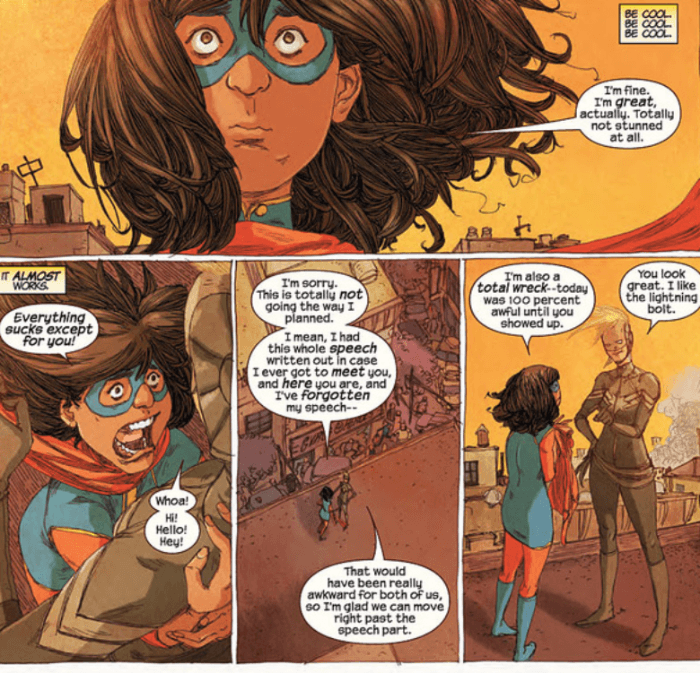 When we left our hero, it was the End of the World in fair Jersey City. The sky was falling in Manhattan and Kamala's brother was in peril. So, it seemed like she needed some kind of win….which is when her idol, Carol Danvers showed up and volunteered for a long awaited team up. I mentioned in my last Ms. Marvel review that her "Last Days Of…" storyline reads like a final exam that applies all of the lessons she's learned over the past year. Well, Wilson certainly couldn't have thought of a better proctor than Kamala's all time favorite hero. The issue is written with all the nuance and charm we've come to expect from the protector of the Circle Q. Every exchange feels genuine and touching from Kamala telling a few looters to get their shit together for the good of the community to Carol offering some painful advice in telling our hero that no matter how tough she is, she won't always be able to save everyone. Meanwhile, there's almost nothing else I could possibly give Adrian Alphona that I haven't already given during his time on this book.

If anything, I'd say he's stepped his game up to keep up with the emotional resonance of Wilson's script. These two are probably one of the best creative duos in the industry right now that we're not talking nearly enough about.
Bottom Line: Wilson and Alphona have put their Wonder Twin rings back together to churn out yet another winner. Eisner? This comic deserves the Congressional Medal of Honor.
9.5 comic apocalypses out of 10
Are you following Black Nerd Problems on Twitter, Facebook, Tumblr or Google+?