Writer: G. Willow Wilson / Artist: Nico Leon, Ian Herring / Marvel Comics
It's part three of The Ratio story arc y'all! In classic G. Dubs, multiple-meaning style, Ms. Marvel #34 finds our teen hero and science-y sidekick navigating all sorts of limbo. Bruno is back in the lab, desperately trying to find out what is causing Kamala's power short-out. He and Dragon Ball Professor X stumble upon some timey-wimey evidence to root out the problem and we finally get an inkling of what (at least in one instance) the 'ratio' might refer to. But time doesn't particularly respect people's sensitivities and Bruno's discovery comes with multiple other revelations that throw the poor guy into his own existential crisis.
There really is no right way to deal with the enormous but fragile teenage love or the fragility of the human form and your own deteriorating health. Leon and Herring's art is spectacular yet again and nowhere is this more evident than the pages illustrating Bruno's findings and the feelings he undergoes while processing them.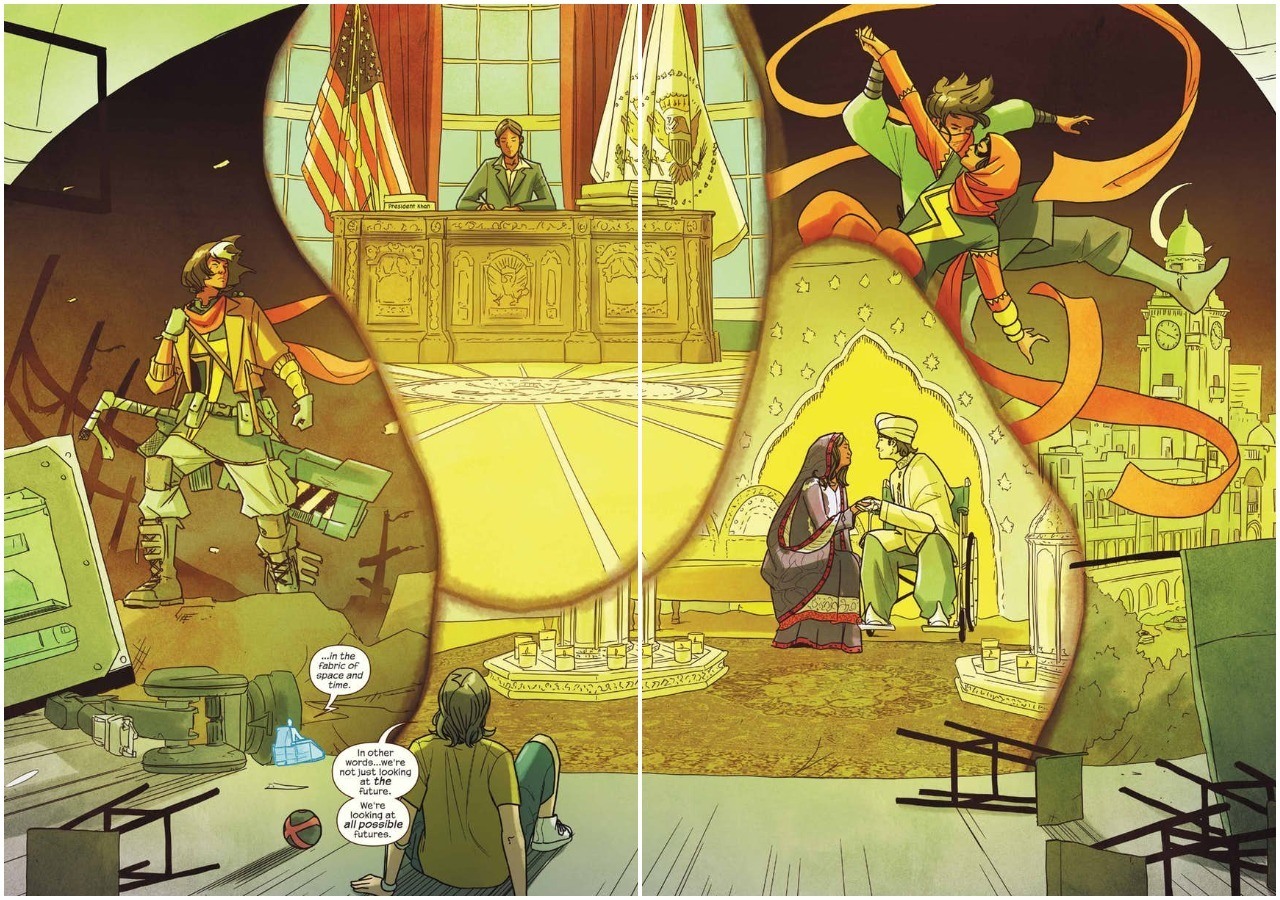 Hang in there, Bruno, whichever 'there' ends up coming to pass. In this reality, he takes his newfound information to help Kamala defeat Shocker.
Kamala is still trying to handle herself and Shocker at the same time. (Side Note: I am still really excited about this old-school Spidey villain coming to cause trouble in Ms. Marvel's neck of the woods.) Hero and baddy end up back in Shocker's…test site? Some light-hearted I-hate-you-but-I-love-science banter ensues as Kamala and Shocker trade barbs about messing around with power you don't fully understand. Ironic.
Just to make things even, Kamala ends up in her own physical limbo which results in potential mental and emotional plane-shifts. The teen angst and over it-ness is real. We do get to witness a wonderful reunion (kind of? time is relative, especially in this issue) of Kamala and a certain starry-eyed, Little Blue Friend. Having been helped back to her own timeline, an annoyed and slightly temporal-sick Kamala gets right back into the fray just as Bruno shows up and…
That's it. Cliffhanger. Haha, jokes on us, time runs in a generally straight line in this reality. Curse you, Time Lords and Ratio holders, that means we all have to wait for the next issue!
8.5 Reluctant, Upside-Down, Out-Of-Phase Eye Rolls out of 10
Reading Ms. Marvel? Find BNP's other reviews of the series here.
Want to get Black Nerd Problems updates sent directly to you? Sign up here!
---
Follow us on Twitter, Facebook,Instagram, Tumblr, YouTube and Google+?