Writer: Sam Humphries / Artist: Bernard Chang / DC Comics
Here we are at the penultimate issue of The Untouchable story arc. It's been a roller coaster. We've had some highs and lows, and as we start our final descent, I'm left wanting more.
The issue picks up immediately after the end of Nightwing #39—our favorite street level hero has hit the literal rock bottom and, after escaping the ocean floor, discovers he, too, has hit the metaphorical rock bottom. Nightwing's vendetta against the Judge has all but destroyed Dick Grayson's life, and now, more determined than ever, he does the classic gambling move and decides to up his pursuit to the next level.
What follows are incredibly illustrated action sequences and set pieces as our hero and villain prepare for final confrontation. Chang and Maiolo absolutely knock it out of the park with kinetic action straight out of a blockbuster summer movie. Nightwing has never looked better atop his motorcycle. Unfortunately, the narrative never really captures me in the same way.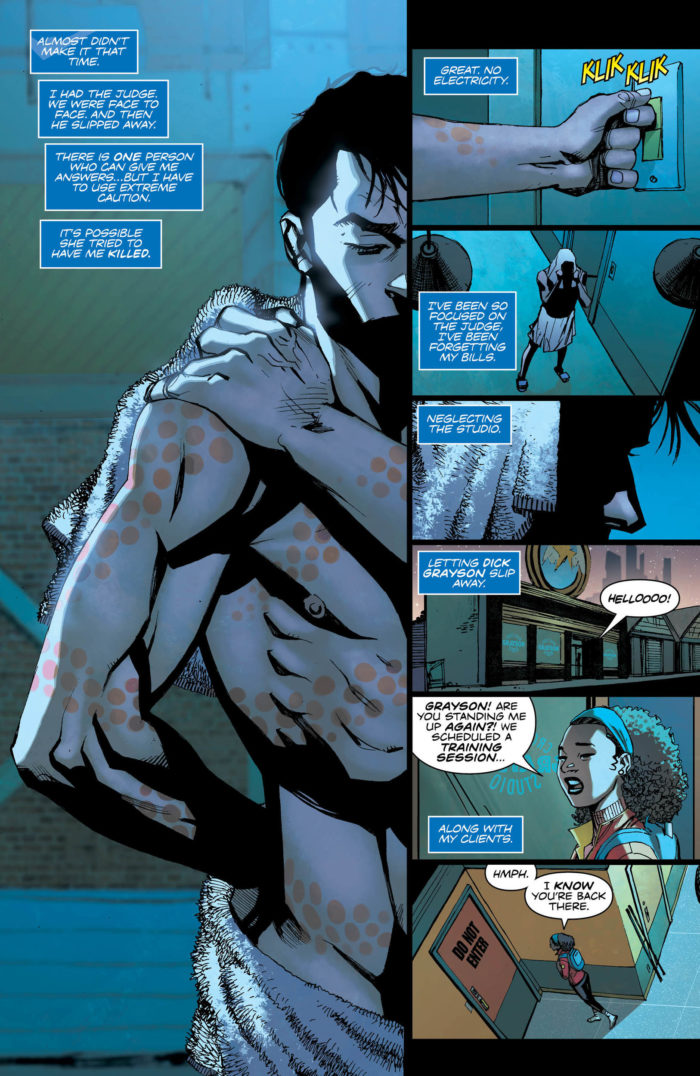 This dissonance has been present since the very start of the arc. The Untouchable has a double meaning between the Judge's seeming omnipotence and Nightwing's paragon of virtue. It is classic "unstoppable force meets immovable object," and the problem is that the Judge is only really interesting when he's directly interacting with Nightwing. The interactions are what made the flashbacks sequences so successful. Nightwing #39 gave us the climactic face-off we've wanted, the backstory we've been starved for, but Nightwing #40 feels like filler before the denouement. Humphries has shown mastery of Nightwing's core, but by constantly isolating him and putting him at odds with other people, it, in turn, makes Nightwing less compelling. There is the argument to be made that this is the entire premise of the storyline: Nightwing, alone, confronting the worst parts of himself and the city. The classic Batman storyline.
Perhaps, that is my main gripe. While we have a strong voice and visual for Dick Grayson and Nightwing, it's a story that seems more and more suited for Gotham and not Blüdhaven.
7.4 "Memorable Motorcycle Moments" out of 10
Reading Nightwing?Find BNP's other reviews of the series here.
Are you following Black Nerd Problems on Twitter, Facebook,Instagram, Tumblr, YouTube or Google+?