Season 3 / Episode 9, "Schwanzkopf" / AMC
It's that #ungodly time of the week!
We pick up right where we left off, with another Humperdoo about to get that Tom/Brady DNA cocktail. The one that takes Genesis away from Jesse permanently! Jesse tells AllFather he's got a gun in his pocket. Jesse tells him Starr is not on his side, but since he's got no gun he can be untied. To kneel before the new god (he's talking about Humperdoo). He unties Jesse and they scrap because Jesse ain't going out like no sucker! It hits the fan real quick when Jesse stabs AllFather with the Louis/Williams DNA batch, flips the switch on his Grail belt and sends Genesis to him. After some dramatic fanfare, AllFather freaking explodes! There's bits of him everywhere!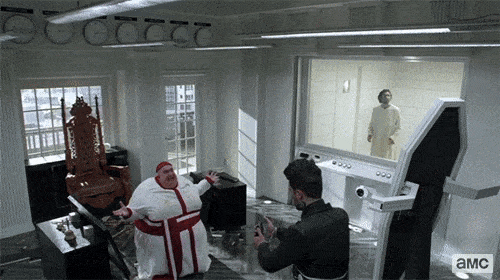 Meanwhile, at the bus stop to Hell your girl Agent Featherstone is working on her audition tape to American Idol. She is busting down some old Templar hymn! The Angel of Death (aka AoD) promptly wraps that bullwhip around Featherstone's neck for some peace and quiet (amen!).
The bus pulls up, and everyone gets aboard. Before they can leave, up comes Tulip and Jody. Tulip walks over and Featherstone can't say jack, due to the bullwhip-to-neck situation. AoD is like, "Who is you?" and Tulip is like,
These two get real close to throwing hands, but AoD asks if Tulip knows who they are. Then gets to listing all her names ala Pacino in Devil's Advocate. Tulip plays cool as a cucumber on the dark side of the Moon like, 'I know you're Satan's Bih and your boss has a deal with Madame L'Angelle, which you are messing with, plus your breath stank.' AoD gives up the suitcase after telling Tulip straight up that she doesn't like her. They part ways. Tulip uncharacteristically gets Featherstone off the hook by saying they aren't O'Hare. Everything looking good and going smooth, until Eugene sees them, and starts yelling "Hey, Tulip O'Hare! It's me! Eugene!" AoD busts out the whip and drags my favorite character onto the bus to hell (making no stops). That had me looking at the screen like the camera in The Office.
Back in Le Basement De Poseur, Eccarius is trying to convince Cassidy to join him in ritually murdering all of Le Infant Du Sangre. For powers and stuff. Cassidy is not with the shits, he threatens to out Eccarius and the murders. Eccarius goes upside Cassidy's whole life. It's so one-sided it's actually funny to watch. Cass concedes the fight and Eccarius says that they can be happy if they try. Cassidy responds that he'd rather be sad and tells Eccarius to kill him there. Eccarius has other plans though and knocks Cassidy clean out.
At Grail HQ, Starr returns to a room full of AllFather viscera. Each of them takes stock of their current situation and figure it's all good. Then the colon of the recently departed AllFather lets out its last gas, Jesse's soul plops out of the bootyhole, and he and Starr fight it out over the power of Genesis!
Mind you, they are rolling all in guts and body parts but you know, 'the fate of the world' and whatnot. Jesse wins out, knocks back his soul and commands Starr to kneel. Banter goes down and Jesse looks ready to leave. Starr tells him there's still a looming apocalypse to worry about, and we get a montage of the said world ending. Starr also gives his ideas on who to kill to make the world a 'better place'. They both look to Humperdoo number who the hell knows in the secret room, masturbating in the corner. Jesse has that look in his eye, he knows the Grail ain't worth a damn without a Messiah!
Back to the bus to and from Hell, Tulip is trying to get the hell off the bus. The Saint and the AoD share banter.
Jody and Featherstone are on the road to Angelville when they hit roadkill big enough for them to leave the truck behind and split ways.
Cassidy wakes up and immediately runs out to tell the Infants Eccarius' true motives and intent. No one believes him and Eccarius makes Cass out to be the crazy one.
Back on the Vista Express to Hades, Tulip puts her automotive know-how to good use with a plan to take their shackles and gum up the axels. Up in the VIP section, AoD and The Saint discuss the rules of engagement with new souls. Tulip really talks up this idea, convinces Hitler, gets Eugene ready, drops the chains in – and nothing happens!
At the Grail building, Jesse walks up to Humperdoo and puts a gun to his head, but can't pull the trigger. So he thinks of a better idea: he dresses every single Humperclone in the Grail Adidas tracksuit (including the original!) and sends them out the front door of HQ to their doom! Jesse returns to Starr with the last of the Tom/Brady and crushes the syringe. He issues a Genesis powered decree that Starr does not wear any more hats. As Jesse leaves the Grail HQ, and new and improved Hoover walks in undetected.
In New Orleans, your boy Cassidy is being crucified on a pool table in the basement. Grandma Roland offers to make lasagna.
On the bus, Eugene considers building a bomb, and Tulip uses it as a metaphor to do what she does best: kick ass.
Starr tries on wigs, Featherstone strokes his ego, Hoover lets them know he's a vamp.
Tulip creates a distraction. As in Tulip starts popping off at the mouth real reckless! AoD is cool as possible, but The Saint straight up backhands her into the window. The window is hella cracked, Tulip asks Eugene if the plan is working.
Cassidy asks Grandma Roland for a final wish: to call up all the Infants that 'flew', and apologize on his behalf.
Back on the bus, Tulip is teaching a master class on how to jump from a moving vehicle. Hitler jumps the gun and kicks out the window. Right when he goes to jump the bus is hit with an explosion that shakes everybody onboard. Bodies are flying every which way, glass, pencil-drawn doodles, everything. Tulip stirs and notices a group of men in uniform standing at the broken window. She turns her head to look for AoD and The Saint; what she sees is a German tank with SS emblems heading their way.
At the L'Angelle estate, TC makes Marie some bomb ass green tea with sugar and tells her he's worried. Marie says for him to chill since she knows that Jesse is coming back to kill her. Right then, Jesse hops off a Genesis-commandeered fire truck – right at the foot of the Angelville driveway.
Episode 9 ends.
Watching Preacher? Find BNP's other reviews of the series here.
Want to get Black Nerd Problems updates sent directly to you? Sign up here!
Follow us on Twitter, Facebook,Instagram, Tumblr, YouTube and Google+.