Writer: Evan Narcisse / Consultant: Ta-Nehisi Coates / Artist: Paul Renaud / Marvel Comics
There's a deep, rich history to the Black Panther legacy that many don't know about, and what makes Rise of the Black Panther #1 so fascinating is the care and attention to detail that Evan Narcisse and Ta-Nehisi Coates put into retelling that history. Page after page, the first issue treats readers to a time before T'Challa, carefully stringing together moments from the works of Christopher Priest, James Hudlin and more. There's one word I have for newcomer Narcisse and veteran Coates: respect.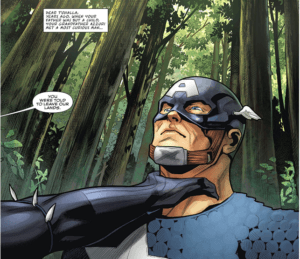 If you've read Coates Black Panther run before, you can immediately feel his influence all over this book. Just like his main Black Panther run, Coates is great at bringing out the voice of the people. Both he and Narcisse masterfully portray the internal strive that often comes with a monarchy. Wakanda is glorious and fearsome but it's not without its faults. The burden of kings – to protect what is precious yet move their kingdom forward despite dissension – is felt.
The best part about this first issue is the beautiful narration and well-crafted storytelling. It's personal, told with the love and fear that only comes from a mother. More than anything, this a story of the women who were closest to the king, as they stood witness to everything Wakanda has been through and played an integral part in maintaining its legacy. Their story is a testament to why Wakanda is so great, and it's a time where the great country was tested but never conquered. Wakanda ain't nothing to mess with.
Speaking of the greatness of Wakanda, it's my type of Afro-futuristic kingdom. Everything from their architecture and fashion to weapons and technology is glorious – there honestly no other way to describe it. It's shown in all it's majesty through the artwork of Paul Renaud and Stēphane Paitreau. The panels where the action goes down are some of my favorites. I couldn't help but go wide-eyed seeing the Wakandans go to work. You can also tell they had some fun with the outfits. All I know is Marvel better get the ball rolling on a Black Panther clothing line soon.
Rise of the Black Panther is the perfect origin for newcomers and a great start to retelling the legacy of Wakanda. If Narcisse and Coates continue with the same quality of work they put in this first issue, this book might be the go-to read anyone who wants an introduction to the Black Panther.
9 Giant Were-Cats out of 10
Are you following Black Nerd Problems on Twitter, Facebook,Instagram, Tumblr, YouTube or Google+?