Writer: Al Ewing / Artist: Valerio Schti / Marvel
When you flip through the first pages of this book and take in Abigail Brand's vision of S.W.O.R.D., you cant help but smile and get hype about what's in store for the mutants of Krakoa. With the wild space antics the New Mutants were involved in a while back, to the bonkers Mars base that we all know will come to fruition one day, this was step they eventually had to take.
Conveniently, Scott, Jean and Cable's recent commandeering of S.W.O.R.D.'s abandoned space station was all they needed to begin shooting for the stars. Now we follow a key member of the Quiet Council to find out exactly what this new division is about.
Take a Wild Ride on the Space Side
With Magneto playing the part of COO, we take a stroll through the new S.W.O.R.D. base and witness the glory of how this is all coming together. Armor as a space ambassador in training, a robust, 5 mutant teleportation team and Cable being the Director of security? Everything just screamed geeky goodness in the very first pages.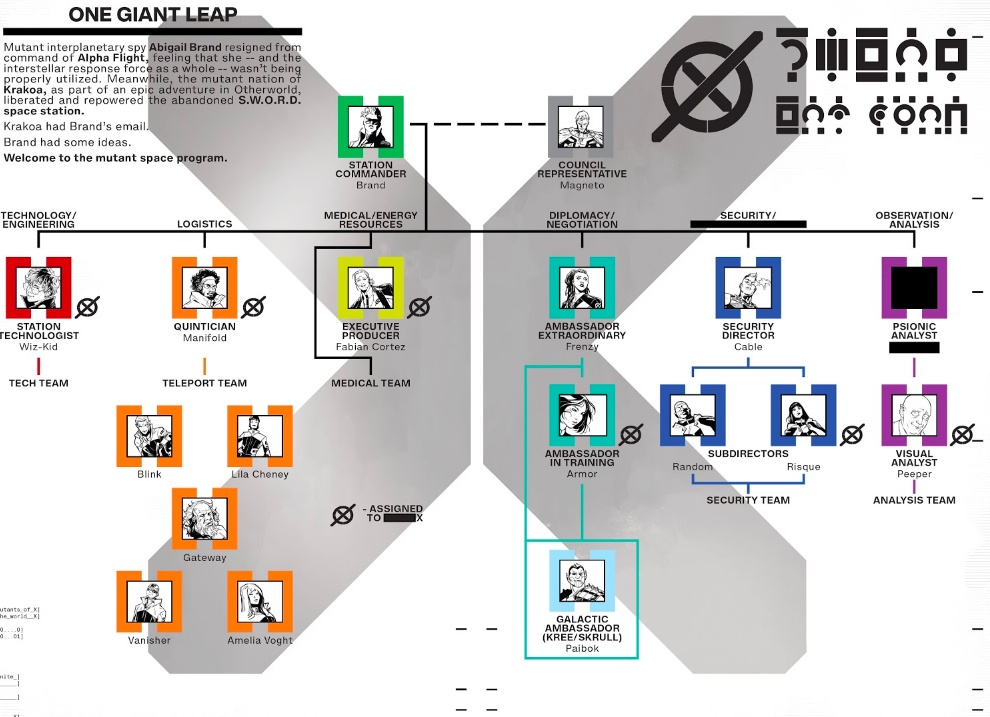 But things really take off when we get introduced to key (but replaceable) members of the team that have been designated as THE SIX. Station Technologist, Wiz-Kid works hand in hand with the power of Manifold, Fabian Cortez, Armor, Risque and Peeper to locate any items and/or elements from the universe, venture out into the unknown then bring whatever is needed back to the Peak. Everyone knows that teamwork has been one of the major themes all throughout X-Men's history, but these mutant technology revelations, in conjunction with the Godly capabilities of The Five have taken the X-Men to brave new heights.
Boldly Going Where No X-Writers Have Gone Before
The cosmic ideas that Al Ewing (and architect Jonathan Hickman) are experimenting with here are legendary comic book moves that mark the beginning stages of the interstellar future of mutantkind.
Sure, the X-Men have been to space. Sure, the X-Men have had intergalactic missions in the past, present, and future. But the things we're seeing right now have the potential to blow all previous stories out the water and I'm here for it! I'm also here for the impeccable skills Valerio Schti and Marte Gracia have going on with this artwork. To be able to keep up with the ambition of this story is one thing, but to actually crush the visuals and do this script proud is another!
With all that said, I must praise Ewing for the genuinely funny moments that are consistent in S.W.O.R.D. issue #1. Not only does he keep the comedy at an enjoyable level, but he understand these characters. This is most evident when Magneto explains his reason for not allowing a teleporter to beam him up the the Peak. Magneto states, "Its good to travel the harder road sometimes, Abigail. After all, if we never tested our limits…we might assume we had some." And that's about as perfect as is gets to summing up what this issue is all about.
9 "Laps of the Gods" out of 10
Want to get Black Nerd Problems updates sent directly to you? Sign up here!

Follow us on Twitter, Facebook and Instagram!