Writer: Kelly Thompson / Artist(s): Belen Ortega & Lee Garbett / Marvel
Carol Danvers made some incredible new allies in Captain Marvel #22 and #23 but the request summons to join Evo is filled with horrible possibilities, we all knew would come to life. But what else does a hero do but blindly walk into the trap that is so blatantly laid out for her?
New Atlantis, Who Dis?
Of course the vibe of Evo's base, home New Atlantis is nothing short of paradise. The dome protects the birds and the butterflies fluttering about. Buildings are beautifully constructed all around. People are relaxed and conversing like it's 1998. Non-deadly sunlight helps the plants flourish. It's all so alarmingly normal.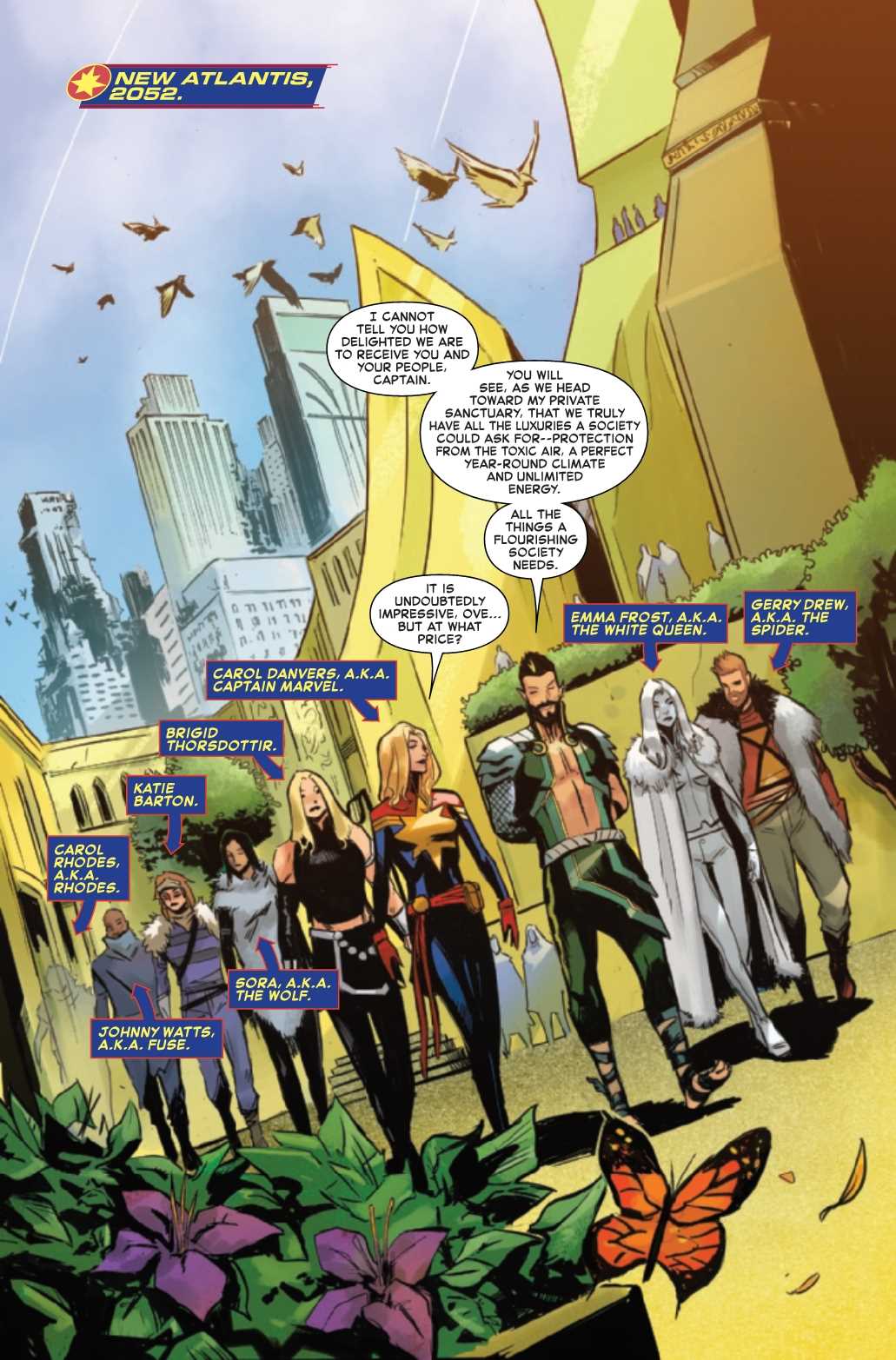 The old, but incredible, New York Public Library has been converted into a baller ass home for the man that claims this was all obtained organically with help from the likes of Armor and Jolt. But we know the truth shall be revealed sooner or later!
Emma in a New Dress
While Carol declines the offer to try on one of Evo's killer dress options for dinner, Emma Frost is not so modest. She is, in fact, one of the best-dressed characters in all of comics and Bast knows she couldn't pass up the opportunity to look a little fab after years of slumming it underground. Meanwhile, Evo and the good Captain discuss the lovely setup these folks have going on here, the story that he tells so beautifully about his father Namor's foresight and Evo's endearing spirit that willed this place into existence. It isn't long before his motor mouth signals that it's time to retire for the night. Except that the only thing getting put to bed for the night is Emma Frost's crusty old outfit.
Everything dark and sinister about this issue comes out at night and things get real interesting. The reveal of Evo's mother is shocking but much more troubling than anything else. The "treasures" that Evo has hidden up his sleeve are tragic and deadly, and we haven't even see the full truth of what is going on.
Kelly Thompson has been great writing Captain Marvel and this arc has been no different. Her sense of humor is up there with any writer on the Marvel roster right now and her ability to use old heroes/villains or create brand new ones appears to be endless. Belen Ortega, Lee Garbett, Antonio Fabela, and Clayton Cowles all do a really nice job of bringing us the events that are currently happening, as well as a vivid depiction of flashback events. The contrast of the old world, decrepit new world and utopian look of New Atlantis all combine to create a beautiful book.
I really enjoyed the late issue unveilings and cant wait to check back in next month to see how this all shakes out. I hope Kelly Thompson enjoys a really lengthy run on this book because there has nary been a bad issue and Captain Marvel #24 is no different!
8 Silk Sheets out of 10
Want to get Black Nerd Problems updates sent directly to you? Sign up here!

Follow us on Twitter, Facebook and Instagram!