We've been praying for more Southpaw Regional Wrestling episodes and WWE delivered! The crew is back at and haven't lost a step. Back in March, WWE released low budget wrestling skits highlighting regional wrestling promotions from the days of old (late 80's), and when I tell you this was the funniest thing I've seen from WWE (minus Xavier Wood's UpUpDownDown YouTube channel, Usos, New Day, Kevin Owens, Chris Jericho, or Alexa Bliss on the mic), please believe me. You don't even have to be a huge wrestling fan to get the jokes, but if you are, then the inside jokes and Easter eggs are that much better. Comedically speaking, there's a lot that the WWE in its new era has gotten right and wrong, but Southpaw Regional Wrestling is something they've gotten completely right and we finally get a season two.
Now if you haven't seen season 1, stop reading this article and watch it right now. There are no major spoilers here but each episode is only 5-6 minutes long, so I'm telling you to watch because it's fucking hilarious and when you see the twist they did it will make season 2 that much more special. I'm dead ass. Open that link, watch all four episodes, then meet me right back here. I'll wait…
For those of y'all that have seen season 1, let's wait here together for a moment as our friends catch up and, uhh, talk about — oh!, let's state how Ember Moon is everything. Let's also note that we need more time and storylines for the women on the main roster, that the Usos are too trill, that Talking Smack needs to come back and — oh, y'all back? Everybody caught up? Good.
Watching the opening of Southpaw's second season we see a gray but unusually high-spirited Lance Catamaran, and out of nowhere a really lively Chet Chetterfield. At first, I was "what the hell?"-ing, especially when you see Chadd 2 Bad and Tex Ferguson on a road trip together, but once we finally lay eyes on Susan (played by the incredible Renee Young) and Chet pouring his heart out, we realize these crafty writers gave us episode one. We're in the prequel of
Southpaw Regional Wrestling!
Genius. There are so many call backs to season one and an impending sadness as we know whats coming for Chet however, there's a slew of other characters debuting. We get Seth Rollins, Rhyno, 2/3rds of New Day, The Ascension, copyright disputes, The Miz, and Daniel Freaking Bryan, plus many more appearances.
The funniest segment is the introduction of the first female lady wrestler (Natalia), who Lance and Chet both scoff at the idea of, so much that Lance believes "that's obviously a tiny man." This is the kind of shit we've been wanting to see from WWE wrestlers, superstars, characters — whatever you want to call them — these people. We're seeing wrestlers who aren't getting much TV time here online and crushing it in this ridiculous homage to the outlandish characters of yesteryear, while still being able to put their spin on it. It can feel like there aren't too many times that fans will get rewarded for WWE, but this right here? Southpaw Pro Wrestling? If they keep shooting these out without fucking with the creative formula behind it, you'll never hear any complaints about Raw or Smackdown from me.
The entire cast murdered this second season and there are too many segments to name. I got to shout out my man Dan Bandana, The butcher boys, and Malibu Al (when you see it, you'll get it) but the entire season is flames. There're so many small nuances and quick quips that'll have you pressing rewind contiguously. My favorite thing to do is seeing wrestlers that are not only athletes but actors as well really, getting to be free and delve into off the wall characters without consequence and have fun. Lemme just say, the commerials this season? My. God.
Lemme state this off the strength too. Real talk, I don't care how you feel about John Cena as a wrestler, as the face of the company, as a character. John Cena is fucking funny, man. There may be folks that hate his guts or love him, but no matter what side of the coin you fall on, you gotta admit dude is fucking funny. I personally like his humorous side in the ring, which can be corny at times, but on Southpaw? Those little ad-libs and quips when his co-host Chet (Fandango) starts wylin' out? You gotta give dude props.
Plus, if you've been following wrestling we've seen Tyler Breeze and Fandango (Breezango) getting more TV time and doing promos that are an homage to Twin Peaks. All of which is to say, who knew Fandango was that freaking funny? Who knew that he can play off of John Cena, too? On paper that's such an odd couple, but it worked so well in season 1 with Fandango not even having to say many lines and stealing so many scenes. This time around we see Chet as a totally different character before the man he becomes (broken, downtrodden, completely on "F it". That's a lot of depth in for a character in a comedy sketch and I love it.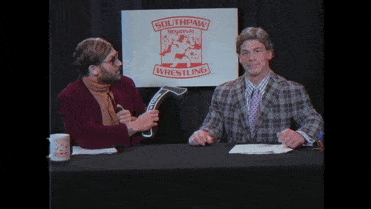 There's a shit load more of amazing praise I want to give this show but I'll let y'all see for yourselves. I need y'all to believe me.
Southpaw Regional Wrestling
is the best 5-minute show you'll catch online right now. With all the stuff going on today, you need the laugh. Check out your face wrestlers from WWE finally getting to be themselves and wyl out. So many quoteables.
So
many quotables!
Are you following Black Nerd Problems on Twitter, Facebook, Tumblr or Google+?