[divider type="space_thin"]
I often get into debates with fellow writer for the site, Ian Khadan. We've been friends and have had serious debates over who is the best ninja to come out of Hidden Leaf Village, were the 3rd Hokage's policies helpful in Naruto overall (this is an argument that leads to us not speaking for a week), and of course who loves Jennifer Williams more (I do. You're married, you can't). However, the one thing we talk about that tears us apart on the friendship spectrum is which year was better: 1993 or 1994.
I had a theory with a childhood friend from high school up until my (shutter) adult years, that all the most memorable things across the board in genres happened in 1993. Music: Wutang Clan's "C.R.E.A.M.", Cypress Hill's "Insane in The Brain", H-Town's "Knockin Da Boots", Whitney Houston's "I Will Always Love You", The Proclaimers' "I'm gonna be"… you know, it's the song that goes "And I would walk 500 miles". Movies: The Fugitive, Tombstone (BEST WESTERN EVER IDC IDC IDC), Philadelphia. These are some of the things that the year 1993 blessed our lives with. Of course my comrade Ian disagrees, so we thought it best to limit this to the nerd genre and compare between the years which produced quality hits nerd-wise.
That being said, there's a lot of pressure going into this. Each representative selected to represent "The'93 Nerd Dream Team" must have put numbers on the board in pop culture, have a cult following or be an undisputed underrated champion that should have gotten then MVP trophy. That being stated, I wanna start off strong back in the movie genre. Now I coulda gone with Jurassic Park, but that's too easy. Who ain't fucking with Dinosaurs and Jeff Goldblum? That's a big gun I ain't even need in this fight right now. I'm not even going to go funny with Robin Hood: Men in Tights (underrated genius). Nah, for this there's only one contender I'm putting my money on,  my heavy hitter…
The Nightmare Before Christmas
WHO WANT IT WITH JACK THE PUMPKIN KING!?!? Y'all know the tale. The Halloween gawd wanted to switch up the seasons, so he straight hijacked Christmas. He found out he wasn't about that cherry life and had to go back to the throne. My man had to learn to embrace and appreciate what he was. This movie is surely a staple in the nerd community. The Pumpkin King's journey got folks to this day rocking mad memorabilia or taking it a step further and sporting tattoos. It's one of those movies where when it's on, you stop whatever you were doing, sit down, and watch that shit till it's over. Jack got a strooooooong cult following man. My man is the king of misfits, he's basically the Johnny Depp of the animated game. A fact that remains true to this very day years later.
This was straight up stop animation for the most part as well. We never seen anything to this effect put on the holiday fame. Not only is this movie dope for Halloween but it's applicable for Christmas as well. This is some straight up punk rock shit Tim Burton put us onto right here. Plus this movie gave you musical fucking bars man. Are we Serious? Are we Really Serious? When you hear the "This is Halloween, this is Halloween" hook drop? Ain't nobody fucking with those bars man.
We got our unstoppable fucking juggernaut of movies now let's take it to the small screen. If we taking it to the small screen you know we gotta be talking cartoons. Now we got a plethora we can choose from that hit the scene in 1993. I wanted to go obscure and select Mighty Max (that shit was fucking dark) or even the obscure gold that is Biker Mice From Mars but I chose a champion with 3 years of longevity. He's a bit obscure but I do believe he is also one of Nickelodeon's Most Underrated when it came to influencing the game. I'm going with the Downunder gawd
Rocco's Modern Life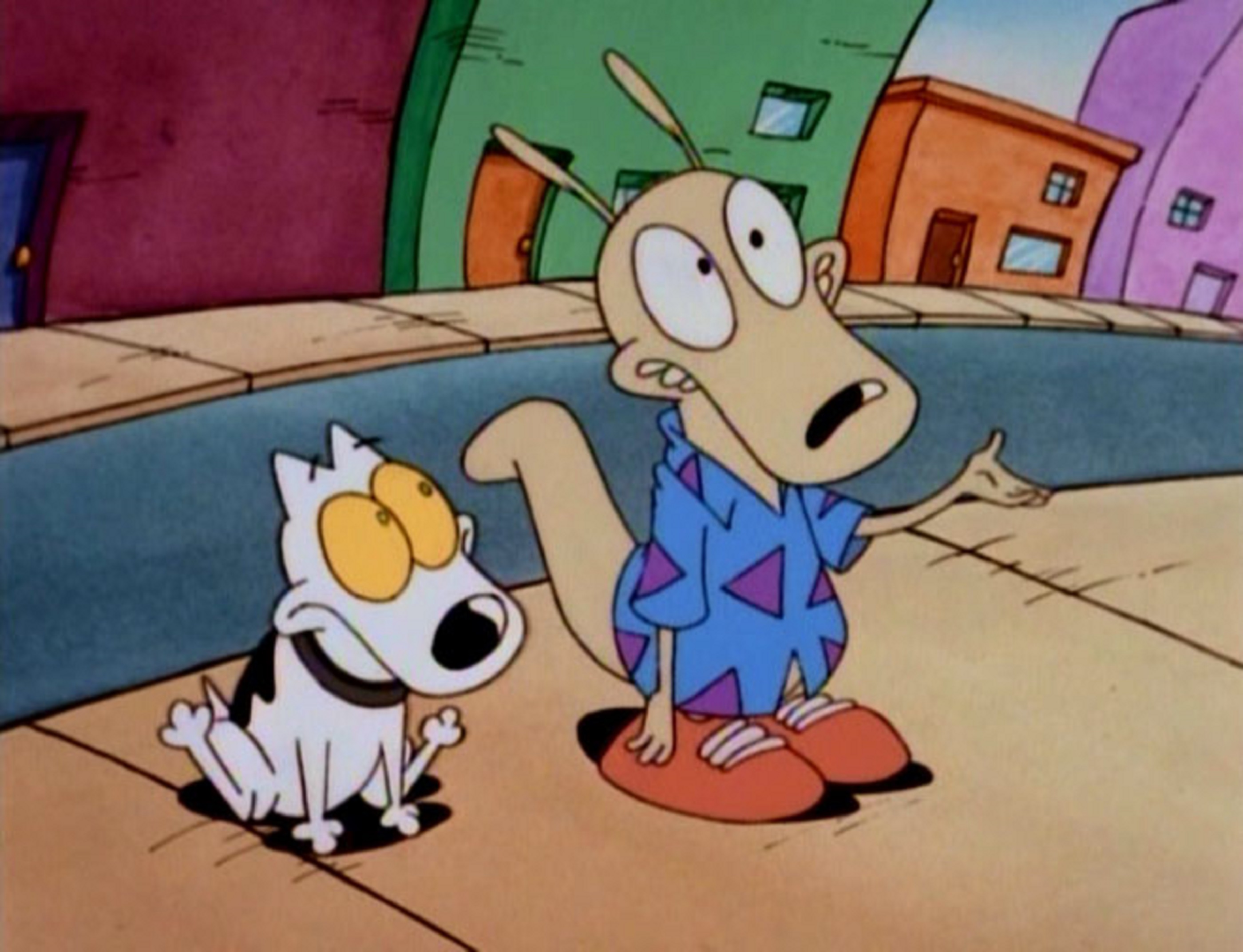 This show was fucking hilarious man. Rocco was a worrisome wallaby from Australia living in the states. This show was straight up engaging to watch back then as a kid and then looking back you realized there were sooo many Easter eggs, that this should be recognized as an adult show hidden inside a kid's show. For example, y'all know Rocco was technically
a phone sex operator
. Then you had his boy Heifer who was a cow adopted by wolves, Philbert who was a very cautious turtle and Spunky the adorable but not-too-bright dog companion.
Rocco stayed finding himself in shit like the time cats thought he worked at the movie theater because his shirt matched the workers there, and when he was trying to find parking at the beach for so long that he damn near had to park by his house. The episode where he went all Bruce Lee to fight his childhood nemesis… There are too many classics to count with this show. Rocco was the Australian Charlie Brown and king of the awkward hill for his generation. Y'all can't tell me Rocco ain't deserve to rep the Dream Team man.
Now let's move onto the arcade/video game area. This was tough for me because every fiber of my being wants to give it to the underdog in this fight and the releases of classics in '93 was a bit scarce (we see you Zombies ate my Neighbors). I really want to give it Toejam & Earl for in my eyes being the first hop-hop based video game and fresh as fuck. However, as great and trippy as that game was… I gotta go with the classics and take it to…
Streets of Rage 2
Whose fucking with the franchise tho? THIS WAS THE EPITOME OF THE FUCKING 90'S MAN. I don't give a fuck about plot. What I got to do? Beat up punks and reach a final boss? WORD? PRESS THE MUTHA FUCKING START BUTTON. This game was just an addition to its predecessor. You know a game is going to be fire when the fucking lead character is named Axle. That's just a fucking given off the bat. When your lead is named Axle you know all the story you need to know. His bae's name was Blaze. Again, I ain't gotta explain shit else. Their boy Adam Hunter (from the first game) is a cop that was kidnapped, so with the help of his younger brother Skate (WHY AM I EVEN EXPLAINING THIS SHIT TO Y'ALL ITS UNNECESSARY WHEN YA GOT A DUDE NAMED SKATE IN THE GAME TOO!!) they take to the streets to get their dude back.
The greatest part of this game was that they had special moves. Also this shit changed my world because we got an even doper person of color to play as. I don't care what you fucking say, Skate was the fucking MVP of this game. My man was fighting on rollerblades and breaking ankles. He would fucking be break dance fighting just makin' cats look idiotic for even attempting to test young. What the fuck are we even talking about man?!?!?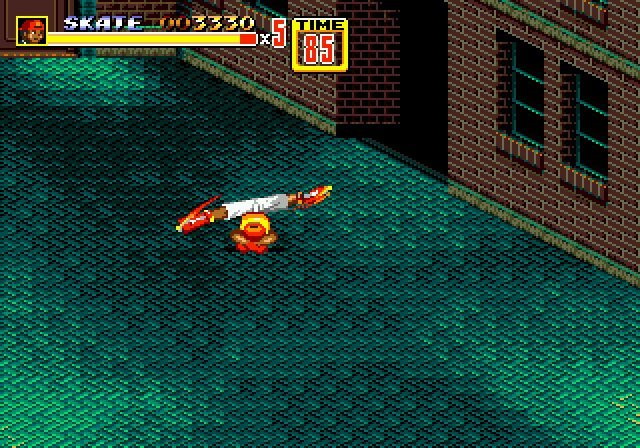 Now I been saving the best for last. This is the wild card round if you will. I was going to take it to comic books but fuck that. I'm taking it to sports right now. I had to give y'all something you could feel. I said I had to give y'all the real! I SAID I HAD TO GIVE Y'ALL THE REAL RAP "MONDAY NIGHT RAW".
Monday Night Raw
That's right! This debuted back in 1993 and Monday nights were never the same. Kids everywhere, we were finally able to fucking stomach going to school on Monday because this show would be on blast Monday night. And come Tuesday back in school everyone would be talking about what happened asking the teacher, "I mean since we're on the topic of history can we put World War 1 on pause and just talk about how last night Shawn Michaels hit the 1-2-3 kid
with two Razor's Edges
? What? This counts as history, it happened in last night. It's in the past".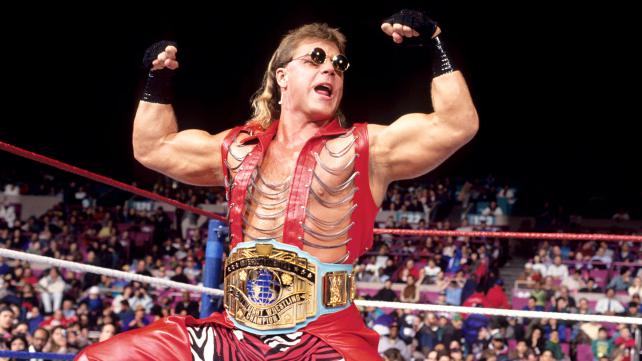 [divider type="space_thin"]
Is it even a contest how once this was on Monday nights it straight up changed the wrestling game tho? Do y'all fucking hear me? This was the golden age of wrasslin' baby. Hulk Hogan, Brett "The Hitman" Hart, Razor Ramon, Big Daddy Cool Diesel, Big Boss Man, "The Million Dollar Man" Ted DeBirase, Bam Bam Bigelow, Mr. Perfect. Do y'all remember the fucking gimmicks they use to have too? The most underrated gimmick had to be Mike Rotunda's ring name of Irwin R. Schyster, aka I.R.S.! His finishers were The Stock Market Crash and The Write-Off. YOU DON'T GET ENTERTAINMENT LIKE THAT NO MORE! THAT'S WELL THOUGHT OUT FUCKING CHARACTER RIGHT THERE! WWF going live on Monday nights was a fucking gift to us undeserving mortals in 1993.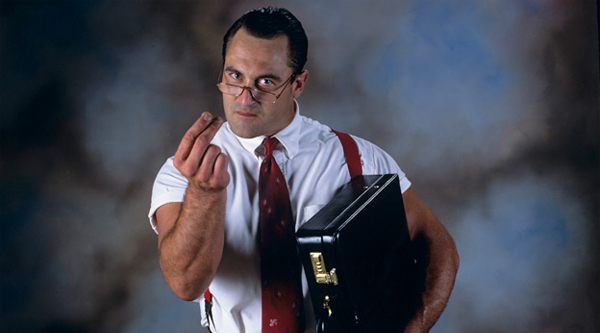 I'ma go with this as my line up because I'm sure we're going to find ourselves back here again for another installment. Now I'm sure my co-worker Ian is going to try and razzle dazzle y'all with 1994 facts but I'm not going to slander his tastes (he wrote a complaint on behalf of Waterworld when it didn't get an Oscar nomination). I'm not going to sit here and drag my friend through the mud (he once turned the volume down on a Beyonce song. More than enough proof that he hates Bey). But I just wanna say one thing. When it comes to the best of the 90's, you're not going to find a better year than 1-9-9-3. It's a year that speaks for itself. It gave us hits people, it gave us life, and it also gave us a strong pulse for the nerd game.
[divider type="space_thin"]
Are you following Black Nerd Problems on Twitter, Facebook, Tumblr or Google+?