Writer: Ryan K Lindsay / Artists: Alex Cormack, Hassan Otsmane-Elhaou
If you ask me what this comic, Stain The Seas Scarlet, is about I might say it's about fighting in space, betrayal, badassery, and the will to get it done. Get what done you ask? Freedom, maybe. Sticking it to the oppressor in place, maybe. Proving a point, maybe. Perhaps all of that and more in a blazing one-shot set in intergalactic space with one last pitch by the resistance. Billed as "a sci-fi revenge one-shot about resistance, shitty robots + spacesuit noir" this thing of beauty is brought to us by the fantastic mind of Ryan K. Lindsay, who wrote and co-created one of the best comics of 2017, Beautiful Canvas. It is illustrated by Alex Cormack who is perhaps best known by his series SINK at ComixTribe and lettered by Hassan Otsmane-Elhaou who you may or may not know from the verily awesome Strip Panel Naked series on Youtube.
In the comic, Yelena, an alien resistance leader, is trying to do the absolute most. She's been trying to stop an army full of androids from terraforming and razing her home planet — they have been doing so at a speed that would make Captain Planet villains proud. She's running on E. On Fumes. She's given what everyone thinks is her own and this is her last card (Yeaaaaah, we don't say Trump Card anymore for oblivious reasons cause the country is literally on fire right now). This is Yelena's last play before all is lost.
This is a 22-page full-color comic. It's bleak and beautiful. It's a breath of fresh air and it is damning. It's lettered, inked, and colored to near perfection. Pages of Yelena out in space ready to end it all are vivid, stark, and all kinds of eye candy. Panels of her on her home planet arm up, gun out, leading her people and watching the tragedy unfold, are pages you can't look away from. Otsmane-Elhaou proves he is a true asset as the letterer here: making the act of placing text and sound effects into a puzzle with each piece placed perfectly. Perhaps my favorite example of his work is Yelena's conversation with her adversary towards the end: it all pops and adds to the overall atmosphere of the book. Lastly to Lindsay's credit as writer, this reads as a labor of love. This comic reads as an idea that has finally been realized, that is finally out in the world like a dying star. Too big, too brilliant, and too much to look away from.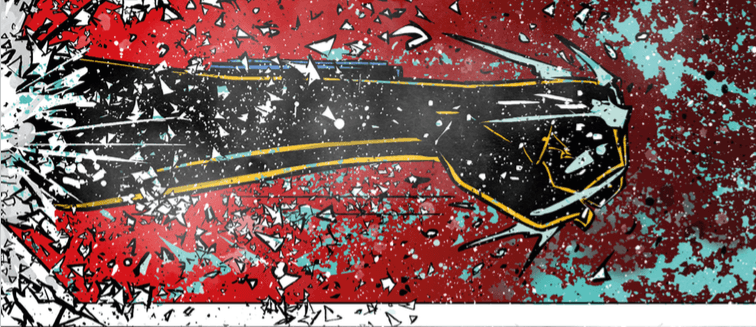 STSS is a tale of desperation, of sudden violence and the will to stick it out for the cause. It touches upon the fleeting feeling of invincibility and finding your purpose… of being aligned to what you were meant to do in life. It is brutal. It is self-contained. It is clever. It is something you need to be reading.
8.2 "Bringing The Ruckus in 90 Minutes or So" out of 10
If this comic has caught your fancy, it is being brought to the public via a Kickstarter campaign,
launching today!
Stain the Seas Scarlet
will be available as soon as the Kickstarter campaign officially ends: be sure to follow Lindsay and the rest of the creative team on social media to stay up to date.
Are you following Black Nerd Problems on Twitter, Facebook, Tumblr or Google+?