Marvel has officially figured it all out. Although they made boatloads of cash, many agree that Thor 1 and 2 are some of the weakest movies in the MCU. But after Ant-Man and Doctor Strange backslapped us with unexpected dopeness, Marvel started looking unstoppable. Enter Thor: Ragnarok and we can officially call it. Marvel got the juice. All of it. They got the cookies and milk, the chicken and the candied yams. It's their superhero world and everyone else is simply playing catch up.
*Spoiler Free Thor Review*
This movie is goin down as one of the funniest Marvel movies to date. Maybe even top 3. The comedy is so effortless that you want what you always want — MORE. I want more of Thor and Hulk beefing about who's the strongest Avenger. I want more of Thor whispering sweet nothin's into Hulk's ear then saying the same exact lyin ass thing to Banner. I want more of Hulk smashing opponents, and laughing at his puny victims while he does it. I want more drank-swiggin, swagger-drippin, ass-kickin Valkyrie every second of my day! But you gone have to settle for 2 hours and 10 minutes of straight thunder and lightning Chidori flames.
There's a new formula in Marvel-town and it's called hittin you with that jaw dropping litness in the opening scene. Ok, ok, movies have been going hard in the opening scene paint for decades, but these ain't cha daddy's opening scenes. Ya pappy ain't never seen creature-crushing, Mjolnir-tossin, slow-mo fades like this!
The action is as top notch as you'd expect. The Thor vs. Hulk gladiator style battle you've seen all over the trailers? Maaaaannnnn that was one of the greatest 1v1 showdowns I've seen in a minute! The way they end up across the arena from each other was pretty organic too. It can get tricky pitting 2 of our favorite Avengers against each other, but like Iron Man and Cap before them, they did Hulk and The God of Thunder justice.
Cate Blanchett's Hela is an absolute savage. Her backstory, whereabouts, and comeback are all sewn together beautifully and when she finally sets foot on Asgard there is mufuckin hell to pay! The Goddess of Death didn't get her name by watching re-runs of 6 Feet Under. Na fam, she givin each and every human in a theater seat that glory. That mystical dark magic Black Widow with a touch of Gilgamesh sword hoarding work. That Beyonce "Who Run the World," army decimating, throne usurping business!! You know that song that goes, "Let the bodies hit the floor, let the bodies hit the floor"? Yea that's her Royal Rumble entrance music. Blanchett absolutely owns every aspect of this role and it's such a blessing to have an accomplished actress of her caliber embodying all that is an evil and vengeful Asgardian.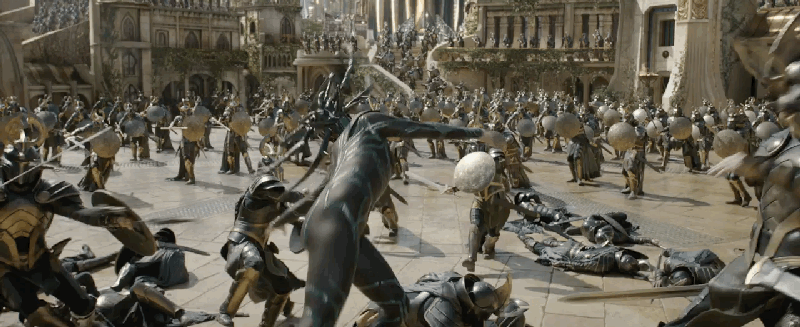 And I haven't even gotten to Tessa Thompson's phenomenal turn as Valkyrie yet!! She enters the movie and immediately racks up a 10-20 person body count. Her no-nonsense, rough and tumble introduction acts as the driving force of her intimidating actions and lovable wild side. You will fall for her. Guys and girls both will ogle and drool while cheering for her at every turn. Valkyrie's past is slightly alluded to in one of the dopest scenes of the entire movie. She had me and my boy talking about Marvel low key setting up an all-woman superheroine movie. Imagine… Valkyrie, Black Widow, Gamora, Scarlet Witch, and who knows who else by the time Black Panther and Ms. Marvel drops!! Give us that Femme Fatale work, Marvel. OUR NERDY BODIES ARE READY.
I'd say they could have sown up the ending a little better. Wasn't a weak climax or anything, but they could've came harder than that. Loki was there…being a deceitful piece of shit, as per usual. The newly introduced side characters steal some scenes and it was amazing. Idris Elba's Heimdall is finally given purpose that exceeds glorified doorman duties. The talk about this being the first in Hulk's 3-movie-arc is correct and the next 2 he is featured in will undoubtedly be greatness as well. The final scenes dive into some completely foreign territory that shake up the entire fabric of the Marvel Cinematic Universe, so I'm intrigued where Odinson and his squad are taken next. Go see this movie ASAP.
Are you following Black Nerd Problems on Twitter, Facebook, Tumblr or Google+?