If you haven't heard, the Chicago Cubs are officially in the National League Championship Series and have arguably their best shot of all time at winning the World Series and breaking the Cubs curse. And it's all because of Back to The Future Part II.
Wait. Whaaat?
That's right folks. Back to the Future Part II, the nerdy yet undeniably cool movie that sent the fliest White boy of the 80s, Marty McFly, 20 years into the future has become the new benchmark for prophecies. Move over Game of Thrones, there is no woods witch this side of the Tigris and Euphrates that could've predicted the beasts that the Chicago Cubs would become this year.
Oh you want evidence? Silly rabbit.
Peep that hologram? Cubbies winning the World Series! Do you have any idea idea how hyped Cubs fans were when this movie came out in '85? Nah, you right, they was mad as hell. Damn, they must've been like, "Well, on one hand at least I know we'll win a World Series in 2015. On the other hand, that means it will be the only Cubs championship in 107 years, and I might not even be alive in 20 years. That's cold."
They did it the right way too. The way baseball is supposed to be done these days! They built their team using their farm system to call up amazing young arms and dynamic hitters. Long gone are the Barry Bonds home run happy steroid years. Yup. As a kid in Chicago, what a time, to be alive.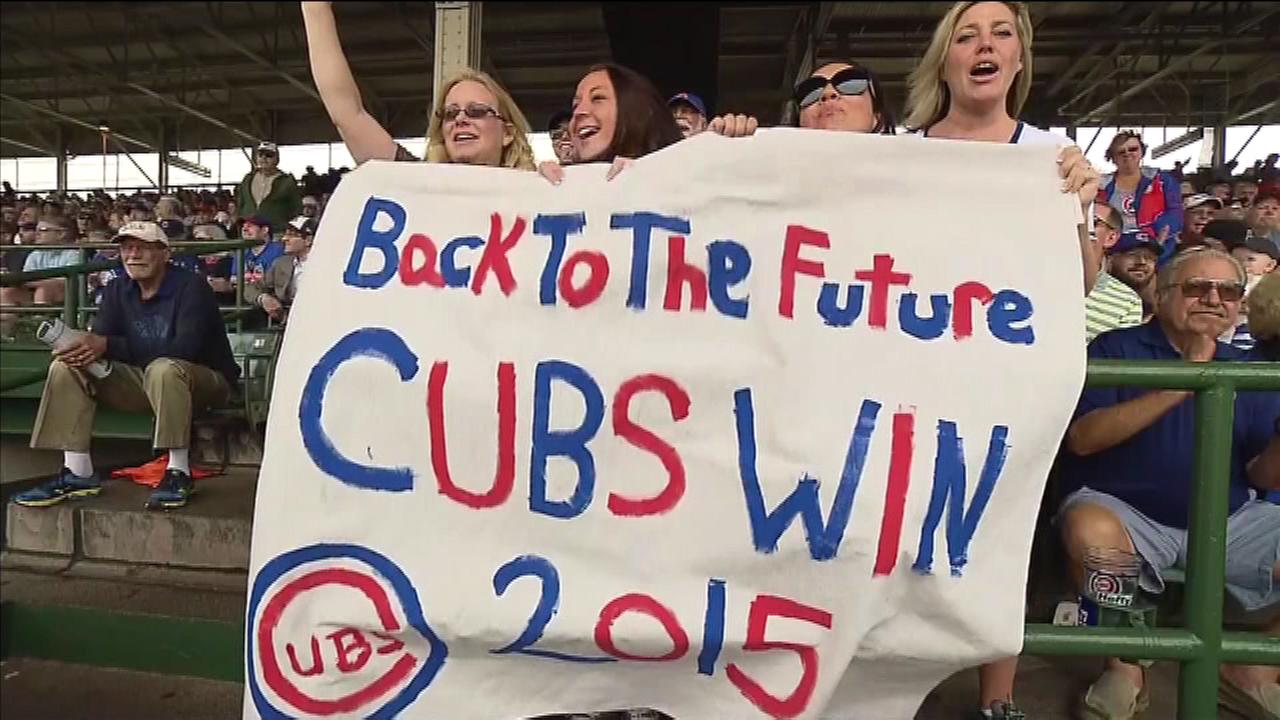 Other things Back to the Future Twostradamus got right:
Video Calls: The long desired face-to-face chats that have been running rampant all over Hollywood for half a century are a very real thing in 2015. Whether you're hung up on the holographic image a la Star Wars or the simple on-screen face, you can easily see and speak with another person on so many platforms today.
Skype, Face Time, Google Hangouts, and now SnapChat all have easy functionality and let you speak to your family or friends wherever they are. Astronaut wives are able to speak to their husbands floating in orbit. Kids who have minimal time to spend with their hard-working mom or dad can get that precious one-on-one love, even if dad has a board meeting in 5 or if mom needs a smile and some words of encouragement before she has to pitch her latest innovation.
Litterbugs: Remember those little robotic garbage cans going around cleaning up and whatnot? Yeah that could be coming to a city near you real soon. Places like Sweden, Japan, and Italy have started testing out mobile basura in the streets. Not to mention those stupid little automatic vacuums hovering around the homes of the swamped or lazy. They're not perfect but apparently they work well enough and get the job done when you're too busy to sweep on your own. Be on the lookout for the mobile trash industry to grow. LOL, sorry that's too funny to say without laughing.
Video Glasses: Marty and the crew were able to rock their glasses in style. Not so much in our world, at least not the style part. Oculus Rift has emerged as the company people hope will change the virtual reality game. They've been bought by billionaire socialite Bruce Wayne, I mean, Oliver Q, no, sorry, I mean Mark Zuckerberg and they want the revolution to be largely their doing. Let's not forget about that weak Google Glass attempt to push those uber pricey wannabe DBZ scouters on us. Hopefully they come back with something harder.
Hoverboards: The hovering holy grail! Maaaaannnnn I don't know a soul on this planet that isn't hyped about the possibility of hoverboards becoming mainstream.
We been hoaxed, played, and let down so many times these last couple of years that I don't even believe Lexus really created THAT hoverboard. Hell, for all we know they're using some technology they discovered in a tomb of a fallen Egyptian pharaoh. Hell, for all we know they laced that skate park with hella magnets and are just buying themselves time.


Hoverboards were the one prediction every 80s and 90s baby wanted to come to fruition. If the Cubs win, they better throw the dopest holographic celebration, and they better figure out a way to parade that trophy through Chicago on a fleet of hovering Delorean floats.
That is, unless Daniel Murphy, Matt Harvey, Lucas Duda, Colon, Familia, Wright, deGrom and alllllll dem Mets have something to say about it!
HOLD UP. Stone Cold is a NY Mets fan? Awww shit! The Cubs done fucked up.
These are two tenacious teams that have been grinding all season to shake their underwhelming reputations. The Mets have already gotten off to a 2-win lead so the Chicago Cubs are really banking on some miraculous intervention to pull this prophecy off.
We'll see if the Amazins have what it takes to continue their road toward their first World Series in 29 years.
Or if the Cubs 107-year prophecy comes to fruition.

Are you following Black Nerd Problems on Twitter, Facebook, Tumblr or Google+?