Writer: Al Ewing / Artist: Joe Bennet & Eric Nguyen / Marvel
The Devil is in the details. I don't think anyone has daddy issues as badly as Bruce Banner. Maybe Tony Stark, but I think several years of emotional and physical abuse beat out whatever living-in-my-father's-shadow issues Stark has got going on. This week's issue of The Immortal Hulk shed's some light on Banner's father as well as give us some startling revelations about the Devil Hulk.
Let's start with Bruce's father. We've known for some time that despite being dead – cause what does dead mean in comics anyway – Brian Banner has played a part in recent events. We also know that he's at the finish line towards the exit of hell. Al Ewing gives us great insight into the man, as well as the abuse he has put Bruce through during his childhood. While readers will get a better understanding of why Brain treated Bruce the way he has, in no way do the revelations of the past redeem his character.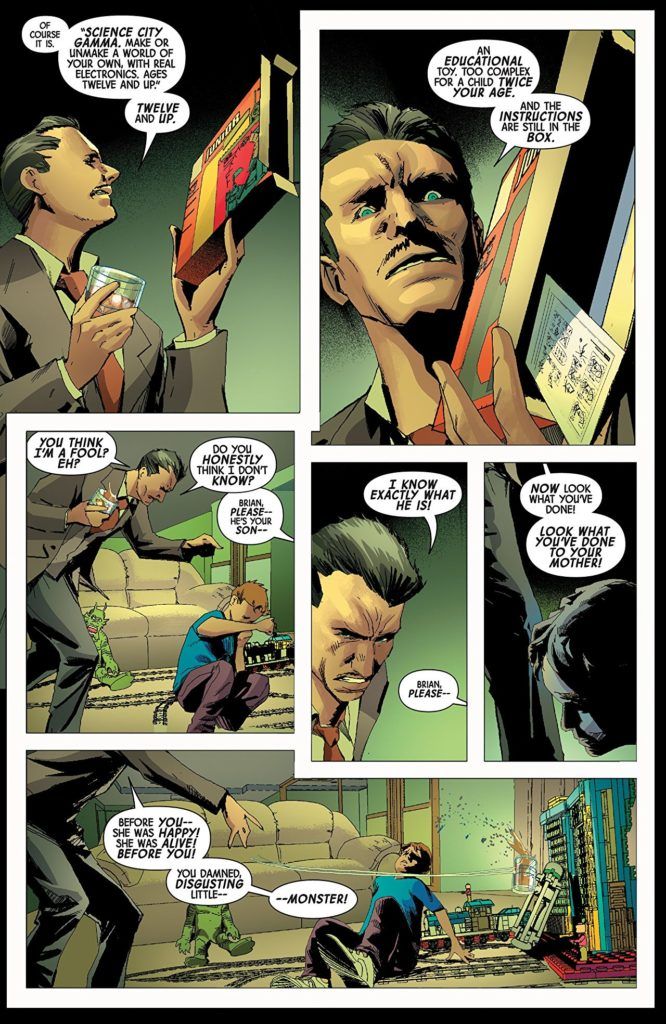 It's honestly it's fantastic storytelling on Ewing's part. From Brian's perspective, he's the hero and Bruce has always been the monster. You can tell from the way Brain tells the story. However, while Brian tries to make himself look like the good guy, Ewing storytelling ensures the reader that he's not only a villain but a terrible father who deserve no sympathy of any kind.
While our characters get closer and closer to the Green Door, we also get some revelations about the Devil Hulk. These revelations bring up more questions than answers. Ewing has toyed a lot with the idea that something supernatural is at play in these events. He's also played with the idea of whether or not the Devil Hulk is one of Banner's many personalities or something more. Ewing's story is ambitious but it can honestly say it's confusing at times. Sometimes your not sure what is happening or if any of it makes sense. However, while it can be hard to follow, the revelations usually pay off within the next few issues, so I'm confident we will get some answers.
8.5 Multiple Personalities out of 10
Reading The Immortal Hulk? Find BNP's other reviews of the series here.
Want to get Black Nerd Problems updates sent directly to you? Sign up here!
---
Follow us on Twitter, Facebook,Instagram, Tumblr, YouTube and Google+?