Writer: Mark Millar / Artist: Olivier Coipel / Image Comics
Issue #4 of The Magic Order gives readers a look into the past and hope for the future. Mark Millar seems content blessing us with little tidbits of greatness sprinkled in between the vengeful pages of this unrelenting, spurned daughter conflict. Olivier Copiel is drawing the hell out of this book and every issue highlights some aspect if his mastery of the craft.
If Looks Could Kill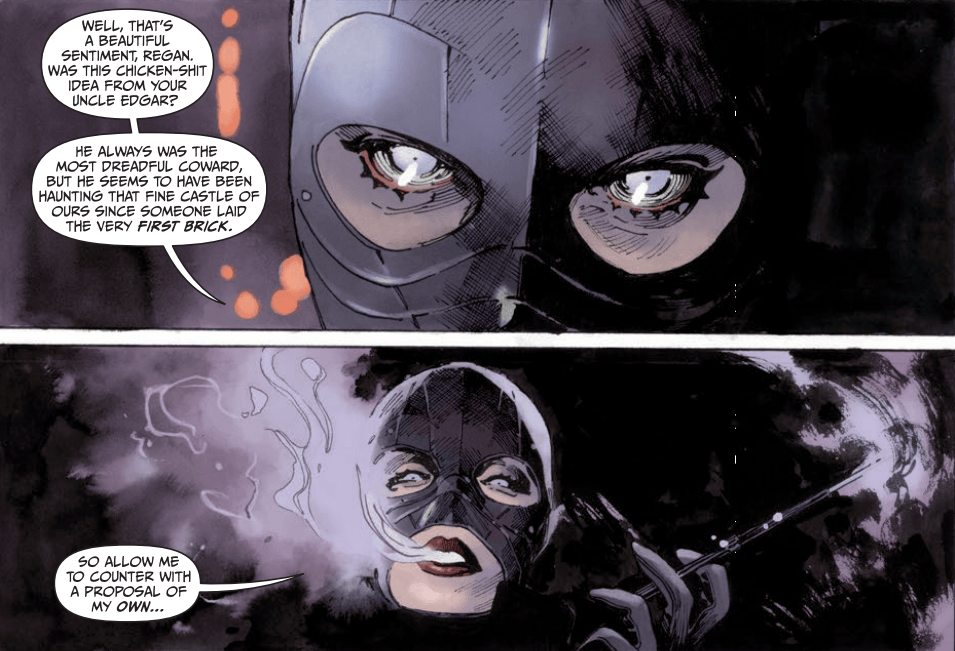 Our latest issue finds Regan and Cordelia on the wrong end of the negotiation table. War is always avoidable, unless one side is unconvinced they have any chance of losing. That's the look that Madame Albany had in her eyes. Cold, psychotic-yet-calculated, piercing eyes. Copiel is at such a disadvantage with 90% of Albany's face being covered, but he does so much with the sparse panel real estate he's given. This meeting happens in a really cool location, and I hope all readers are devouring this comic. Every little aspect of it includes phenomenal pieces of literary dopeness.
Back To The Future
One of the coolest low-key things that Millar and Copiel have done is give us a glimpse at the Magic Order from generations past. Not only did we get to see Grandpapi Moonstone in all his regal glory, but we got to see it through the eyes of everyone's favorite misfit. I loved the overlap of the World War and what was going on in the magical community. Time travel is a hard concept to get right, but it's done so well here that you can just enjoy the panels and keep it moving.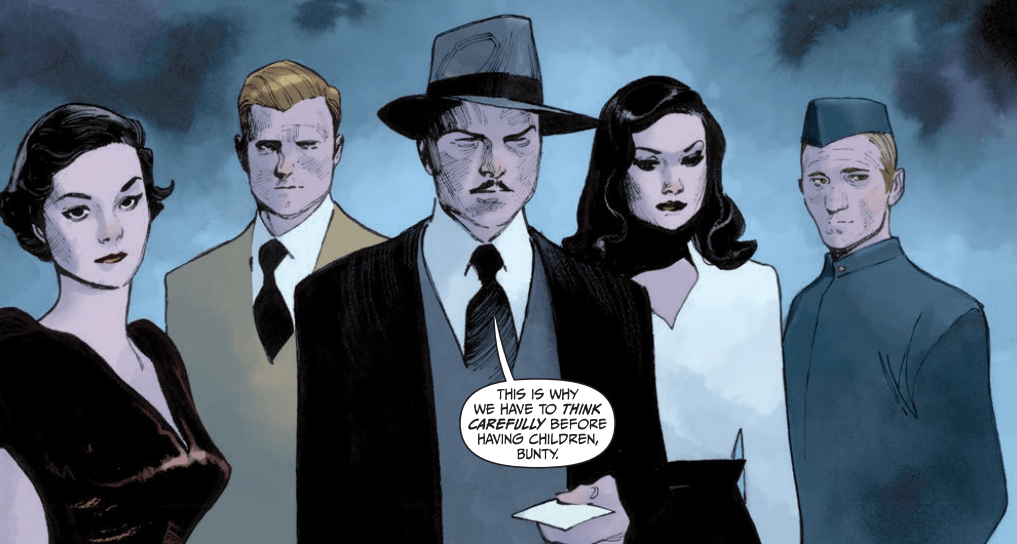 This was a great midway point for The Magic Order, considering the nonstop violence and bloodshed that's been happening since Albany and The Venetian took out their first wizard in the opening pages of issue #1. I wouldn't call it a break in the action, but this certainly feels like a line is being drawn in the sand and our final issues will see it all go down. It's time for the cordial heirs to Moonstone Castle to stop playing nice, roll up them magical sleeves and get those wands dirty.
7 Time Traveling Bentley's out of 10
Read our site's other reviews of The Magic Order here.
Want to get Black Nerd Problems updates sent directly to you? Sign up here!
---
Follow us on Twitter, Facebook,Instagram, Tumblr, YouTube and Google+?