The best rivalry in sports for the past three years has been Xavier Woods aka Austin Creed vs Kenny Omega aka The Cleaner. These are two athletes from two vastly different wrestling companies. Woods from WWE, Omega representing New Japan Pro Wrestling. Omega and Woods are the video game guys for both their companies.
Woods has been letting his nerd and gamer ability be known on his hit youtube channel UpUpDwnDwn (over a million subscribers. Respect game(r)) where he games with other WWE wrestlers (especially The Usos, Kofi, Big E, and Seth Rollins), along with having the quickest pop culture references this side of the West on the mic, and +999 level cosplaying skill set. Omega been a hardcore gamer from day one. Son been in gaming competitions, his finishers are references (One-Winged Angel, V-Trigger) from video games (take a guess which), dude's gear is in Tekken 7 and he played Cody in the latest Street Fighter V: Arcade Edition trailer.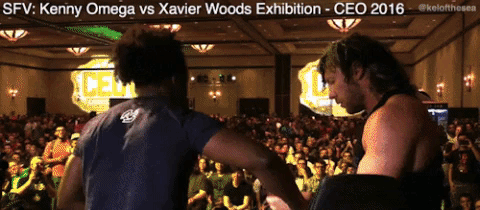 These are two men that have "Gamer 4 Life" tatted across the belly.
Cyber Street Beef
Woods and Omega never faced each other in the squared ring, the arena where this beef started is pixelated. It all started back in 2016 behind the scenes then on screens at the Street Fighter V Exhibition at CEO (Community Effort Orlando) where Woods and Omega finally met. Remember when TV shows or Marvel and DC Comics did crossovers? Yeah, it was like that but even better. These two have been going at it for gamer supremacy ever since and it's been beef on sight from then on.
Fam, Woods took a red-eye from halfway across the country just to face Kenny at CEO in 2017. That's literally Street Fighter II shit. Remember when the screen would show your guy traveling to where your next opponent was? They do this shit for real man. Which brings us to this year at E3. With the record tied up, the rubber match we've been waiting for was upon us. However, the ante got upped. This time around it would be Xavier Woods bringing The New Day in its entirety against Kenny Omega and The Youg Bucks aka The Elite.
When Worlds Collide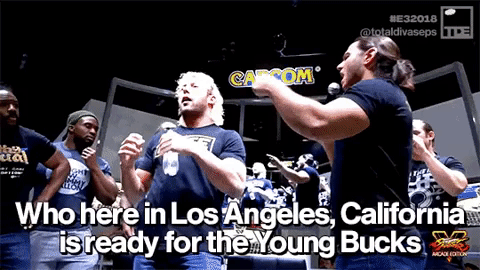 Yeah, The New Day vs The Elite at E3 squaring off in Street Fighter V: Arcade Edition. Gamers, are you not entertained? Wrestling fans, is this not what you streamed online for?! Nerds, is this not what we dreamed of? Two dominant groups from WWE and NJPW squaring off against one another is a dream come true. I just wanna state that the shit talking was immaculate. The announced team of James Chen and Yipes (LEGEND) with host Tasty Steve (who got caught in collateral damage) was incredible. There was A1 trolling from both teams—can we just roll the highlight reel from Totaldivaseps reporting right quick?
Kofi (Mr. 24/7) being a good sport to Nick Jackson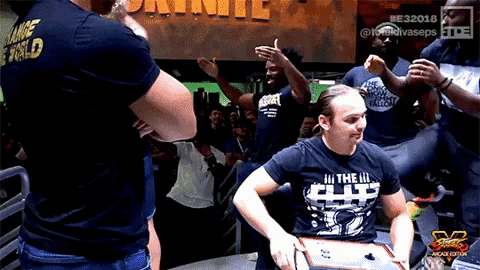 Kenny Omega cleaning up Big E with nothing but malice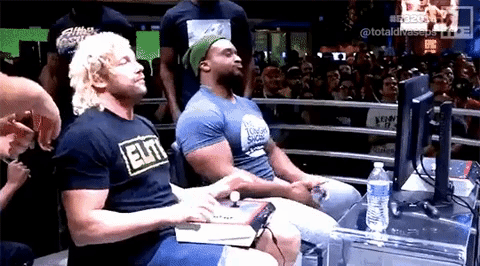 Omega not giving a damn about a group huddle
You know damn well what we're here to see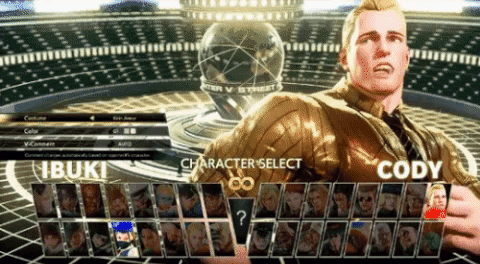 Once the team battle was over, that true villain took over Omega. He let the crowd know Woods ain't sticking to his Creed and ducking him. They still had to battle it out. This beef ain't over till one of them is crying. Woods, ever the instigator, makes things interesting. He'd face Kenny in a best of 5. The loser would have to eat habanero peppers. You know Omega ain't backing down from that. You can see just how high the stakes and bragging right are for these guys off the highlights alone man. I've never been this tense watching other's play video games (except during UpupDwnDwn's Madden Tournaments). Roll the highlight reel one mo gain.
Kenny on his villain shit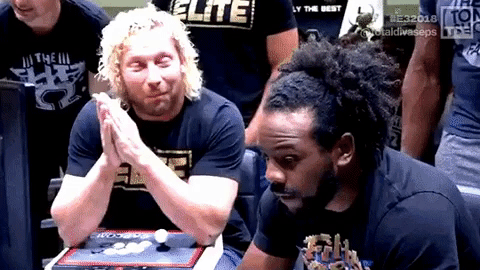 Woods declaring Austin Creed's Assassin's Creed
You can see Xavier Wood's heartbreak in slow motion here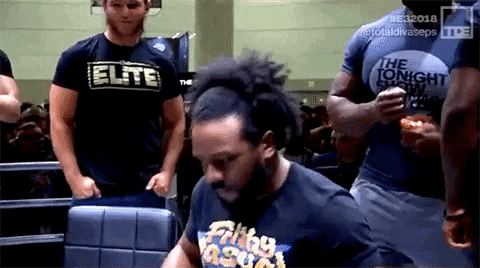 You can see Kenny Omega's soul leaving his body in this shot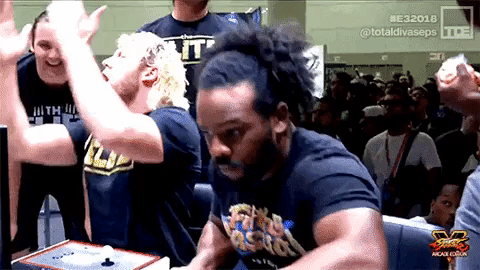 The comeback kid Xavier Woods
I had a dream it would end like this…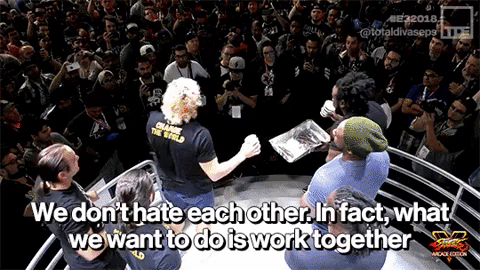 I'm not going to tell you who wins this rivalry. You gotta watch for that (hence the reason I placed the damn video here in the first place). What is important is how hilarious the ending is and the point of this whole venture. Highlighting the gaming community and briding the wrestling community. Wrestling came up as mad territorial but with NJPW working with Ring of Honor we see it doesn't have to be that way. The Elite (and The Golden Elite) are making it a point to change the world of wrestling.
Just because things have been one way, doesn't mean it has to stay that way. So instead of lines and divisions drawn in the sand, there's a way for everyone to coexist. In order for that to happen, they will need help. Which is where the New Day comes in. They too wanna change the wrestling world. These two groups from two rival wrestling companies were able to come together for an event, do what they love, and have fun. This may seem a small step to some but fans of wrestling know it's an important one in order to usher in a new era. We saw WWE promoting this event and naming Omega and the Young Bucks (which is ironic considering the cease and desist the bucks got earlier in the year from WWE) on their site for E3. That's not something that happens even out the blue.
Change the World
The New Day and The Elite have brought on phase one of changing the world of wrestling with a video game competition at E3. It feels so so nerdy and poetic to say aloud, man. I've enjoyed watching these Woods and Omega battle of the years like I'm watching a wrestling match or sports event. now imagine if there was even a hint of a chance of them being able to coexist and fight one another on PPV or other wrestlers facing off for true dream matches. Who'd have thought that a Street Fighter competition would put on the route toward a new dawn, a new day, and a new life for gamers, nerds, and wrestling fans…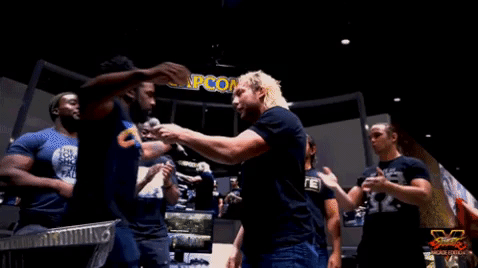 gotta say it's feeling good.
Want to get Black Nerd Problems updates sent directly to you? Sign up here!
Follow us on Twitter, Facebook,Instagram, Tumblr, YouTube and Google+.