The Avengers have become the heroes of this generation. There's no doubt about it. If you were born in this millennium, the Avengers probably got you eating out the palm of their hands, and it makes perfect sense. The level of popularity Marvel achieved after Iron Man skyrocketed onto the scene was great, but we'd seen it before. The successful build up to the crossover mega movie was the thing that changed the entire outlook of the movie industry in just one month.
"They say family that prays together, stays together
And one that walks apart, just falls apart
So, together we stand, divided we fall
United we form Voltron and take on all"
-Juelz Santana
With the introductions of Hulk and Thor out the way, Marvel combined their grandiose movie making skills with a bonafide, well-written story to stand on with Captain America: The First Avenger. The OG Marvel fans started to set Reddit ablaze, kids were gobbling up action figures like m&ms and the movie this was all leading up to was generating murder hornet buzz as the blockbuster season of 2012 approached. Indestructibility came after the Avengers dropped, fans flooded theaters day after day and the movie passed the billion dollar mark in 19 days!
For a movie to reach those numbers in under 3 weeks, you have to have the whole world hooked. Kids and adults were lining up in costume. Adults were lining up in cosplay! Comic book haters were tagging along and frontin like they didn't openly hate for years! It transcended the boundaries that so many blockbuster movies suffered from and created a Marvel crazed that would see Endgame smash all the records.
"Hoop Dreamin', hanging up pictures of my idols
Jordan was like Jesus, SLAM was like the Bible
I used to read it twice and cut the pictures out
Had the Jordan free-throw dunk, tongue stickin' out"
-J. Cole
As you probably know, The Last Dance aka "The Jordan Doc" aka the holy grail of 90s Bulls footage is killing the quarantine game. Released at what seems like the most opportune in documentary history, this show (I'm just going to call it a show) is on the tongue of every sports fan right now. We've experienced lockouts and shortened seasons, but to have the NBA, NHL and (possibly) MLB leagues put on pause and the Olympics and soccer postponed or cancelled, people are starving for sports content. Director Jason Hehir and creator Andy Thompson had just the right thing; a documentary about the life of Michael Jordan, with a special focus on his last season: 1997-1998. Originally set to premiere in late June, ESPN released the first 2 episodes in April, at the height of the COVID-19 pandemic.
As each weekend comes and goes, more and more memories flood my mind about the days that Jordan was each and everyone's role model. Everyone's favorite. Everyone's hero. Of course, you wanted to be like Mike; Michael Jordan was literally the coolest person on the planet! Luckily, the coolest person on the planet keeps some pretty great company resulting in the 90s Bulls being our Avengers growing up.
2010s Avengers : 1990s Bulls
Captain America : Michael Jordan
The rocks of the rotation. The glue that holds them all together. The shining stars of their respective teams. Jordan was at the center of everything the Bulls pulled off during both 3 peats. Captain America has been at the core of the Avengers from the start. Going even deeper, both embodied everything their teams believed and set out to achieve. Captain America being firmly entrenched in his wholesome 1940's attitude and stances kept the unbelievably powerful Avengers from ever going over the edge and keeping civilian safety at the forefront of their minds. On and off the court, Michael Jordan is arguably (and it's not that tough of an argument) the most competitive player in NBA history. That attitude permeated into his teammates who battled alongside him every year and made them champions 6 times over.
Lastly, both men had a distinct trademark that elevated him to a level unachievable by anyone else. Captain America had his vibranium shield and Jordan has his Nike shoe. Two heroes with their standards, style and grace written all over their teams.
Iron Man : Phil Jackson
The brains behind the operation. The one secretly calling the shots. Tony Stark is many things, but an idiot he is not. The playboy genius has cooked up contingency plans that would impress Batman. He's made insane calculations to ensure scores wins in fights to save our world and more. While Captain America is the defacto leader of the Avengers, Iron Man has taken over on countless occasions and can be frequently be found pulling the strings on the low. Phil Jackson was always a brilliant coach and as soon as he adopted the triangle offense, and got his players to buy into the efficiency of it, the titles started pouring in. While he never played a minute for the Bulls, he is every bit of the reason for their dynasty as MJ.
I don't think there's a more apparent reason to put Phil on that much of a pedestal, as Jordan's refusal to play for any coach but Jackson. Could Jordan have won another Bulls title with a different coach? Probably, but the statement he sent by drawing such a visible line in the sand was the highest respects he could pay Phil Jackson. While they went about their business in different ways, Iron Man and Phil Jackson put the behind-the-scenes work in to ensure their team would always come out on top.
Thor : Scottie Pippen
When you have Captain America standing there as the ultimate ray of sunshine, hope and optimism, Iron Man talking the biggest game and flying around in his million-dollar suits of mass destruction, and Hulk looking like a one-man wrecking crew on a meh day, you have to have that secret weapon on standby!
You need a hero that can handle his business and look good while he's at it. You need someone who rivals your strongest member, without anyone really noticing. Thor has been that hero for the Avengers, and Scottie Pippen was the unsung hero of the Bulls for the entire decade of championships and team accolades. You have the biggest person (except the other MJ, but don't got time for dat right now) on the planet warming dying children's hearts during the day while destroying teams in the regular season and playoffs at night. With Rodman playing like a man possessed on the court and being the controversial story of the week off the court, Scottie Pippen remained the most pivotal cog of the 90's.
Scottie was so smooth and reliable and didn't get caught up in the jealousy or dramatics of popularity. While he got shafted by the team-friendly contract he signed for 7 years, he found solace in being the 2nd best player of all 6 championship teams in dam near every category. Thor knew he was a God amongst men, even with Tony and Cap hogging all the glory and Pippen knew he was one of the greats, even playing alongside and under 2 GOATs.
Hulk : Dennis Rodman
You don't want to see either of these men when they're angry. You wouldn't like that one bit. Hulk turns into an uncontrollable, green Game of Thrones giant on roids, while Rodman turns into ferocious defender and low-block general. Like the Hulk in smash mode, Rodman wasn't afraid to get his hands dirty.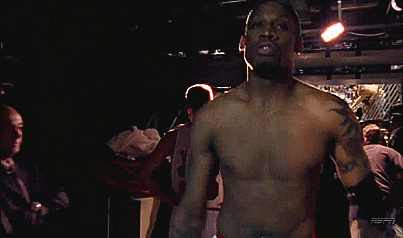 With a ball bouncing out of bounds, you can bet Rodman was Superman-ing it into the stands to save that possession. For the Hulk, it's on sight for anyone! On defense, Rodman wants all the smoke. I love how both Hulk and Rodman matured a bit with time. They never lost that edge but both learned to hone their tenacity and became beasts in their own way.
Hawkeye – Jon Paxson
We talkin bout marksman prowess? We talkin bout draining 3s to win championships? We talkin bout shooting down Chitauri Chariot without so much as looking in it's direction? We talmbout impeccable hand eye coordination and expert level accuracy!!
Just like Hawkeye, Paxson was with the 90s decade champs from the jump and fought hard for his spot. He was a starter for the 91 and 92 championships and was a stone cold killer when called upon to come off the bench and hit one of the most clutch shots of all time. Game 6. Phoenix Suns. Bye bye Barkley. Three peat. (Honorable mention to Steve Kerr for being Paxson Part II..and some may say an upgrade)
Black Widow – Toni Kukoc
Had to give a shout out to the squad mates from overseas. Black Widow is a killer and that cannot be understated. She is an assassin of the highest caliber and has skills that allow her to hold her own against opponents with incredible powers or suits. Croatian born Kukoc came into the league as a 25 year-old rookie and wasn't shook of nobody. Homeboy was called on to hit last minute shots and drained them like an killer.
 He won the 6th man of the year award in 96 and he helped Scottie Pippen hold down the team and push the Knicks to a game 7 in the playoffs, while Jordan was off playing baseball and golfing.
No shade at the Avengers, as I have loved every step of the MCU journey to superstardom, I was simply compelled to look at these teams side by side and realize that we had our own version of collective hype for one team for an entire decade. Jordan wasn't perfect and there were plenty of Bulls haters, just like the Avengers have their naysayers, but there's no denying the grasp these teams have had on people young and old, in the last 30 years.
Want to get Black Nerd Problems updates sent directly to you? Sign up here.
Follow us on Twitter, Facebook and Instagram.