Writer: Donny Cates / Artist: Nic Klein / Marvel
You ever see a frog bust a seemingly cosmic level threat's head to da white meat? Ever see a righteous villain swallow a Thor whole like that Anaconda that gobbled down Jon Voight? Thor #12 lived up to the hype on so many levels! Donny Cates has been crushing his go at Thor, and that's nothing to scoff at considering he's following up Jason Aaron's impeccably crafted multi-year run. Issue #11 really ramped up the homicidal stakes and things get multi-realm dire after this one.
Simon Walterson Throg is one of those beloved things that can do no wrong in the Marvel universe. My warmest regards to the writer who will be tasked with ending the life of the mere mortal football player turned dread Titan savior. For the last week, it's Cates' name that has been on the tip of every Frog of Thunder fan, because of the impending possibility that he'd be the one to lay Throg down onto his final resting lily pad.
The opening frog dissection page of Thor #12 had me wild shook, and I'm sure most readers were in the same boat because Donald Blake has been on an absolute rampage.
Every member of the Thor Corps (yeah, I said it) that ol' Don has encountered has become Odin magic cannon fodder for the spurned doctor and surely Throg had to be next. But I'll let fans enjoy that teeth shattering battle for themselves, because it is one for the Cates record books!
I was plenty pleased with Lockjaw's partnership, but as the rest of the issue played out, the guest appearance we're blessed with is dope. Short, but important on so many levels. Blake is now in possession of all the knowledge that he covets and the only person that remains capable to stopping this man from acquiring the power he needs to exact his revenge is Jane Foster. I'm excited to see if she exceeds next issue.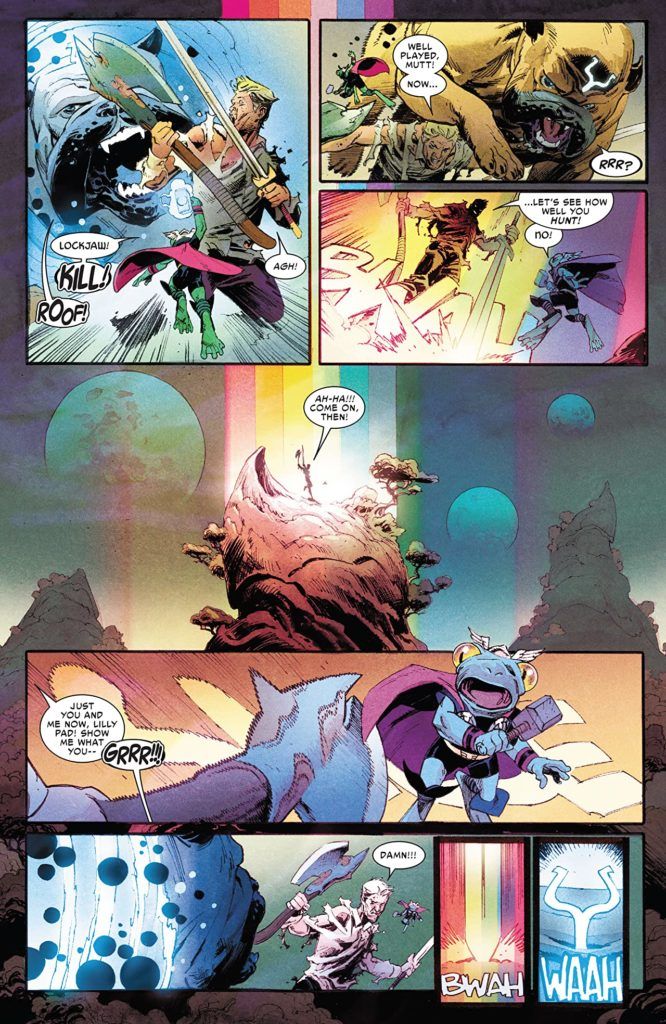 Nic Klein is doing a really nice job of bringing the facial expressions needed for the level of distress and despair these characters have been under. Cates, please keep your foot on the high stakes pedal because this has been a positively unexpected high octane series of events since Blake went Thor hunting, and I'm here for it!
9 Shots for Odin out of 10
Reading Thor? Check out BNP's other reviews here.
Want to get Black Nerd Problems updates sent directly to you? Sign up here!
Follow us on Twitter, Facebook and Instagram!