Writer: Andrew Constant / Artist: Nicola Scott / DC Comics
The conclusion of Future State: Nightwing #2 gives us a look at more bat-adjacent heroes in the future, some close contact fisticuffs with a padded up Nightwing, and a lot of new Tim Fox Batman.
The issue mainly centers on Nightwing and Batman as they take on the totalitarian Magistrate running Gotham and hunting all of its vigilantes. They've deemed Nightwing primary subject number one and they are trying to take him down at all costs. Unlike real life, if you take out the leader of an insurgency, the rest of the pieces fall like dominoes.
While the conclusion of this story was exciting, I was much more enticed by the personal connection between Nightwing and the new Batman than I was about the conflict. These two haven't met before now, but they know what each other stands for in the context of Gotham City. There is a mutual respect, a budding friendship, and it was an interesting reimagined dynamic for these two symbols.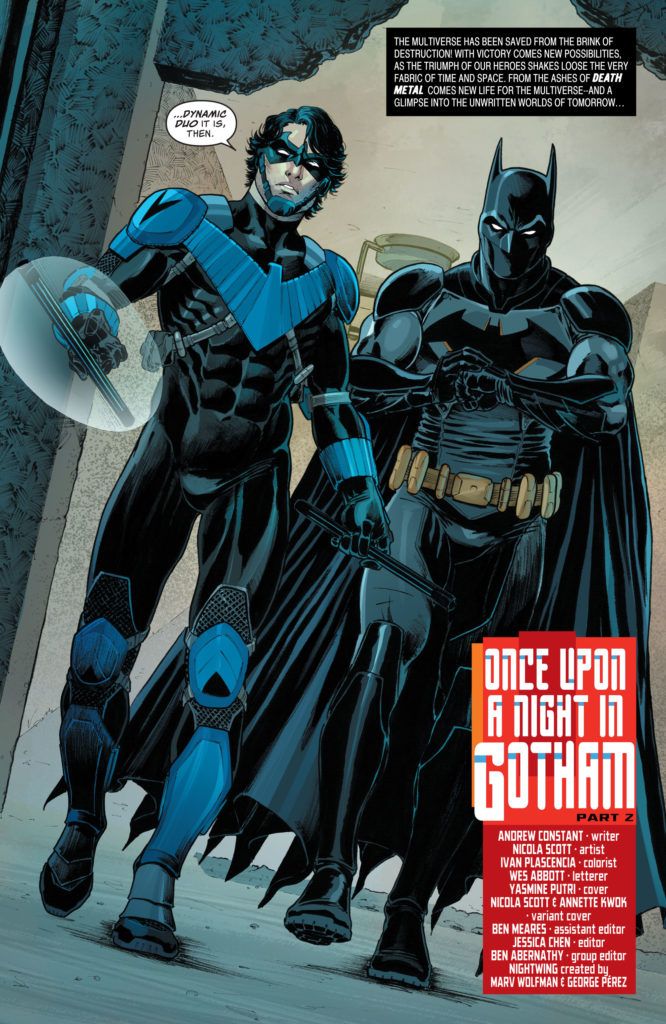 Bruce's Batman was always a rung above his sidekicks, no matter how successful they became on their own or how old they got. There really was no other way about it. And everyone seemed to respect that, even if things might get heated. But this new Batman is more open to teamwork and sharing the burden of this crusade. And that's something Nightwing isn't used to when it comes to a man dressed as a bat. But he also understands that the symbol of Batman means something, and he is willing to defer to Tim Fox's Batman because of this. With Bruce gone, you might expect Nightwing to take his spot in the pecking order of things, but no. He just wants things to work out, whatever that means.
I liked how this issue's conflict was framed around these two getting to know each other in the midst of a dire situation. It allowed each of them to show their authentic selves. And we were able to see just how selfless they both were to each other, even when facing certain death.
Both of these two are willing to defer to one another. And the longer they know each other, they could become quite the dynamic duo in Gotham City. Imagine the Golden State Warriors with Stephen Curry and Klay Thompson. Both lethal weapons in their own right. But also willing to let the other take over when they are feeling it. That's what these two could be. And it's a dope sight to see.
Future State: Nightwing #2 closes with Nightwing and the new Batman taking down the new head of the Magistrate as they live to fight another day. But what it's really about, is the budding bromance between Dick Grayson and Tim Fox. I think we have two new best friends on our hands.
8 Bat-Bros out of 10
Reading Future State? Find BNP's other reviews here.
Want to get Black Nerd Problems updates sent directly to you? Sign up here!
Follow us on Twitter, Facebook and Instagram!