By now, Im sure you've scrolled past countless re-runs of this Bang Bang Theory show. You know the show that features that stupid hot blonde chick from 10 Rules for Dating my teenage daughter (anyone? crickets..), that tall awkward genius guy Sheldon and their group of friends who are basically the scientist equivalent of Friends in Cali.
Now this show is definitely not for everyone. If you hate physics you'll hate every episode. If you hate nerds, don't bother. If you hate nerds trying really hard to impress chicks, you might blow your brains out watching these guys commit dating atrocities every season. If you can get passed all the intricate algorithms, next level nerdiness, and palpable awkward tension I can assure you that they didn't win all these Emmys, Golden Globes, SAG and People's Choice Awards for no reason (the cast and show has racked up over 100 nominations).
SO the pedigree is there.. and I've converted quite a few homies who once hated on the show. The reason that most people start to enjoy the show is because people actually start to listen to the characters interact with each other, which is where the comedic gold lies in this Chuck Lorre production. Watching Penny fuck with Sheldon's OCD need to knock on doors and say the occupants name three times straight is undeniably hilarious because you know he's gonna knock three times and who wouldn't play with someones emotions given how annoying it must be dealing with that on the daily? The jokes in the show strip down these highly successful, at times robotic and surprisingly vain individuals and humanizes them so that you can see through the naive superior ways about them.
Lets break down the characters so you can fully understand who you might be investing some major couch veg time in:
Sheldon
The runaway star. Winner of 3 Emmys for Best actor in a comedy series. The unusually tall and irritating, yet brilliant theoretical physicist working at Cal Tech. His genius is many times his downfall. He doesn't know how to socialize, he doesn't really believe in casual sex, he's terrible (but secretly amazing) at telling jokes, and flat out doesn't do sarcasm, secrets, change or humility. Sheldon Cooper and his insensitive ass brain are the wheels that keep driving this train into comedic history, pun absolutely intended.
Leonard
The cool kid in the show. And by cool, I mean he wouldn't even pass for the nerdy little brother kid tagging along with your crew growing up. With that being said, he's the only one with enough guts to even try and holla at their neighbor, Penny. He's the only guy with any bit of sense on this show so he gets his fair share of shine. The experimental physicist is an easy fan favorite. You just wanna root for the little dweeb.
Penny
The girl next door. The Cheesecake Factory waitress. The wine connoisseur. The country girl turned actress who can't act. The one who kept many fans glued to their seats enduring 22 minutes of Theoretical Physics,
Star Wars
name drops, Vulcan salutations, and cheesy pick up lines. She provides so much relief to the show. At first, you assume she's just eye candy to keep you entertained, but after a while you realize you like her jokes, her interaction with the guys and the destruction and disruption she causes to all their lives.
Howard
The horniest Jewish aerospace engineer and eventual astronaut with a shot of daddy issues and a splash of mommy attachment problems. Lookin like he came straight out of a nerd porno parody of
Gilligan's Island
. Howard is that dude that hits on anything with a pulse. He and Raj have a mean bromance. That bowl cut thooo. His mom is hilarious.
Raj
The spoiled and wealthy Indian particle astrophysicist without the ability to talk to women. His conversations might lead you to believe that Raj is gay, but he's just really in touch with his feminine side. He eventually learns he can talk to girls when he's drunk, and this usually results in some reckless ass behavior.
Later season main characters
Bernadette
The cute feisty microbiologist from hell if you get on her bad side. Eventual love interest of the horn dog Howie. Eventual co-waitress and confidant of Penny and all around pushy beast.
Amy Farrah Fowler
BLOSSOM. That is all.
Last and most certainly least, Stuart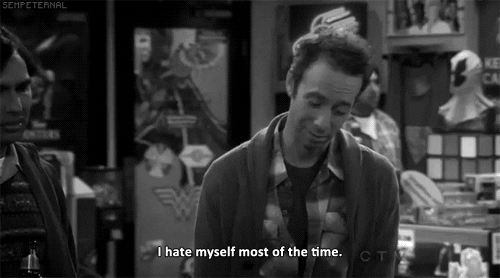 The comic book store owner. The cheapskate loser of losers. The vagabond. He's just the worst.