Let's get one thing straight: Tower of God came out of nowhere swinging for the fences like Aaron Judge. With smoother animation than Mr. Clean's dome, it feels like they've already solidified themselves as a contender for new anime of the year. There's just something that's so interesting about this show, despite the basic love story it's built on. I don't know if it's the intriguing and mystical shinsu elements that are so different from anime I've seen before or if it's the wild characters that make up the Tower climbers. Either way, Tower of God does a great job of balancing the battle anime aspects it was marketed as, with unexpected twists that allow it to stand out from the competition.
"The girl wanted to see the stars.
The boy wanted to be with her.
What do you want in exchange for everything?
Only those who have the power to survive will get it at the top of the tower."
Off the rip I'm astonished my boy Bam aint ever known anyone but the girl who leaves him within seconds of the show starting! Of course Bam follows Rachel into the tower, as all protagonists do, and discovers he's entered a world he wasn't ready for. While Bam probably hates it, I love the unknown in Tower of God.
Not knowing what sort of test Bam was going to be given by Headon has me glued. Not knowing how he was going to defeat the White Armored Eel had me assuming this was an Attack on Titan type anime where characters get murked left and right. I hated not knowing what shinsu was but loved every second of uncovering what it is and how it can be used. Remember when you were first learning about ninjustsu or nen? Get ready for that feeling again!
Anime Tropes But Make Em Dope
Reflecting on all the anime I've devoured over the last 5 years, I've realized that I really enjoy test arcs. Those early world-building episodes that showcase the powers of different individuals and give watchers little nuggets of insight are everything. The concepts of the pockets that each contestant has are SO dope. Allowing administrators and rulers to govern each floor is cool and structured.
While Bam is great and an honorable guy, he's been a meek main character. Which is why his best friends Khun Aguero Agnes and Rak Wraithraiser (some of the coolest names of all time) are 2 of the main reasons I get hype to watch these episodes. Rak calling everyone turtle gives me LIFE! Also, I don't know how, but I feel like Cypher coming to some sort of weird understanding of Rak's crude lingo.
Khun's backstory starts off a bit confusing to me, if I'm being honest. Once his story unfolds, you begin to appreciate him more. Unlike his briefcase which immediately became one of my favorite anime weapons and is easily one of the most useful. And if we talkin weapons, we can't glance over the fact that there are 13 of the most finely crafted swords out there in them streets right now! Seeing those bad boys in action are like watching Masamune's creations come to life. More of them, please.
A True Love Story? Or Something Darker?
I hope we learn more about Bam and Rachel's relationship before they entered the tower. She basically created Bam's whole backstory as this amnesiac then leaves him with his long hair don't care look, so there's a lot of unknown at play and those don't really pan out too well in shows like this..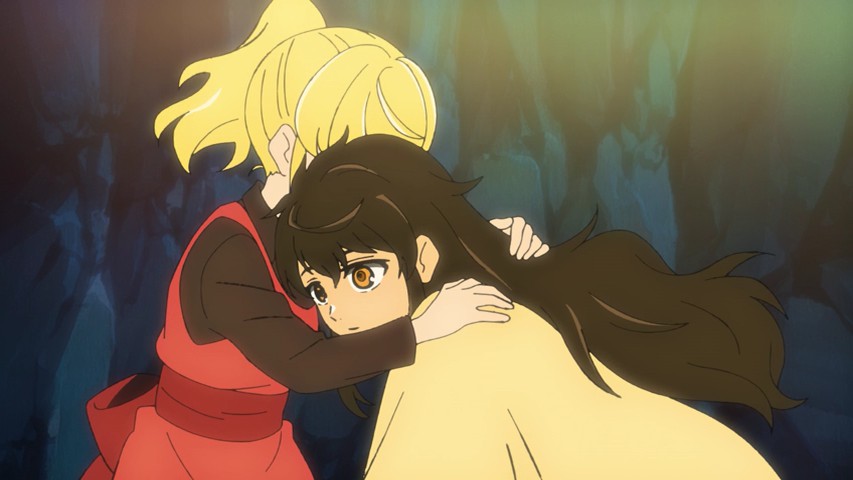 All I know is my girl Anak Zahard better make it to the top of the tower so she can get her reptilian revenge on those mufuckas that took mom dukes out. Justice or death! Speaking of, signs point to the Princesses of Jahad playing a large role in Tower of God. They've been hinted at and briefly touched so far, so hopefully there's another helping of dope femme warriors in our future.
When Crunchyroll announced they were entering the originals market, people were intrigued. When they announced Tower of God was going to be one their first creations, people's ears perked up. They basically signed a player off the street and are riding them into the playoffs like Westworld's Marshawn Lynch. Only time will tell how well this gigantic adaptation of such a popular manwha works out, but after the first 9 episodes, it's looking like we got a problem on our hands!
Want to get Black Nerd Problems updates sent directly to you? Sign up here.
Follow us on Twitter, Facebook and Instagram.