GTA V sold over 11.21 million units in the first 24 hours, becoming the fastest entertainment to gross $1 billion. Topping that will not be easy to do but Rockstar Games always delivers. The gang is in the kitchen cookin' up the next installment and you already know it's going to be bigger than ever. Still, it'll be a while before we get anything new. In the meantime, Rockstar has been adding new content to GTA V and continues to build upon it to make it even stronger. That hasn't stopped us from thinking about the many possibilities that the next generation of GTA could bring.
Here are a few things I'd like to see in the next GTA
1. A New Setting
One thing that would be great to see in Grand Theft Auto is a completely new setting. Maybe in Tokyo? Or even based in the future. That would be awesome! GTA has completely used up San Andreas and Liberty City and it's time for something new. It's time to explore a new environment.
2. Buildings and Scenery to Interact with
The GTA V map is bigger than three of the previous GTA game maps combined. However, despite what people have said, bigger isn't always better. One thing that always stuck out to me was that despite the immense size of the map and the thousands of buildings in the game, very few could be interacted with. Outside of missions, there really isn't much to explore. Allowing gamers to enter more buildings would give us a higher incentive to explore the world.
3. Character Customization
Now I appreciate the amount of choices they give us concerning customization when it comes to clothes, hair, etc. But I want to be able to characterize my character from head to toe. Similar to Saints Row, I want to create how my character looks, such as skin color, height, weight, etc. As for clothing, I want full control. I want to be able to change the color and the text and/or picture on shirts, jeans, and shoe colors. I think this will help bring more of the player into the game. Think The Sims meets GTA!
4. Destructible Environments
Destructible environments would add some realism to the gameplay. Now I'm not asking for massive destruction such as blowing up buildings, but some destructible objects would go a long way. For example, when driving into a hedge, you end up crashing into it like it's made of iron, instead of driving over it. In the next GTA, that hedge should be able get crushed or disintegrate if burned.
5. More Side Activities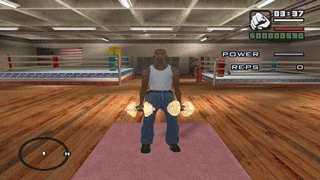 GTA V was flawed in the amount of side activities and missions. In GTA IV, you had the option to go on dates, hang out with your cousin, and more. I believe San Andreas had the most side activities in the entire series. You could enter fast food restaurants and eat and work out at the gym, which they should definitely bring back! I enjoy doing the story missions but some more side missions and activities could really bring the game to life.
6. Old Health System
It was very easy to get killed in GTA V. There were some scenarios that caused you to receive an instant death, such as getting bitten by a cougar. In previous GTA games, such as Vice City, health was represented by numbers, which was lowered from 100 to zero depending on how much damage you took.
7. Old Weapons & Vehicles
GTA Vice City had the best weapon set of ALL TIME!!! Especially the melee weapons. You had chainsaws, screwdrivers, meat cleavers, hammers, and more. Rockstar should bring those weapons back. As for vehicles. yeah some of the cars are cool and what not, but why not bring back some tanks, hovercrafts, jetpacks, and all that good stuff. GTA would be so much fun with those items!
8. Multiple Protagonists
It's fair to say that the multiple protagonist feature worked out well in GTA V. Using their special abilities gave the game a new look while switching between each character helped get around quicker. This feature should stay in the next GTA game.
9. A Leading Lady
If Rockstar sticks with multiple protagonists, one of them has to be a woman. No exceptions, no excuses! Grand Theft Auto has shown women in a negative light by allowing the player to visit strip clubs and sleep with prostitutes. There really aren't any females in the game with any importance. It would be nice to see Catalina again! Introducing strong female characters for gamers to relate to would make the game more interesting and allow for more twists and turns in the story. And it could lure more female gamers to the game. Who doesn't want that?!
10. Children
GTA is definitely missing children. The game would be improved if you could see children at the park or in a school bus. Yes, people might be tempted to eliminate the children but adding an instant 5 star consequence would force you to make moral choices.
Other things to add
The ability to grow, sell, and distribute drugs
The ability to choose your own career
More variety of sports (basketball, football, etc.)
A way to start your own family
What do you think? What's on your GTA VI wish list? Share in the comments, or on Twitter, Facebook, Tumblr or Google+.