writer: Meredith Finch / artist: David Finch / DC Comics
So this time around the art for the cover this issue may or may not throw you for a loop.  I'm looking at all the Wonder Woman issues in my (physical) comic book collection here in my room and I can't find one with Diana in such a position:  thoroughly defeated, on her knees and looking so drained in every aspect–physically, emotionally… yet this is where we find her in this issue and it's all in good fashion because it's mirroring exactly how this run of WW is making me feel.
From the cliff hanger in last issue, D and Batman find Superman, unharmed mind you, and the search is on for what evils lay in wait inside the volcano. What the trio find are more of the devastating insect creatures and what seems to be a mastermind (or at least a minor boss character in rpg speak) and Princess Diana, I mean Queen D, the mothertrucking God of War starts to give him THAT WORK. Clark and Bruce stop her from completing that FINISH HIM fatality and this happens:
I really don't know how to feel about how this issue has progressed. Yes, Wonder Woman is allowed to be vulnerable. Yes, she is allowed to grief. To feel. To value life. To take up arms to avenge. I have  to remind myself that I feel a certain type of way with how everyone is seemingly treating D with the kid gloves. Yes, THE KID GLOVES. So far, she's been scolded, doubted, schooled, and has had her authority undermined more times then I care to count.  I'm not sure if she's lost her sense of agency or if Meredith Finchas writer is sending her through story line that is meant to get her at her lowest, where she can survive the fire and come out stronger than whatever. I'm used to WW being the character who can make the "tough calls" when Supes and Batman can't.
I don't what I got myself into reading WW nowadays: I'm faced with a beloved character that I feel that I don't  recognize anymore. How sad is that?
A few panels throughout this issue had some facial expressions that left more to be desired, as in they did distract me from what was going on in those panels. But the last page (mostly) pulled it together as D comes back home to find that a new contender has come to her throne.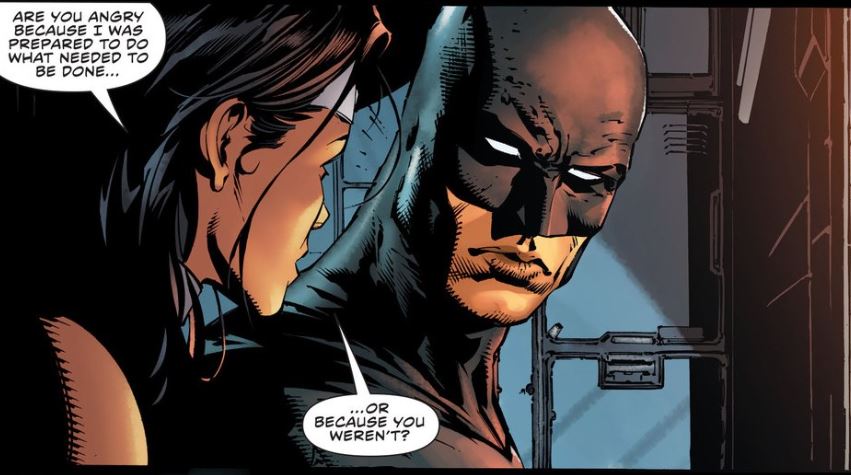 Are you following Black Nerd Problems on Twitter, Facebook, Tumblr or Google+?