Writer: Chip Zdarsky / Artists: Terry Dodson / Marvel Comics
Let me start off by saying this was such a dope comic book that I was smiling ear to ear as I turned the final pages and let out a low, grumbling "MMMMMMM" as the ending's mental bomb sinks in. Chip Zdarsky is making Hickman proud with the web that he has woven, while highlighting the greatest aspects of these legendary teams.

After Doctor Doom clearly set up the X-Men and Fantastic Four, Victor has declared war on mutants and it's mayhem in the streets! I love Valeria's knee jerk reaction to the man who she has so much ill-placed affection for, the King of Latveria. She said "Oh Uncle Doom, you just cant help yourself from making matters worse, can you?"
This issue centers around Franklin Richards finally having his powers restored, thanks to the definitely-not-scheming Doctor Doom. For kids who have grown up surrounded by his villainous ways, they're awfully naive in this decision. Of course, Reed and Hank checking the math, science and success rate of this "operation" is one hell of a co-sign but they have to be smarter than that, or have their own low key intentions.

The next series of events doesn't expose Doom's true intentions but it does put him on blast as a hypocritical megalomaniac and someone that deserves to get stomped out!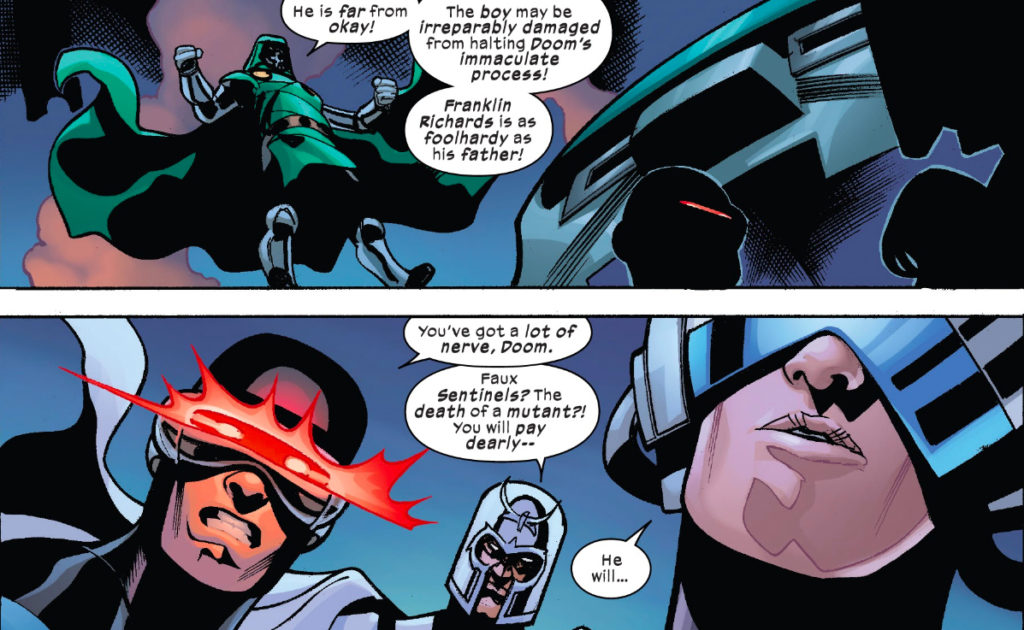 Chip Zdarsky did a beautiful thing having various members of these teams work together to pull off otherwise unachievable feats. Terry Dodson finds the right panels to bring his A game and creates some dope artwork to match Chip's grand story.
While reading, I was intrigued by 4 smaller, but juicy details that the average reader might glance over. Doom flexin that knowledge he's gained about Kitty Kate Pryde's powers and turning her as heavy as stone had me going nuts! On the more tender side, I really appreciated Richard Reed finding a voice and opening up to his slightly overbearing mother and father about his intentions. The conversation Valeria has with her dear uncle near the end of this issue was so foreboding I could barely stomach it! Lastly, I just need to say that Erik and Charles' trip to New York City was one of the most gangsta comic moves in recent memory.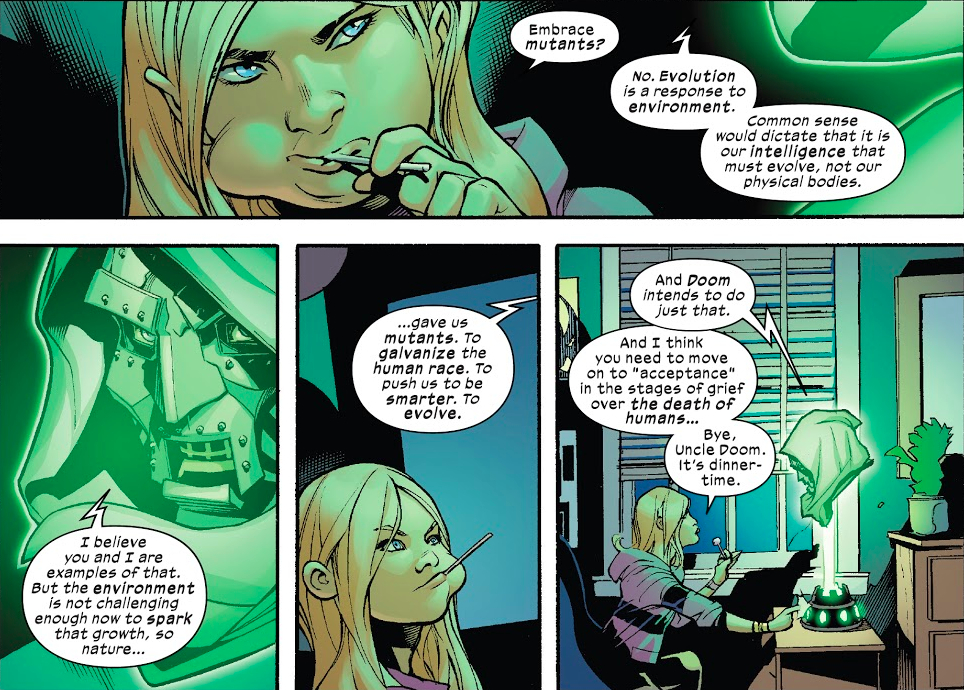 The X-Men have remained so righteous and steadfast in their conviction over the decades that you cant help but tip your hat to their commitment to provide mutants with the ideal of safety, kinship and home. The Fantastic Four are always pushing the limits of what is capable while staying grounded in family and friendship. The explorer in you wants to devour more of their adventures and your heart melts when a good writer nails their heartwarming side. X-Men/Fantastic Four #4 delivers another great issue.
9 Sue Reed & Nightcrawler Tag Teams out of 10
Want to get Black Nerd Problems updates sent directly to you? Sign up here!
Follow us on Twitter, Facebook and Instagram!