Writer: Chip Zdarsky / Artists: Terry Dodson and Rachel Dodson / Marvel Comics
It feels like we've been heading for a confrontation between the X-Men and the Fantastic Four for the longest. You know, I'm actually surprised that it hasn't happened sooner. After all, it's the world's most feared species of superhumans against the world's most-loved family of superheroes. Since the beginning of Powers/House of X, we knew this moment was coming. Chip Zdarsky doesn't disappoint as this conflict shows a side of the Fantastic Four we rarely get to see.
The World Has Changed
If you are unaware of why the X-Men and the Fantastic Four are beefing, it all started over an invitation. An invitation for Franklin Richard, the son of Reed Richards and Sue Storm, to come to Krakoa (back in House of X #1). You see, young Franklin isn't just one of the most powerful superheroes in the Marvel Universe. He's an Omega-level mutant with the ability to create universes and so much more.
It's an ability that could serve the mutant nation well. However, after some time travel nonsense on another adventure with his parents, Franklin's powers have slowly been fading away. A problem Professor X and Magneto see as an opportunity to convince Franklin to come to Krakoa. With the X-Men waving around their newfound power and influence, Franklin joining them is not something that Reed and Sue are too fond of.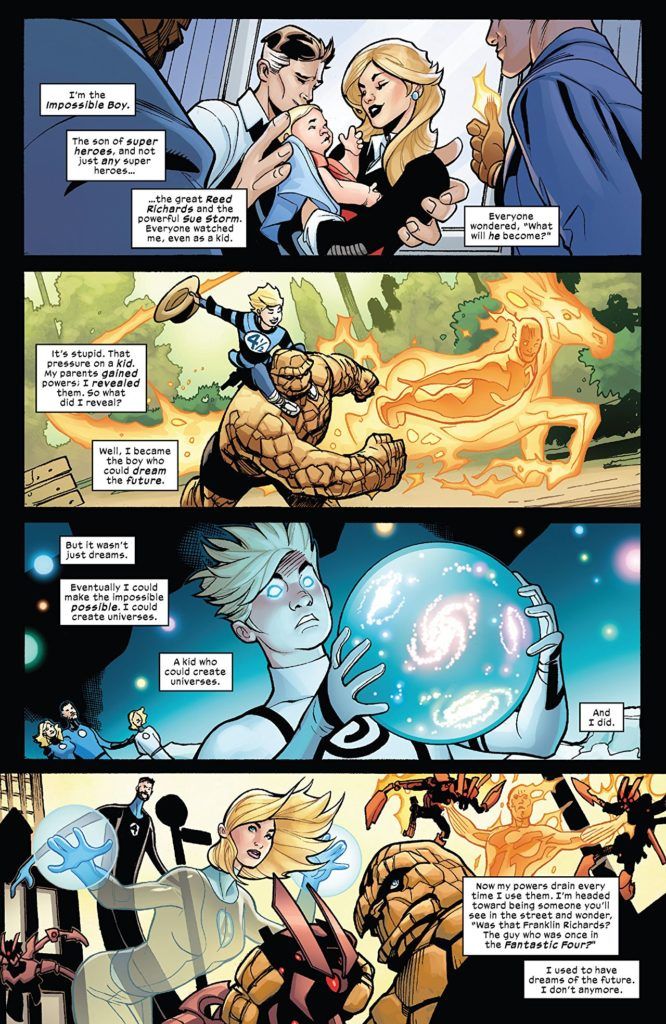 While X-Men/Fantastic Four #1 reads more like a Fantastic Four book than an X-Men one, I think that works in its favor. The X-men are intimidating, alluring, and most of all, driven. Zdarsky paints the mutants more like an antagonistic force to be reckoned with, without the restraint and civility they've had in the past. To be fair, in this new era of Krakoa, they are different and have every right to be.
As for the Fantastic Four, Zdarsky's story feels more character-driven with them. What really shines in this opening issue is how Marvel's first family reacts to the X-Men, especially Reed and Sue. They're afraid of losing their son, and when you're scared of something like that, you make rash decisions. Reed Richards might very well be considered the smartest man in the Marvel Universe but he's pretty dense when it comes to being a good father and husband. We get a good exploration of that here and get to see just how flawed Reed is when it comes to family.
I'd consider X-Men/Fantastic Four #1 a strong start to this mini-series. Zdarsky plays really well with the idea of what family means to both groups. The Fantastic Four's family dynamic gets a lot more complex and layered. With Franklin as the central focus, we get to see a teen struggle with betrayal, trust, and discovering who he is. As a powerhouse, it's only going to get more complicated from here.
8.9 Terrible Fathers out of 10
Want to get Black Nerd Problems updates sent directly to you? Sign up here!
Follow us on Twitter, Facebook and Instagram!