Writer: Bryan Hill / Artist: Leandro Fernandez / DC Comics
When DC announced the return of their Vertigo imprint for mature readers, it was clear in mind head that a series called American Carnage was going to be a difficult read in the political climate. With most of my experience with Hill lies in Wildstorm and Batman and the Outsiders, I was intrigued by this more grounded police procedural story. True to my preconceptions, the story was in fact challenging but Hill's willingness to stare into the darkness of American extremism is laudable and the narrative is a well-researched, bleak look at "Real America."
Before we continue: this is a trigger warning for racial violence. This is very much a violent book.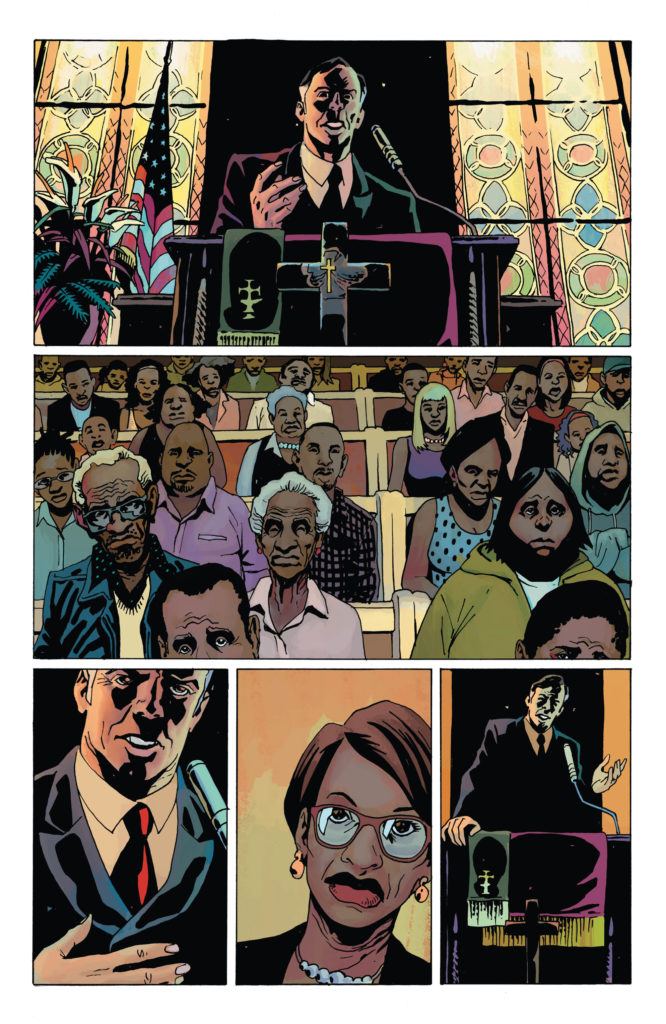 American Carnage opens with Agent Sheeba Curry recounting an incident with Ross Johnston, a white criminal with priors, a wife, and children who slept with a literal Nazi blanket. Agent Curry was investigating the death of a fellow Agent Bernard Watson, who suffered a particularly brutal death. The connection between Johnston and Watson is in individual by the name of Wynn Allen Morgan, a person the FBI refuses to touch.
The story then pivots to a flashback of the central protagonist, Richard Wright. There are three important things to note about Richard Wright:
1) The very first time we see him, he commits an utterly reprehensible act that will forever taint the reader's perception of him, and the character's own perception.
2) He very much looks like white.
3) He is very much a biracial man.
Agent Curry wants to enlist Richard's help in taking down Wynn Morgan, and the conversation about Richard's lineage is entangled in a complicated mess of colorism/racism/systemic police power structures and vague notions of justice/vengeance/carnage. It's a difficult read, and Hill is very frank in his dialog. Everything sounds familiar, sounds like something we have heard on the news a dozen times before, and the fact that there is a layer of fiction does not make it sting any less, especially when we pivot to Wynn Morgan's speeches about the US government.
Fernandez's artwork is chilling. The seedy depiction of Los Angeles is riddled with brazen depictions of violence that punch you in the gut and make you squirm. Every false smile, every downtrodden glance, every bleak silhouette, each visual element accentuates the darkness of the story.
The premise Hill has staged sounds familiar doesn't it? A biracial black man sent to infiltrate a white supremacy group. It's a premise that could very easily get out of hand, but Bryan Hill grew up in St. Louis. Bryan Hill has done his due diligence in his research and has stripped everything but the bare bones to show the proverbial carnage. Bryan Hill is pretty much the only author I would trust with this story, and that's because I've been following him on twitter since I started reading his run on Detective Comics.
The inaugural issue is enticing because it shows the jagged edges. It does not shy away from brutality, but it does not revel in it. If this honest reflection can continue throughout the series, American Carnage will be a fascinating social critique, but this book will not be for everyone.
8.5 "Status Reports" out of 10
Want to get Black Nerd Problems updates sent directly to you? Sign up here!
---
Follow us on Twitter, Facebook,Instagram, Tumblr, YouTube and Google+?