Writer: Bryan Hill / Artist: Miguel Mendonça / DC Comics
On the Outside
The Hill Administration promised us an explosive finale and folks, the Hill Administration delivered. The conclusion to On the Outside is a brilliant capstone to what has been a thrilling and captivating Batman story. Here is a pertinent question given what's going on in the main title: is Batman stronger alone or with his allies?
One of the most exciting things about Detective Comics #987 is the roundtable shot of Black Lightning, Orphan, The Signal, and (late arrival from Detective Comics #986) Katana staring at a holographic globe. They're demarcating possible threats arising due to the Brianiac Files from No Justice. In that moment, Hill shows that Karma, a villain with a vicious vendetta, is part of a much larger scheme. It is that balance between global stakes and deeply personal motivations that make this arc so engaging. Hill tethers these impossibly complex emotional drives to this newly-introduced, far-reaching mythological element of the DC universe. It is a bold feat that pays off in spaces.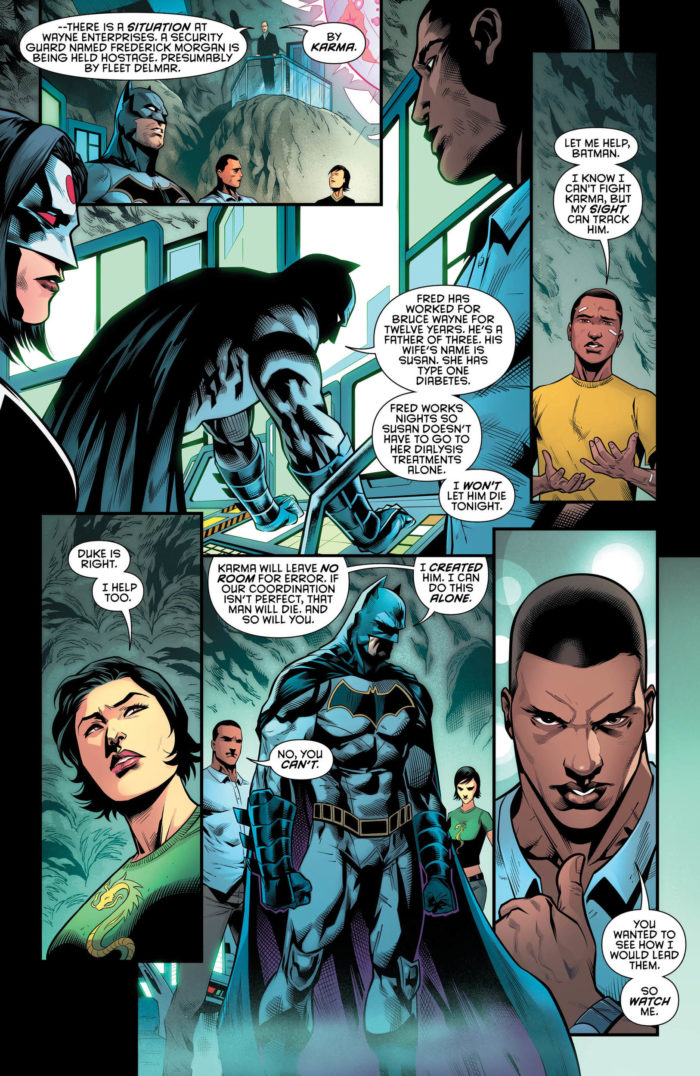 Mendonça's artwork is nothing short of breathtaking. This issue features some of the finest action sequences of comics this year, and the grand spectacle that takes up the meat of the issue is wonderfully realized. Seeing the Outsiders in combat is just pure eye candy, especially with Orphan and Katana's martial arts at the center of the showcase. I do wish The Signal had more presence, but I have been thinking that ever since Duke Thomas' introduction.
By the end of this arc, I did not expect to like Karma as much as I do. His introduction seemed par for the course in Batman's rogue gallery, but the end result over five issues is a complex character that proves to be a fresh counterbalance to the Dark Knight. That's a tough act to pull off after nearly eight decades with the character.
It's such a good time to be a Batman fan! There is some incredible creative talent working with the character, and if you're not keen to Hill, you should be. His On the Outside is a well-paced and conceived story that sets up so many cool things for the future. I can't wait!
9.8 "Outsiders" out of 10
Reading Batman? Find BNP's coverage of the Dark Knight here.
Want to get Black Nerd Problems updates sent directly to you? Sign up here!
Are you following Black Nerd Problems on Twitter, Facebook, Tumblr or Google+?