Last weekend we got our first glimpse of Supergirl's version of Superman. Dark hair, square jaw, blue eyes, the usual. The unusual? Jimmy Olsen towering over Clark Kent. Which I'm okay with. Who would expect Superman to be the dude who needs help reaching the top shelf?
Are we sure there's only a 3″ difference here…
The unusual part deux? Super-Hoechlin looking like someone stuck him in Super-Cavil's suit. Less okay with that. Y'all couldn't find Tyler a suit that doesn't look like he ordered it off of Instagram? I mean really, this what y'all giving us? This…wait.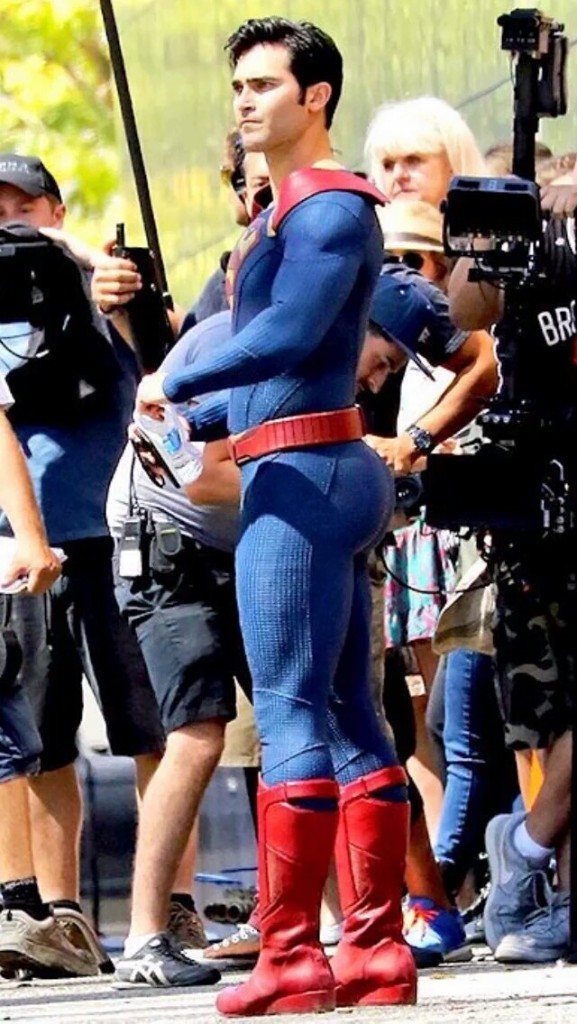 Pause.
Good googly-moogly! I'm sorry…I'll be…let me just…excuse me.
*Walks out to collect herself*
*Ja-Quan walks in.*
I smell Superman flambe…what is that? How y'all got CK looking like a Kings pinup? Bad enough he got…you know what. Lemme just.
*Sets timer*
*DEEP INHALE*
Stop the track!
*Brittany busts down the door.*
Brit: I can't let you this, Ja-Quan. This booty is a gift & will be treated as such.
Ja-Quan: This roast is happening, the timer's already running.
Brit: Then I'll battle you for it. Hit the track!
*Soulja Boy's "Donk" plays*
Ja-Quan: Are those Spanx my dude?
Brit: He's giving au natural, high heel booty tooch realness.
Ja-Quan: You been hitting that stairclimber harder than Lauren London.
Brit: He been power squatting, my dude knows what he's doing.
Ja-Quan: Allllll the baseball players are hating they can't be on his level of booty POP.
Brit: Got me feeling like Edna Mode.
Ja-Quan: He coulda been the male lead in Nicki Minaj Anaconda video.
Brit: That booty got me singing Big Sean
Okay, drop it to the floor, make that ass shake
Ja-Quan: Okay…
Brit: Whoa, make the ground move, that's an ass quake
Ja-Quan: We get the point
Brit: Built a house up on that ass, that's an ass-tate
Ja-Quan: You gon do the whole thing, tho?
Brit: Roll my weed on it, that's an ass tray!
Ja-Quan: Rear end looking like air tight biker/runner buns rolled up in a vacuum sealed bag.
Brit: Booty look like he smuggling 2 Christmas hams.
Ja-Quan: Homie got the 1970s basketball skintight swag.
Brit: Kal-El look like he bout to be next on the center stage. Take my money!
Ja-Quan: Homie looking like a rugby player that ate a soccer player and absorbed his tight mantra.
Brit: That's Kal-El, the lost Kardashian.
Ja-Quan: You know that's a point for me?
Brit: It don't matter!
Ja-Quan: Is this cat the personification of this video?
Izetta: That ass so fat Big Freedia got him on speed dial.
*Izetta backflips out*
Brit:That ass so fat he's taking over for the 99 and the 2000.
That ass so fat Nicki finna throw some more.
That ass so fat Yo Gotti slid in Superman's DMs.
That ass so round I wouldn't mind double dribbling.
That ass so fat this is the new Superman theme song.
Superman is mini but that booty is mighty.
FINISH HIM
And most importantly…
BUNS OF STEEL YOU GUYS

— G. Willow Wilson (@GWillowWilson) July 30, 2016
Toot that thang up, Kal-el, make it roll!
Are you following Black Nerd Problems on Twitter, Facebook, Tumblr or Google+?