Frantz: Fresh Prince & Jazzy Jeff, Sara Vaughn, Paul Rudd & Evangeline Lily. What do they have in common? Summertime people! Cookouts, iced tea, and this movie about to have Summer lit AF.
Aisha: Yes! We are moving into our time – reclaiming the time that is woman – hear us roar! (clears throat takes a breath) This movie is all about Evangeline Lily's Wasp, and this trailer is giving me life. We see Paul Rudd doing the 'Paul Rudd thing' which is what made this take on Ant-Man so fun, but now we get badass Wasp – Hope van Dyne (Lily) in her rightful place, with a kickass suit. Some people were complaining about Wasp's suit design, but this trailer put those complaints to bed.
Frantz: Hope got a suit. With wings y'all! Plus, a gat on each hand! She giving henchmen the Ong Bak knee to the grill and running up the sides of knives! I'm about to pass out with hypeness over here.
Aisha: This part of the trailer plays really well off of the first film. Hope argued every step of the way that she was the better candidate to wear the suit and handle business. It would've been cool for the first film in the series to be a woman in the leading role, but we'll get there.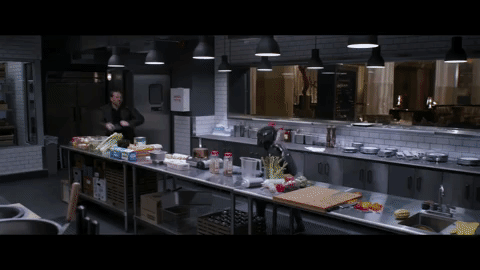 Scott asks Hope had she been asked to help Cap in Civil War, would she? She's all like w/e about that, "If I was there you wouldn't have been caught." So now we know they're on the run in this one.
Frantz: Ant-Man and the Wasp looks to pick up the pace from the first installment with #TeamSmall after the fallout of Civil War. shit has hit the fan for Scott Lang. Obviously, because he's getting a house arrest bracelet from the FBI! Meanwhile, the whole team is going underground. Hank Pym is out here shrinking buildings down in broad damn daylight so they can fit into the overhead compartment!
Aisha: Hank really did shrink Pym Tech into a rolling carry-on bag!
Frantz: Real talk though, the comedic edge that set the first Ant-Man apart from other MCU entries is still in play, but they clearly added hella lore to the mix.
Aisha: Like, who is the menacing hooded figure with the tiny spyglass eyes? What I do know (cuz I'm an IMDB fiend) is, the character is a woman – played by Hannah John-Kamen!
Frantz: Well, director Petyon Reed and Marvel definitely went digging in the crates for the antagonist (probably one of two) Ghost, virtually unknown in the comic universe (also gender-swapped for the film)! Another (infinity) gem folks might've missed is the shocked face of none other than Morpheus himself, Laurence Fishburne! Cast as Dr. Bill Foster! Who comic heads might know as (Black) Goliath.
Aisha: Does Ghost have Pym Particles? Can they get small too? Does Ghost work for Laurence Fishburne? So many questions! I am so hyped and I can't wait to see these two fierce ladies duke it out in this film. I know it'll be a well-choreographed fight between Ghost and Wasp, and Evangeline does her homework so it's gonna be lit. I love the way these movies mix the humor and action, so I'm hype and if they have Michael Peña back as Luis, I'm all in.
Frantz: Disney/Marvel are playing the best hand they can with Black Panther, Infinity War part 1, and now Ant-Man and the Wasp in 2018. I'll just give Marvel my bank information since they about to take all my money. Ant-Man and the Wasp drops in July.
Are you following Black Nerd Problems on Twitter, Facebook,Instagram, Tumblr, YouTube or Google+?