Yesterday, Jason Momoa circulated this fantastic selfie video promoting Aquaman. We were shook. The view! Of which we mean, his pecs and back, was spectacular. Also, a cliff in Hawaii is nice too. So we posse'd up, ready for a full on thirst fest of a Aquaman trailer today. Because if DC was finally going to give us what we want, at least it should be Momoa looking fine as frog hair.
Now the full trailer has dropped from San Diego Comic Con and we've got thoughts.
Leslie:
Let's be clear, I've been watching Momoa's back muscles flex since he was in Stargate: Atlantis as a character named Ronon Dex (don't pretend you don't remember that.) I even sat through several episodes of Game of Thrones for him. Several. I haven't been watching his recent show, Frontier (on Netflix), because really, there are somethings even thirst won't make me do, and one of those is watch *another* television show about dudes conquering the west or whatever.
On Aquaman, I was in the "whatever, he's a dude who talks to fish" camp for years until a girlfriend explained that most of the planet is covered in water, so talking to fish is actually more useful than talking to people. So I'd say I prefer Aquaman to almost any other member of the Justice League except Wondy.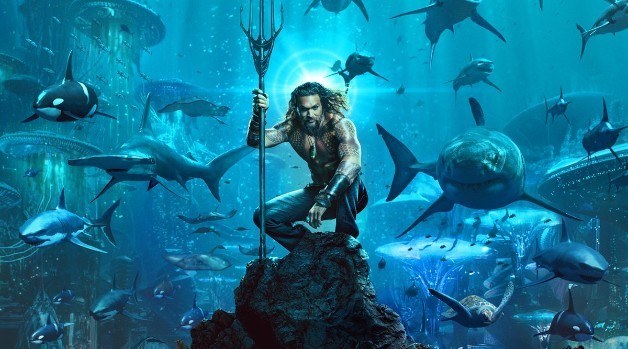 Given this background — yay Momoa, yay Aquaman — I'm pretty squarely in the target audience for this movie.
The trailer does not disappoint, but it isn't as sexy sexy as I thought it would be. It is a good trailer, classic. It introduces all the characters, Aquaman, Lad, Mera, and the bad guys, King Orm and Black Manta, in quick, succession. Blocking my view of Aquaman's pecs was a red head, Mera, which was annoying. I didn't come here for the red head, especially when she elicits predictable "red heads, they so crazy" jokes.
The big thirst surprise for me is Black Manta. He looks *fantastic* — like he might could get it too, fantastic.
Fam, with multiple sexy MFs to choose from, there's even Aqualad and they tell me he's the GOAT in Young Justice, this may be the first DC movie to get my money in a long, long time.
Izetta:
First things first, I've never been a DC fan and I know little to nothing about Aquaman. I'm here for ma mane man Momoa. So don't come for me for not knowing names and alladat. Cool? Okay….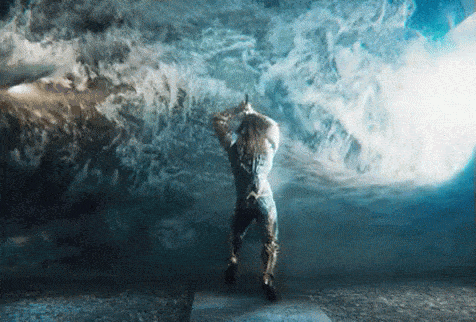 How many months until December? A sistah is hott and parched and ready for every visual this movies has to offer. The colors look magnificent. Them sea animals had Aquababy's back and looked like they were gonna put a hurting on the bullies. If I gotta "just keep swimming" my can barely tread water ass is gonna be swimming toward them tattoos. Y'all see his arms, tho? How many back strokes that take? Them royal ass muscles about to put in that work for the throne. A throne he don't even want, against a blonde ass brother in his feels.
Good acting. Bad acting. Glistening muscles make all of that subjective. This may turn out to be worthy of the same ridicule as any other DC movie, but this is the only one my dollars are here for.
Carrie: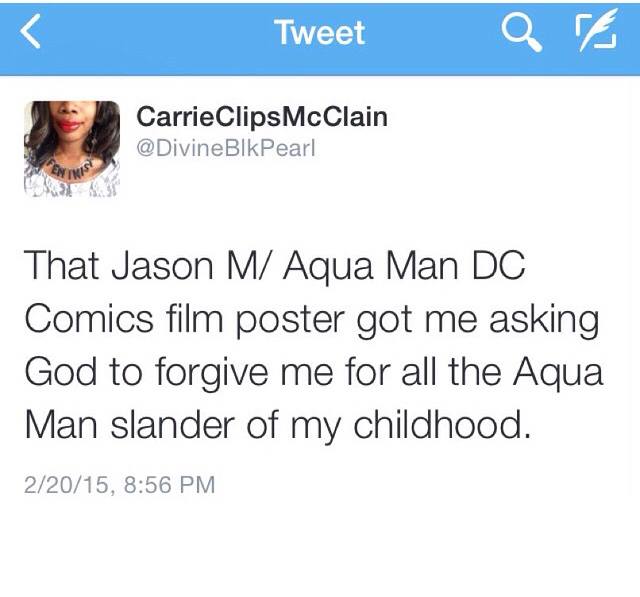 I have so much Aquaman slander to atone for from my childhood. Arthur Curry was a hero to most y'all but he never meant much to me. I just ate some bomb catfish prepared by the hands of a Southern Black woman today right before I watched the new trailer so I already know I ain't shit.
Aquaman was always at the buts of most of the jokes during my upbringing and even into recent years. This film excites me as I love when a comic book adaptation hits the big screen because the heroes we read about get a chance to be bigger than life for us. It's a chance for many of us to introduce new fans into the fold. You could also argue comic book film become even a bit more accessible.
This very well may be my gateway into actually giving Arthur a chance and learning more about him. Because I know Black Manta from other DC properties. I figure Mera's a badass too, in her own right. Now I get to have a cinematic offering to help argue the case for one Aquaman. It is also worth noting we got another film in the comic book genre boasting a leading man who is a man of color along with a director of said film who is also a man of color.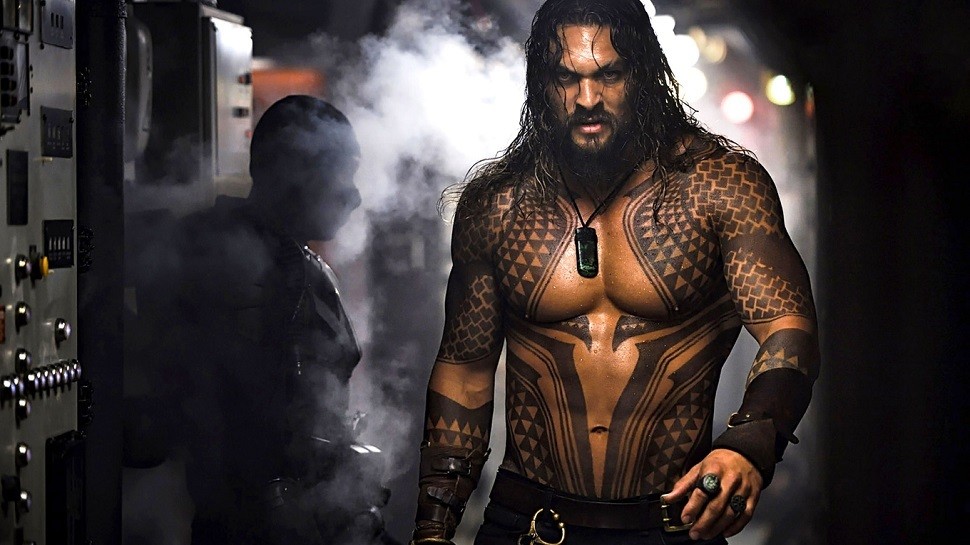 I can't swim but please believe I'm ready to take a dive and take a chance on this one via Jason Momoa.
Stay Thirsty, my friends.
The film, which stars Jason Momoa, Amber Heard, Nicole Kidman, Willem Dafoe and Yahya Abdul-Mateen II will ride the wave to shore on Dec. 21.
See our SDCC coverage over on twitter via the #BNPvisitsSDCC tag!
Want to get Black Nerd Problems updates sent directly to you? Sign up here!
---
Follow us on Twitter, Facebook,Instagram, Tumblr, YouTube and Google+?