Writer: Ta-Nehisi Coates / Artist: Daniel Acuña / Marvel Comics
You know what time it is. Ta-Nehisi Coates. Daniel Acuña. The block is hot and Afrofuturistic.
Two Thousand Seasons
The ebb and flow of this narrative are expertly timed. Y'all so much goes down. In its third volume, titled "Two Thousand Seasons," the book is taking a new shape. Where we started out with a ragtag group of misfit escapees seeking to reclaim their memories, we now have a group with all the resources at their disposal. This dynamic in the past created the laziest books in the X-Men archive. Remember? Back when they had all Shi'ar everything, were unbeatable and nothing they did had any stakes whatsoever? This is the opposite of that. Coates is giving us a true glimpse into Wakanda at war, the nation (and all of its lore) become a fully realized character in this run.
The gift of this Black Panther arc is that the stakes never drop. Issue #16 shakes up the typical "downtime after the battle" formula by taking time from the main storyline to flesh out every relationship in the narrative. Credit to Coates for creating details that tie T'Challa to each character in a way that empowers them to show out. Storm comes through heavy in this issue and lawd, Ororo knows how to make an entrance. Adding to the depth of this world, we are treated to a second storyline that threatens to pull a thread from the A Nation Beneath Our Feet arc. One that could upset the peace Wakanda has fought to keep.
Never a second thought, Daniel Acuña gives visual life to the Black Panther universe with a grounded flair that adds richness through Blackness. Deep care for the Black aesthetic has been a benchmark throughout the series, highlighted by the different hair textures and the many (many) shades of Black and Brown skin tones. These details show through on T'Challa's rough-hewn, battle-worn and noble face; in the visible, regal concern on Shuri's brow.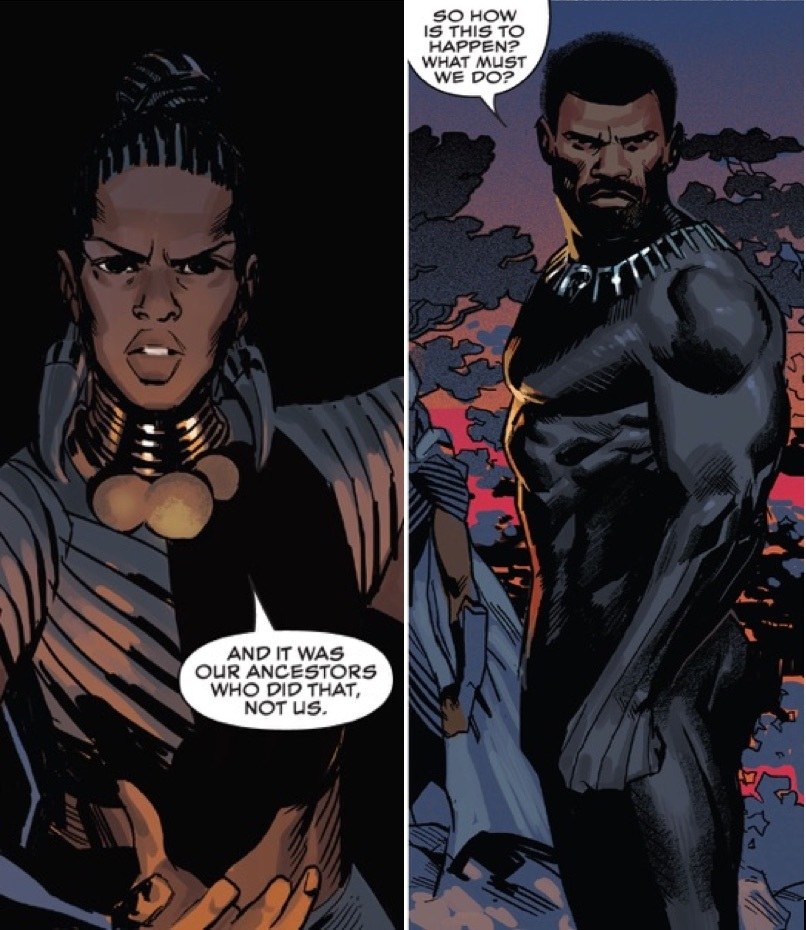 The visuals go HAM every damn issue.
8 Storm cameos out of 10
Reading Black Panther? Check out BNP's other reviews here.
Want to get Black Nerd Problems updates sent directly to you? Sign up here!
Follow us on Twitter, Facebook and Instagram.