Writer: Ryan Ferrier / Artist: Ian McGinty / Boom Studios
Here again with another cartoon correspondence and loving the new 90s scene! new new…
I was ecstatic to receive the first press issue given to BNP from BOOM Studios – Rocko's Modern Life the comic. Just hot off writing about my anticipation for the TV movie "Static Cling" airing spring 2018, I'm gifted the chance to review this gem!
The first thing you notice is the aesthetic – illustrated exactly how we all love and bursting with commentary, the comic does not disappoint. It captures Rocko's exaggerated eye bulging anxiety ridden moments to the "T", while giving us that over the top truth about the modern world.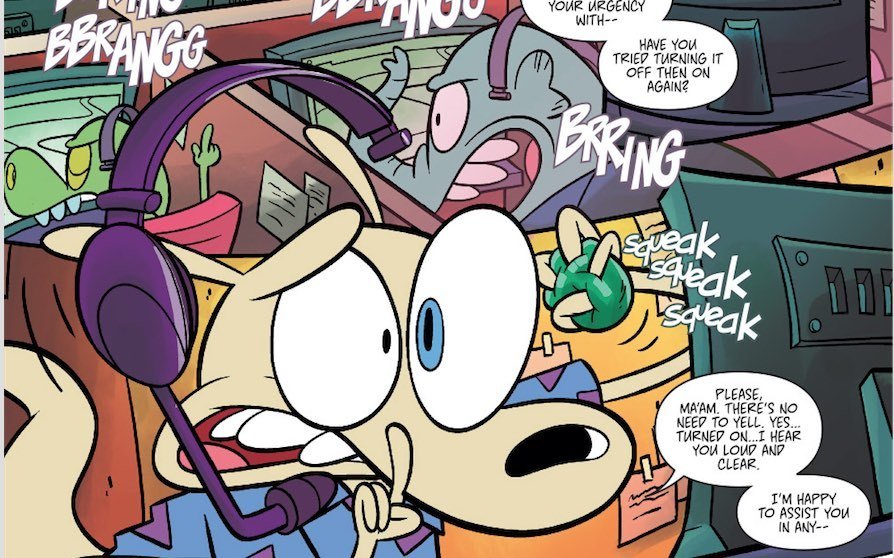 Now, there are the shows and narratives you enjoyed as a child that you look back on today with nostalgic admiration. Not only do you have this moment with Rocko's modern life, but you realize as an adult you can relate to Rocko's story up close and personal. The show had always dealt with adult situations that we as a kids might not have understood then, but know all too well now and this issue really hits home for me.
Rocko begins his day at the call center dealing with irate customers and has to transfer a call to his boss. – Also did you notice his name was Mr Hindenberg? I get all the nuances now…
I don't want to give spoilers, but we spend the rest of the issue with Rocko needing to make money to stay afloat. I found myself really understanding what it's like to be Rocko, not being able to pay bills, not having a full fridge and looking for work below your qualifications cuz life doesn't stop for you. Wow, it sounds so depressing but really it wasn't. I applaud the creator's ability to keep the reader present, showing the despair in Rocko's eyes, but keeping it light, fun and keeping you invested. This issue truly is a joy to get sucked into.
We see Filburt and Heffer by Rocko's side doing anything to help him get back on track financially. Filburt being overly careful and Heffer isn't too bright but always the innocent optimist. Rocko ends up renting out a room in his house to a bro bro – like a real broheem that parties and trashes the place while Rocko jumps into the job search market.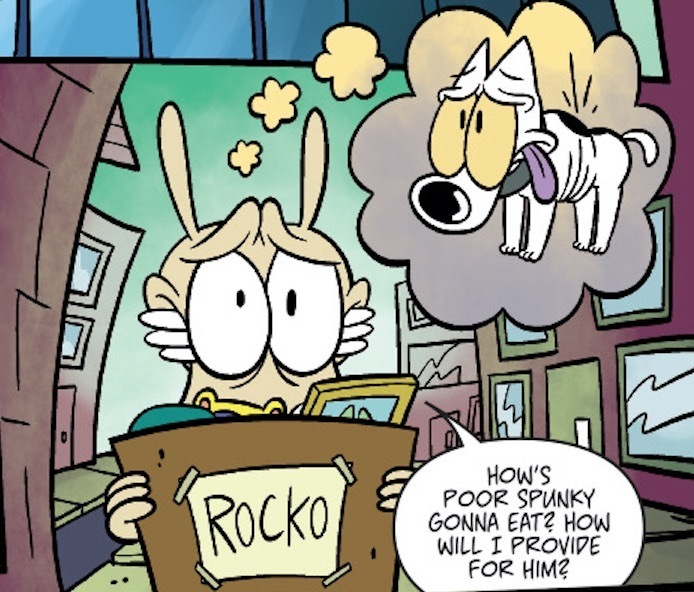 It is classic Rocko antics. The writing is key, I could hear every panel in my head vibrant with the voice of each character – Aussie accent and all. Mr Bighead's drawn out speech, Filburt's nasally twang, and Heffer's upbeat tone. I could even hear Spunky's squeaky whines, it's perfect.
The details were everything in this issue from the bankrupt conglomerate, to the stuck up comic book men and the pressures put on Rocko at every turn. This is not something new, we've been watching Rocko get kicked around by life from inception. Bringing Rocko into today's modern world is a intelligent move. At a time when class disparities are at an all time high and it's evident now more than ever how society makes it impossible for some to get ahead. It is so timely that we have a cartoon shining a light on reality this way. It even leaves us on a cliffhanger with Rocko being propositioned a deal. I'd recommend this to any cartoon loving comic book reader, or just cartoon lovers in general.
9 Chunky Chicken Zingy Poppers out of 10
Reading Rocko's Modern Life? Find BNP's other reviews here
Are you following Black Nerd Problems on Twitter, Facebook, Tumblr or Google+?