Writer: Kieron Gillen / Artist: Stephanie Hans / Image
There is an enduring appeal with Die that transcends is familiar premise and beautifully executed writing and artistry. For almost two years, Gillen and Hans have presented us with a dark fantasy world and cast of characters that have evolved in wild and wondrous ways that makes each and every issue a treasure trove of "aha" and "oh $#!%" moments.
Die in more ways than one is a distillation of adult fears, of the realization of the responsibilities you have to others dependent on you and the parts of your past that haunt you. And I've said this many times before, but the fact is that I am still honestly surprised but how many times I've been metaphorically punched in the gut by this comic and the slow burn of exposition that makes every issue hauntingly tragic.
But Die #12 is herald of things to come, the turning point where the split party is positioned to collide and confront each other now that they have explored and grown in their own ways. Now that they have reconciled with their personal (and maybe a little more) little demons in… what is probably best described as a spectrum of healthy ways.
After a confrontation with an entity that bears a striking resemblance to Angela's daughter, she, Matt, and Chuck made preparations to seek council with the Fair, the source of Angela's powers.
Meanwhile, Ash and Isabelle are still in the court of Angria trying to prepare for a war with rules they're still not entirely sure about it, which leads Ash to ask Charlotte the questions we readers have been dying to know since we found about Charlotte's history.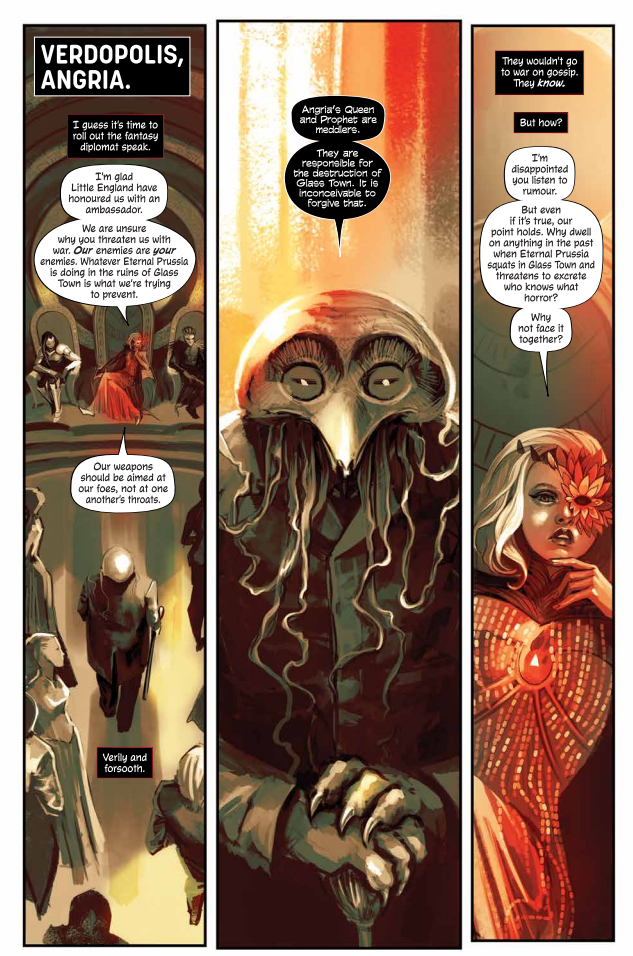 The two story arcs don't quite collide in this issue, but the sheer shock value of the ending has me salivating for what happens next. Gillen has masterfully constructed this elaborate world with elaborate rules, and Hans has illustrated one of the finest comics of the last two years that evokes all of the classical fantasy tropes and has managed to repurpose and reinvent to tell this sprawling tale of games and literary allusion. I keep wanting to talk about Die because it keeps stepping up its game and there's a reason it's at the top of my must-reads when a new issue comes out.
9.6 "Revelations" out of 10
Reading Die? Check out BNP's other reviews here.
Want to get Black Nerd Problems updates sent directly to you? Sign up here.
Follow us on Twitter, Facebook and Instagram.