Writer: Mark Waid / Artist: Jesus Saiz / Marvel Comics
Doctor Strange #5 was a tribute to badassery and awesomeness. The book started off with Strange so beaten and humbled, even in the last issue. I was expecting an issue long montage before a hard fought final battle. Kudos to Waid and Saiz for such a fast-paced conclusion to "Sorcerer Supreme of the Galaxy".
Strange's hubris caused his partner, Kanna, to be captured by an alien warlord bent on destroying the Earth. Under the guidance of the rescued dwarf, Eofferen, Strange takes to the forge. He creates magical weapons and enchantments to prepare for the rescue mission. Music being impossible to incorporate into a comic montage, we instead get an epic monologue about Strange and his ambitions from the unknown voice that's been with us from the beginning. After receiving a desperate broadcast from Kanna, Strange rushes in to save both his companion and the Earth.
Strange completely runs shop on Roxnor the warlord and his crew. Armed with a space-time cutting "scalpel" and dominating gauntlets, Strange is able to take his enemies out in time to rush to stop the presumably world ending missile flying towards Earth. With Kanna driving, Strange's unclear plan culminates to a well deserved, Rick Flair-worthy "Whoo!". Now, back on Earth we are thrown a curveball with a reveal of the party responsible for Strange's disconnect with the mystic arts in the first place.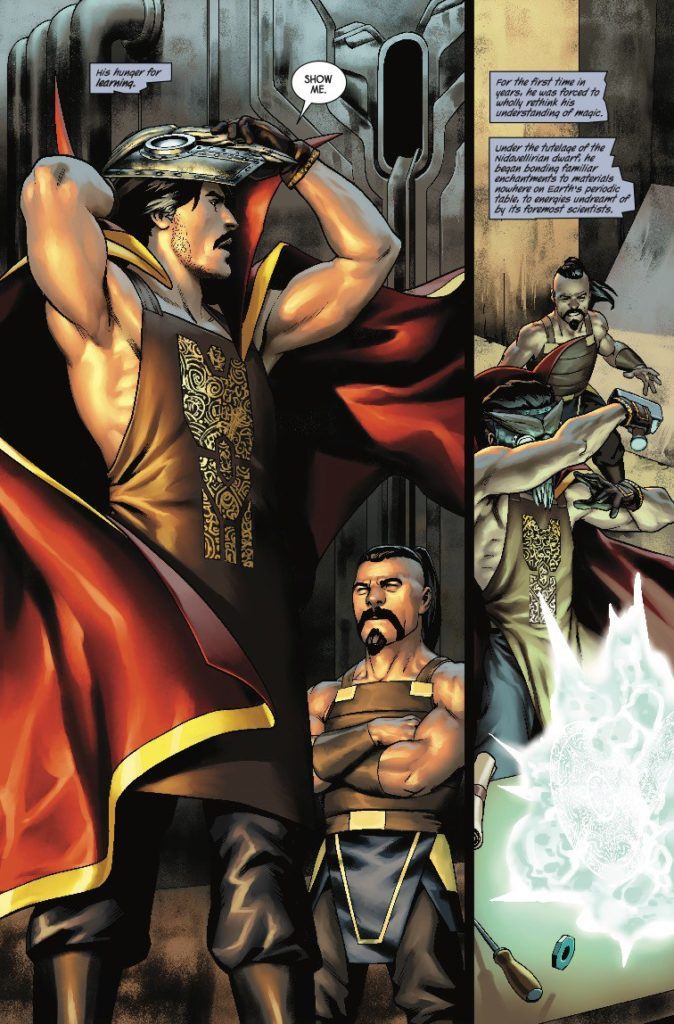 Mark Waid really nails the narrative style in this book. The montage was perfect for the "epic tale" style. I mentioned the pacing before and I'm not sure if this book was rushed, if the previous books were slow or if it was all a perfectly timed story meant to speed up in the last issue. The MVP of this book, though, has to be Mr. Saiz (praise Jesus!).
His art has truthfully been unlike any I've seen over the years. Absolutely cinematic in nature. It's realistic feel makes a fantastical story of aliens and magic spells all the more breathtaking. Especially fun this issue were the gauntlets creating energy hands to immobilize enemies and the "Sword of Strange" (Scalpel of Strange?) cutting through space to teleport. Look like we're getting a new artist for the next arc so I'm glad I got to sing the praises of Jesus Saiz before he leaves us.
9 "Alien Dreadlocks" out of 10
Reading Doctor Strange? Find BNP's other reviews of the series here.
Are you following Black Nerd Problems on Twitter, Facebook, Tumblr or Google+?