Writer: Geoff Johns / Artist: Gary Frank / DC Comics
Doomsday Clock is a problem. Listen. We nine issues in. This shit is serious. While we only get one brief, over-the-shoulder-view of Ozymandias, all his scheming fills up every page. We've gotten the foreshadowing of an inevitable showdown between Superman and Dr. Manhattan, but a sleight of hand from Johns shows that's not our next big movement.
The book opens with Doctor Manhattan demonstrating his control over fate and eventuality. His ability to move in and out of time plays a big role with the…let's call them aggressors, that come calling. All of this is a manipulation, and all of it could not be playing out in a more dire way. There are lots of characters that need stage time, but they all get enough to make the fight memorable and engaging.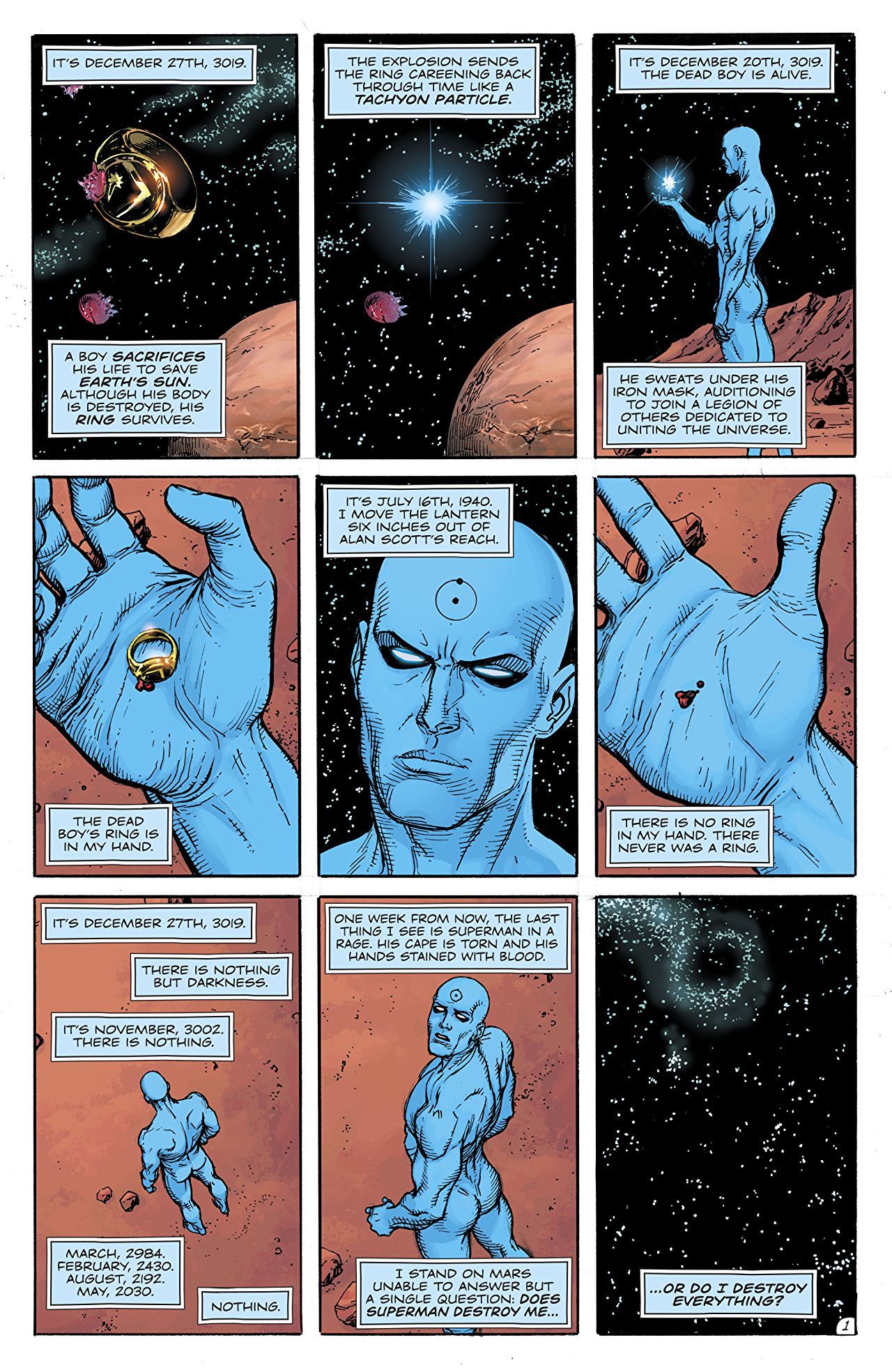 It ain't a Watchmen tie-in unless there's a nine-panel grid of Dr. Manhattan thinking in space.
Somewhat secondary – but probably not for long — is the result of the Firestorm incident that has left Superman and Batman out of the initial fight. We get some much needed interactions with Lois and Lex, moving the conspiracy part of this book forward (even if in incremental ways).
Frank continues to do solid and consistent work. Between the machinations of our sidelined heroes or the big battle on Mars, the lines are clean and engaging. It might be worth it for the Dr. Manhattan effects alone. This has been a great looking book from the start and issue 9 is no different.
What began as a slow build is now just an outright steamroll towards a finale. There are so many moving parts, but at least two of them presented themselves in big ways. The payoff is here and the cork can't go back in the bottle…not that we would have it any other way.
9.2 Away Teams out of 10
Reading Doomsday Clock? Check out BNP's other reviews here.
Want to get Black Nerd Problems updates sent directly to you? Sign up here!
Follow us on Twitter, Facebook and Instagram!