Every time I think I'm done talking about DuckTales, I'm reminded it's only true but for so long. They've given us hit after hit, and produced the best cartoon content on television right now (alongside Craig of The Creek). You heard me right, DuckTales is currently one of the pillars for tv content (fight me) in the game right now. I'm not even here to talk about that. What I'm here to talk about is the legendary petty stunt of Flinthart Glomgold.
If you don't know Flintheart Glomgold, he's the dude that's on the pillar fighting over the genie lamp in the original DuckTales intro. All you need to know about Flintheart Glomgold is that he's the second richest duck in the world, and he hates Scrooge. He hates all the contents within Scrooge McDuck's guts. So much so that in the episode titled "The 87 Cent Solution" in the DuckTales reboot, Scrooge McDuck "reportedly" dies of gold fever and Flintheart Glomgold hears this and… it's better if yall just see for yourself.
watch ducktales. for the love of god watch ducktales. i think this might be the funniest thing i've ever watched pic.twitter.com/n97g7JkUGF

— samantha ✨ ENDGAME SPOILERS (@holymangos) May 10, 2019
When I tell you that I screamed laughing in my living room. I've never seen this level of petty in a kids' show. This is a straight-up kids show, and my man Flintheart Glomgold said, "I just don't give a fuck" and showed up to show out at Scrooge McDuck's funeral blasting T-Pain's "All I do is Win." Can we just break down how epic this is?!
You ain't ever seen petty on this level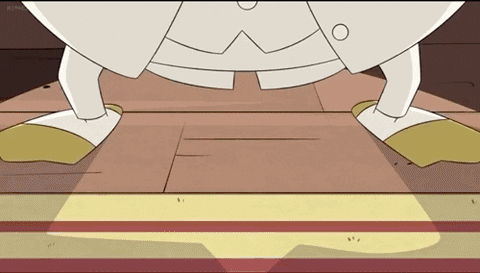 I just wanna state how astronomical the level of petty is here! Flintheart Glomgold kicked the doors open rocking a Diddy party all white suit to Scrooge McDuck's funeral. Stunt. My Man had DJ Khaled's "All I do is Win" blaring as he entered the funeral home looking like the M's in his own Bank account. I have no doubt whatsoever that Glomgold was saving this all-white suit just for this specific occasion. This was the "In case Scrooge McDuck dies before I do" outfit he been saving for years. This is akin to Jayden Smith showing up to Kim and Kanye's wedding in the all-white Batman suit. A legend. A muh-fucking legend.
Did he just superman down the aisle?!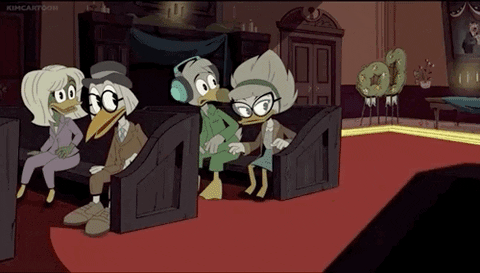 Oooooooh my gawd, Glomgold even threw his hands in the air for T-Pain's "And every time I step up in the building, everybody's hands go uuuuuupp" line and kept his hands in the air. I stan. I fucking stan. I doubt there's an antagonist this petty in cartoon history man. Flintheart Glomgold kept that same energy for Scrooge McDuck even when dude died. I'm literally screaming man. He even gave a bit of thriller choreography in their too just to spite the McDuck name. Glomgold a damn fool for this one right here man.
The moment I lost all control was right here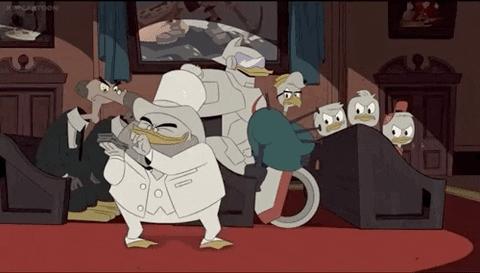 He. Made. It. Rain. At. Scrooge's. Funeral. The level of dis-re-fucking-spect. My god. How you let the bank account fly at a rival's funeral man?! He kept going too! He aired out the ATM in the middle of the funeral home and couldn't no one tell Flintheart Glomgod a damn thing! How you air out the wallet at the open casket? How you make it rain health care coverage at a funeral yo? How you flaunt the wealth then hit the Naruto run up to the casket just to laugh in dude's face?! How you empty the whole money clip on this Scrooge McDuck's name with all that malice. My god, this gotta be more than enough to have Flintheart Glomgold nominated for greatest hater of all time at the Player Haters Ball. My only question is: did he make it rain in singles or hundreds? Which is more spiteful?!
Ya Man Wyyyyyyylin'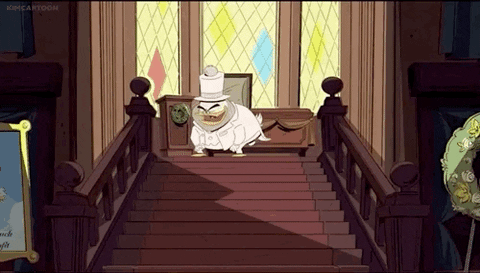 Listen stepping into the funeral with "All I do is Win" is one thing. Making it rain at the funeral is another. You'd think there'd be no other level to take it to, but this is Flintheart Glomgold we're talking about. Flintheart ups the ante even more by twerking on Scrooge's open casket. I. Am. Entirely. Done. No hater in the history has ever took it to these lengths. My man bussed it open right in front of Scrooge's casket, friends, and family with his hands on his knees and literally shaking his tailfeather(s). My man hated Scrooge so much he bussed it open in celebration of his death right in front of the Holy Trinity. That's the level of hatred I need from my antagonists. That's the amount of petty I want in my villains. There is not one iota of shame in this man's body when it comes to hating on Scrooge McDuck.
Flintheart Glomgold has to be elevated on the top ten petty characters to ever exist with this display "fuck all yall" right here. That man literally did what most of us say we wouldn't but secretly want to. You gotta have absolutely zero fucks to give to legit make it rain at somebody's funeral on a kid's show. Glomgold did this on a PG television show my guy. As much of an asshole move as that is… I have to respect it. Someone willing to put that much effort into their petty is an artist.
Want to get Black Nerd Problems updates sent directly to you? Sign up here!
Follow us on Twitter, Facebook and Instagram