Writer: Magdalene Visaggio / Artist: Sonny Liew/ DC Comics
We Are Made of Choices
The finale to Eternity Girl has solidified the following:
• This is one of my favorite comic book miniseries this year.
• Magdalene Visaggio is one of my new favorite authors.
• Sonny Liew is an absolutely virtuoso when it comes to incorporating different stylistic elements in a dissonant unison.
While I found the start of the series a little much to process, every subsequent issue added layers of nuance and visual intrigue. By the halfway point of the series, I was already heavily invested in the adventures of Eternity Girl and Madame Atom, as well as the meandering ennui of Caroline Sharp. Eternity Girl #6 is a resplendent ending note for all the narrative threads and straight-up one of the strongest finales in recent memory.
The title of the issue, "We are Made of Choices", is perhaps the thesis of the series as a whole. We are every decision we made and by in some ways, every decision we did not. We are every consequence of another's actions, and we influence others just the same. Eternity Girl's journey is one big metaphysical reflection on the idea of existence. As difficult some of the material can be, it is rewarding in a way that demands to be read.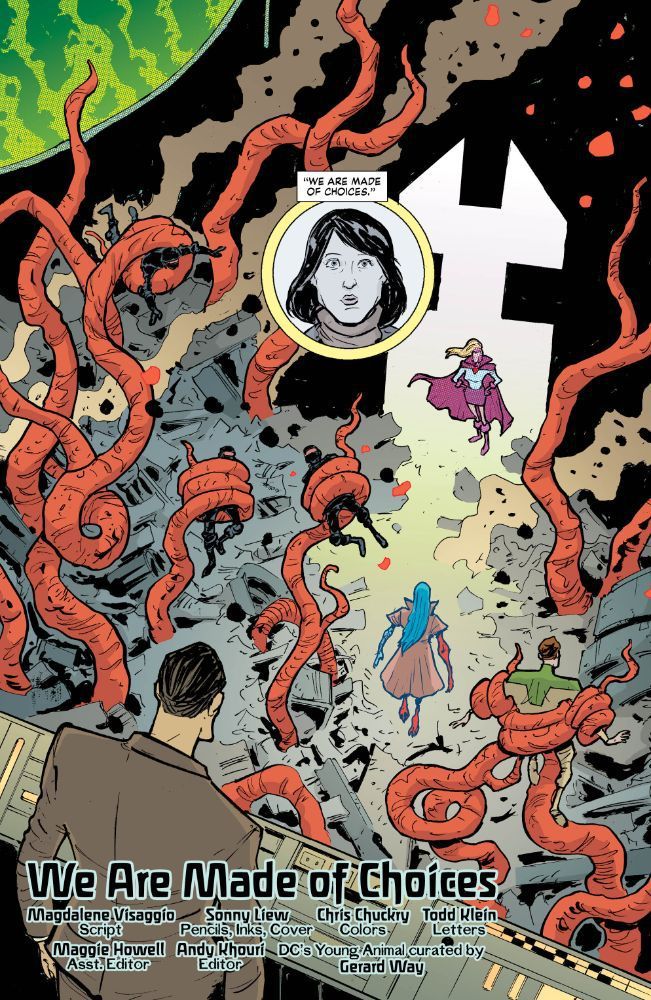 Visaggio is precise with their language, having carefully curated the script to tightly control the pacing. Liew's panel work and artwork is utterly gorgeous, yet unlike any one book I've ever laid eyes. The two work in concert beautifully, rewriting and redrawing the conceptions about what a comic can do.
Eternity Girl demands to be read. It is thought provoking and deeply personal. If you've read any of the prior issues, you deserve to read the conclusion immediately. If you haven't read any yet, keep it on the radar. Visaggio and Liew are a force to be reckoned with, and the final issue is proof of that.
10 "Choices" out of 10
Want to get Black Nerd Problems updates sent directly to you? Sign up here!
Are you following Black Nerd Problems on Twitter, Facebook, Tumblr or Google+?