Spoilers for season 1 of Never Have I Ever.
On its surface, Netflix's newest teen comedy series Never Have I Ever is an example of progress in diverse representation in media. It stars Devi (Maitreyi Ramakrishnan), an uncool sophomore in high school coping with her social status as a nerd and the stunning loss of her father. She's the "Indian kid," a fact she doesn't take with particular pride, but the journey ahead of her would be a coming-of-age story with a positive message for non-white teens who navigate predominately white spaces. Or so I expected. I binged the series partly out of love for one of my favorite genres, coming-of-age teen romance (see To All the Boys I've Loved Before, The Half of It, and Normal People, to name a recent few), but also by peer pressure from likeminded television fans and movie buffs who live for this sort of thing. That's how I found myself on a Zoom call venting with African-American, Indian-British, Indian-Australian, and Indian-Australian-living-in-America friends trying to understand what bothered us so much about Never Have I Ever. We stan for diversity and representation. Why weren't we stanning for this?
Not to bury the lead, the short answer is its writing. More on that in a moment, but the TL;DR version of Never Have I Ever's problems are a deep pit of missed opportunities, an unclear audience, and a revisiting of certain tropes that are tired if not damaging. Its unfulfilled promise lives somewhere between forfeiting any meaningful message for "cute" comedy (you have, or will, hear this series referred incessantly as "cute") and replacing that message with a clichéd teen love story of the 90s. The results are easy jokes with predictable, heavy-handed punchlines written to meet the bottom of anyone's intelligence.
"A sexually inexperienced high school nerd wants to be cool by having sex" sounds like a banality exactly because it is. Replacing that banality with an Indian lead means little more than reducing diverse representation to giving poorly-aged teen movies a facelift by replacing them with people of color. Celebrating progress in having onscreen representation is good; having well-written representation with something to say is great. Instead, Never Have I Ever is something akin to The Big Bang Theory meets American Pie. Its identity is lost in its inability to decide who it's written for: is it meant for those who went to high school in the 90s, at the time of creator and writer Mindy Kaling, to relive the nostalgia of her high school experience? Or for today's teens, for which Kaling's experience is 3 decades outdated? Being based in Kaling's 90s experience while being set in present day means having a foot in both lanes, unable to walk in either lane effectively.
When it comes to its comedy, Never Have I Ever sets its audience at about an 8th-grade level, full of gags that undermines its well-written parts. Grief over the death of Devi's father and her tumultuous relationship with her mother are beautifully portrayed, but then bizarrely included are references to Devi losing the ability to walk and living in a wheelchair, only to be miraculously saved when she sees her crush. Nerds are portrayed as endearing, but then the show bizarrely has a clumsy, food-obsessed nerd as an erroneous punching bag. There's an American actress errantly playing an accented Eastern European housekeeper to a rich Jewish family riddled with old Jewish stereotypes. Former tennis star John McEnroe narrates each scene, which is distracting even aside from the thin connection used to force his presence. None of these aspects are particularly funny or useful to the plot. They simply exist as effortless gags.
Never Have I Ever exists as its own type of identity crisis within the genre of teen romance comedy. It neither leans into it like To All the Boys I've Loved Before, or aims to subvert the nerd-versus-popular-kid tropes like Sex Education or Booksmart. The result is a messy in-between space where Never Have I Ever relies on its Indian-ness to re-tell an old and tired story with 00s-era writing with a 00s-era message.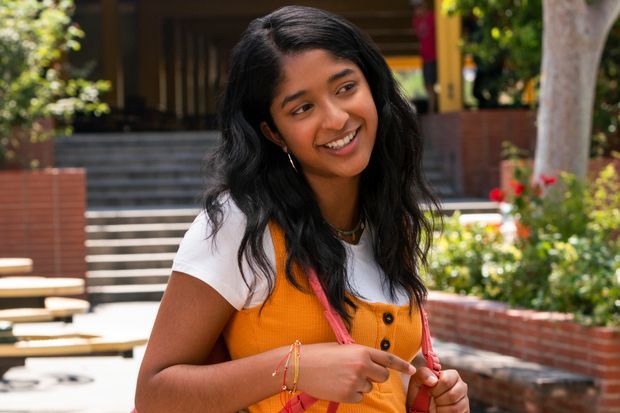 Within the first 5 minutes of its pilot, Devi prays to Hindu gods as her mom bursts into the room and says she had Devi's textbooks blessed. The first half of the season establishes her Indian nerdiness and how she feels it in conflict with her desire for popularity and the boy she wants. Halfway through the season they introduce the Chekov gun of her character arc in the form of an Indian college student who explains to Devi how he learned to be proud of his Indian heritage. When he got to college, he met his Native roommate who had embraced the culture, he learned that he could either spend his life being ashamed of his heritage or loving it openly. But Devi doesn't ever become proud of being Indian. She has more lines calling Indian culture weird or downplaying it than she ever expressed any pride in it. Instead of her character learning that lesson of self-love versus self-hatred, she's written to kiss with her white academic rival in the final scene of the season. Chekov's gun was there, but the gun never fires.
Setting aside Devi's cultural self-loathing in favor for a love plot with a surprise different white person reduces her cultural un-appreciation to the lowest common denominator of representation: her cultural shame exists, she meets an Indian college student who tells her she can be proud of her culture, and then her cultural shame is never resolved. By focusing on Devi's Indian culture without seeing her character arc through it reduces her culture to a gimmick, no more important than just to be seen onscreen.
Of all its flaws, that oversight — or decision — is perhaps the most anger-inducing. Never Have I Ever was almost simply "cute," an easily bingible comedy that wasn't hilarious but that had a good message about being proud of who you are. It almost had something good to say. Its turning point is the second half of the season, launched with a POV episode starring Ben, Devi's academic rival and would-be lover, for the purpose of setting up that final scene. Her character arc pivoted. She had been a girl who thought a boy was the most important thing in her life and that her Indian nerdiness is an impediment, on her way to learning to love herself and her culture. Instead, her character arc's fulfillment was honoring her parents and quickly focusing on a different teenager than she had expected, having learned that a rich white boy can actually have a heart of gold. For a show based on a foreign culture, there are perhaps newer messages to share.
Of course, the show is unlikely to be over as its success will likely bring about more opportunities for Devi and her family. Still, reliance on a second season to right its wrongs is comforting cop out for why you might feel Never Have I Ever fell short of the promise of its premise. We can always hope that a show fixes its mistakes later; it doesn't mean those mistakes were intended as part of an unseen long game for a season yet to be contracted. Our need to nurture that hope for more character development is its own indication of how big a problem the writing for Never Have I Ever is. You have to hope there's more because a meaningful character arc crumbles without it.
Ultimately, the failed promise of Never Have I Ever is an example of what can be frustrating about a homogenous landscape where any diverse representation has the unearned good will of being assumed good representation. Never Have I Ever will be celebrated, and it many ways it should be — from its depictions of grief from death, miscarriage, and characters like Devi's mother (Poorna Jagannathan). We want to celebrate them but praising them without critique of their shortcomings comes at the risk of continuing those mistakes, as if we should simply be grateful for what we were given. If we celebrate diversity without critique, we make it only more likely for rehashed stories with a non-white facelift, which is perhaps the shortest summary of what Never Have I Ever is to me. We stan for representation. That doesn't mean we have to stan for bad writing.
Find all of Jordan Calhoun's Rotten Tomatoes-approved movie reviews at Jordan Calhoun at the Movies.
Want to get Black Nerd Problems updates sent directly to you? Sign up here!
Follow us on Twitter, Facebook and Instagram!