The multiplayer version of the original Gears of War ushered in innovative gameplay mechanics, like the modern cover system, that are still commonplace in most 3rd person shooters and action games today. There are few moments in gaming that come close to matching the satisfaction of getting a chainsaw kill in the multiplayer mode of 2006's Gears of War on Xbox 360. However, after spending close to a week playing the recent Gears of War 4 multiplayer beta on the Xbox One it's difficult for me to come up with anything that would qualify as groundbreaking in the latest iteration of the 10-year-old franchise.
The recent beta didn't include any gameplay from the new campaign that'll be available when Gears 4 is released in October of this year. This is fitting considering that while Gears has always shipped with an impressively robust campaign, most casual and hardcore fans of the series are more anxious to find out about how multiplayer in the new Gears compares to previous iterations.
In terms of speed, Gears 4 is in tune with Gears 3, with the pace slowed down just a notch, which allows for more of the tactical chess matches that were common in the original Gears, but were lost in the shuffle of the frenzied, multiplayer, shotgun rolling wars of the matches of Gears 2. The Gears 4 beta included fan-favorite game modes Team Deathmatch and Co-Op Team Deathmatch, but the clear standout of the beta was the new game mode — Dodgeball. While weapon balance received only modest adjustments to weapon fire modes and DPS of some previously OP weapons such as the Snub Pistol, this new game mode is where Gears 4 does the best job of separating itself from its predecessors.
Players familiar with Execution and Warzone from previous games will be comfortable with the lack of respawns, but what proves to be an interesting gameplay mechanic in Dodgeball is that if a team scores a kill while a teammate is dead, their dead teammate is then allowed to respawn after a short 5-second respawn timer. It reminded me a lot of Destiny's Trials of Osiris in that a team with only a single player remaining can easily alter the momentum of what appears to be a lost game simply by playing smart, getting 1 kill and pulling back until 1 of their teammates respawns. This new game mode is refreshing and allows for tug of war gameplay until 1 team is finally completely dismantled.
Outside of the addition of Dodgeball and the previously mentioned weapon balance changes much of Gears remains the same; sadly this also holds true for the visuals. Although the game's environments are varied and colorful as opposed to the drab greys, browns, and blacks of earlier entries in the series, they just aren't impressive. After a great kill, I'd lose immersion in the game world due to character models that looked like they were imported from one of the earlier Gears entries on Xbox 360, and as shown in screenshots found out in the wild, it looks like anyone who's ever drawn in Microsoft paint is qualified to work on the game's blood splatter particles. To be fair I have to note that my impressions of the game's graphics are based solely on this early beta and the full game isn't to be released until October of this year, which gives the developers behind Gears 4, The Coalition, 5 months to improve the game's graphics.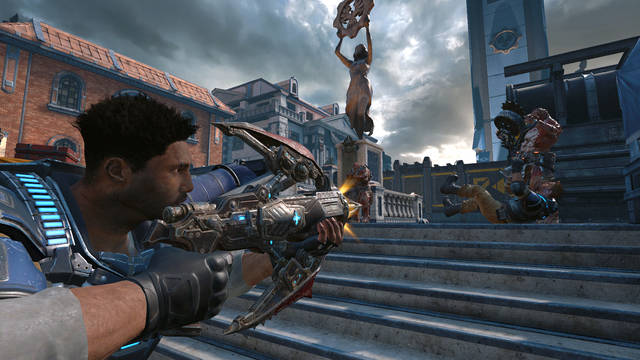 After sinking hours into the beta, it's easy for me to argue that Gears has been surpassed by other multiplayer shooters. Even in its own genre of 3rd person shooters, Tom Clancy's The Division is more innovative and both a more technically and graphically impressive game. With Gears 4's outdated graphics and stale gameplay mechanics, does it warrant a purchase this Fall? With FPS behemoths Battlefield 1 and Call of Duty: Infinite Warfare being released only a month after Gears 4, will it be able to sustain an active player base?
The multiplayer beta has me hesitant to give up $59.99 when the game is released on October 11th. I turned off my console after finishing my last game of the beta feeling underwhelmed and a bit like I may have just outgrown the Gears franchise. I and many other gamers will continue playing the other well-polished and innovate multiplayer shooters currently out and purchase those, like Blizzard's Overwatch, which are nearing release. For diehard Gears of War fans this new installment is shaping up to deliver everything fans have loved about the original series and add enough variation with the new weapon balances and game mode mechanics to have them swap out their copies of Gears of War: Ultimate Edition.
You can catch Steve streaming gameplay on Twitch and YouTube

Are you following Black Nerd Problems on Twitter, Facebook, Tumblr or Google+?